Kevin Johnson is used to forging his own path in the fields of healthcare and computer science.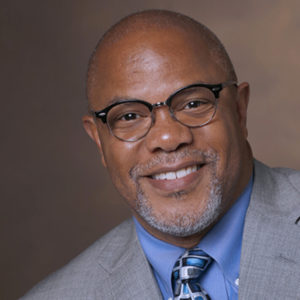 If you ask him to locate his niche within these fields, Johnson, David L. Cohen and Penn Integrates Knowledge (PIK) Professor with appointments in Penn Engineering and the Perelman School of Medicine, would say "informatics." But that doesn't tell the whole story of the board-certified pediatrician, who has dedicated his career to innovations in how patients' information is created, documented and shared, all with the goal of improving the quality of healthcare they receive.
Informatics, the study of the structure and behavior of interactions between natural and computational systems, is an umbrella term. Within it, there's bioinformatics, which applies informatics to biology, and biomedical informatics, which looks at those interactions in the context of healthcare systems. Finally, there is clinical informatics, which further focuses on the settings where healthcare is delivered, and where Johnson squarely places himself.
"But you can just call it 'informatics,'" says Johnson. "It will be easier."
He mainly studies how computational systems can improve ambulatory care — sometimes known as outpatient care, or the kind of care hospitals give to patients without admitting them — in real time. If you've ever heard your doctor complain about the amount of time it takes them to input the information they get from you during your visit, or wondered why they need to capture this information during the visit in the first place, these are some of the questions Johnson is investigating.
"We're taking care of patients but we're getting frustrated by things that we thought these new computers should be able to fix," says Johnson." I think there's a very compelling case for using engineering principles to reimagine electronic health records."
"Seeing a solution, doing the work"
Johnson's persuasive personality and passion for creativity and education has made him a champion for this approach. When the organizers of his 2017 TEDx Talk, titled "Can a Second Grader Fix Healthcare?" were searching for a punchy phrase to describe Johnson, "informatics evangelist" seemed the most apt. It's a title he has grown to accept and embrace.
"I think I've been known for seeing solutions to problems that a lot of other people don't recognize as a potential solution, and then doing the work," says Johnson.
In his TEDx Talk, Johnson recalled telling the faculty members at Vanderbilt University, where he served as professor and department chair of Biomedical Informatics for more than 10 years, that the most pressing aspect of utilizing biomedical informatics to its greatest potential involved building a strong educational pipeline by connecting children to professionals in the field. He received some surprising pushback.
"One of the faculty members in our Informatics department, who is a terrific, long-time expert in the field of computer science, said to me 'No one's going to be interested in this field at that age; it's incredibly boring, and it requires a lot of knowledge about a lot of different fields,'" says Johnson.
It's the kind of friction he's been facing his entire career.
He remembers attending meetings in the early 90s with other medical professionals and trying to convince them that cellphones, still relatively rare and possessing only basic features, would eventually lead to impactful changes in healthcare.
Johnson proved to be far ahead of the curve. He saw the potential for powerful, data-gathering devices to wind up in the hands of consumers, and by extension patients, all over the world, several years before the term "smartphone" would be coined.
"I was one of the first people to show how we could use text messaging to help patients change behaviors," says Johnson. "Most doctors were thinking that these were toy systems and that they were busy enough."
Almost thirty years later, roughly 85 percent of the world's population owns smartphones and texting is part of everyday life. Now, the ability to create and instantaneously share much richer seams of information — audio, video and data from connected devices — is poised to make an even bigger impact on healthcare.
Ever the forward thinker, Johnson looks to the future of what efficient data use can mean for the field of ambulatory care. One of his current projects is the creation of a video visit database for the purpose of advancing data science, a project he calls OBSERVER (OBtaining Screen captures, Electronic health record [EHR] audit log data, Room Video and Encounter Review). He aspires to utilize the raw data captured by a healthcare professional during a visit, some of which is lost or deleted due to inevitably biased summaries and accounts, to give researchers from varying fields a peek behind the curtain.
"Ideally, we'd like to capture everything that's happening during the visit," says Johnson. "The encounter review encompasses all the things that are happening in the EHR, as well as information from the doctor watching his or her own interaction with the patient — what I call 'the director's cut.'"
"I want to put all of that together in one fully computable, minable database," he says. "And then you'd have a very rich data set for each encounter that we can have psychologists use, we can have computer scientists use, we can have health services researchers use. OBSERVER would be a brand-new research resource."
Issues of patient privacy and consent are obvious hurdles for the OBSERVER project, one that Johnson is addressing by pixelating patient faces and body parts, along with other technological workarounds.
Solving those ethical issues is critical for Johnson, as the potential for such databases is expansive.
"One early study that we want to do involves aging patients," says Johnson, "with the goal of developing AI and machine learning tools to predict cognitive decline based on video and audio from the visit."
Many Ways to Learn, Many Ways to Teach
Johnson's modes of ministry extend beyond the academic realm. His ventures also include movie and documentary production, and even "a lively, non-technical conversation" podcast called "Informatics in the Round."
"I wanted it to be a podcast that could help my mother understand what I do, so it has to be at a level of a conversation around the kitchen table," says Johnson. "We include one songwriter, one expert guest, one comedian and me. The goal is for the three of us to ask questions of the expert at a basic level. The conversation can go in any direction. We had a conversation about precision medicine that evolved into a conversation around international terrorism. It's great fun getting into some of the concerns and opportunities inherent in the science of informatics."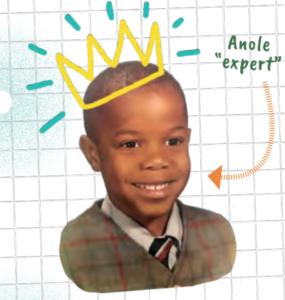 This kind of public engagement has long been a feature of Johnson's approach to science. During his time at Vanderbilt, Johnson wrote a children's book, titled "I'm a Biomedical Expert Now!" that was published last year as a part of the "Who, Me?" series by World Scientific Publishing. The series features inspirational biographies shared by Vanderbilt professors who are all accomplished scientists as well.
The books center the narrative of empowerment: with access to the right resources, your curiosity and determination can lead to a career in the sciences.
Johnson's book specifically talks about his childhood growing up in Baltimore, with his keen interest in learning that was always present as he explored nearby parks and vacant fields near his city home. Encouraged and guided by his parents, he developed a love of animals, specifically lizards, frogs and anoles (most commonly referred to as chameleons — a fact that Johnson discovered as an inquisitive young boy).
Interspersed with his life story are trivia questions, "Did You Know?" facts about nature, and other interactive tools that encourage children to think and question, even as they learn.
"Like a lot of kids, I was always curious about the environment and living things," says Johnson in the book. "Everything I encountered had a story to teach me. I was eager to study the things I found and learn about their stories."
So how did a young boy, burning with a healthy curiosity for the natural and living world, turn his interests toward the world of code and digital creation?
"I discovered informatics after I discovered medicine," says Johnson.
One day, while attending Dickinson College as a biology undergraduate in the early 80s, he came across a student who was creating code for a computer game. He had never been particularly interested in computer programming or video games, but this encounter awakened his fascination.
"It was the idea that you could take a screen, like the one you're looking at now, and make it do cool things just by thinking and knowing how to use that art form — programming — to enable it," says Johnson.
After he created a game that became pretty popular around campus, word reached the faculty of the then-newly emerging Computer Science department. They encouraged him to explore classes and opportunities within the field, and he finished his undergraduate degree with a minor in Computer Science as well.
"My last course was an independent study and by that point I'd been accepted into medical school," says Johnson. "I thought, 'I wonder if there's any role for computers in medicine,' because I hadn't really seen much about it."
During his first year of medical school at Johns Hopkins University, he found work in a lab that allowed him to apply the discipline of computer science to real-world healthcare scenarios.
Since then, Johnson has worked to develop clinical information technology to improve data collection at the point of care, patient safety and compliance with practice guidelines.
Future projects will focus on improving the EHR technology that he helped the nation to adopt, as well as improving health communication in all its forms, including between health providers, between academic disciplines, and between scientists and patients.
"I'm excited to be here and to be a catalyst on this amazing campus," says Johnson, "where everyone, from our students to our staff, can play a part in improving the world's health."
Kevin Johnson is the David L. Cohen University of Pennsylvania Professor in the Departments of Biostatistics, Epidemiology and Informatics and Computer and Information Science. As a Penn Integrates Knowlegde (PIK) University Professor, Johnson also holds appointments in the Departments of Bioengineering and Pediatrics, as well as in the Annenberg School of Communication. Johnson is the Vice President for Applied Informatics for the University of Pennsylvania Health System and has been elected to the American College of Medical Informatics (2004), the Academic Pediatric Society (2010), the National Academy of Medicine (Institute of Medicine) (2010), and the International Association of Health Science Informatics (2021).