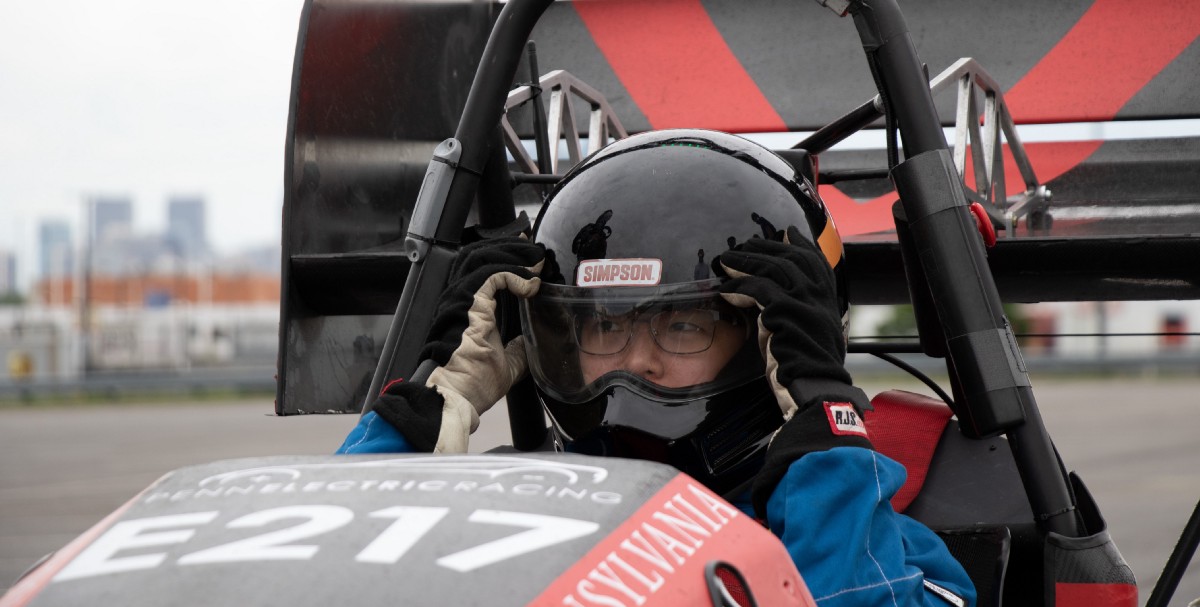 Kathie Jin, a junior in Mechanical Engineering and Applied Mechanics (MEAM), likes to go fast. As the mechanical co-lead and operations lead for Penn Electric Racing (PER), a Formula SAE Electric Racing team, Jin leads a group of eighty students to design, build and race electric cars. PER is a record-breaking team that competes across the country, and Jin views it as so much more than an extracurricular activity: it's her passion.
"I'm happy to be committing my free time to PER," Jin says. "I tried out a lot of clubs at Penn, but I know that PER is the place for me."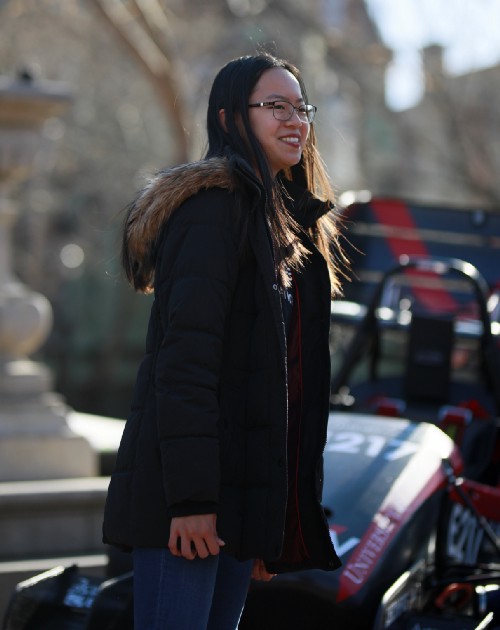 In high school, Jin participated in her school's FIRST Robotics club. She joined the Business and Marketing team, but quickly realized that she wanted to know more about the mechanics of the robots her teammates were building in order to best promote their work in her local community.
This type of curiosity ultimately brought her to Penn Engineering. When she arrived on campus her freshman year, Jin knew that she wanted to find a place that was as collaborative and energetic as her high school club had been.
"When I arrived, I had no idea what Penn Electric Racing was. I was looking for a tight-knit team, fast-paced work, hard deadlines and the ability to work from the conception of an idea to actualizing it. PER embodied everything I wanted in a college club."
As an active leader, Jin does everything from mentoring incoming team members to building by hand to organizing the group's participation in national competitions. In 2019, PER took third place overall at the Formula SAE Lincoln Electric competition in Lincoln, Nebraska. But, Jin says, these sweeping wins take a lot of work, and the journey from bright idea to gold medal starts in the classroom.
FROM CLASS TO CAR
"In MEAM classes, you learn the technical foundations that complement what you learn when building a race car," says Jin. "Still, there is a lot of car-specific knowledge and higher-level understanding required to actually design the race car, but the MEAM classes can provide a foundation for all that."
PER draws in students who love to learn on their own, and Jin comments that their team is made up of people who are excited by challenges and often jump at the chance to tackle a problem they don't understand. The teammates bond from long hours spent working together in the classroom and in the workshop. Many members are MEAM students, and their structured curriculums mean that everyone learns together and can lean on one another for problem solving and questions when designing the car.
"One class that really helps is MEAM 201: Machine Design and Manufacturing," Jin says. "That class is really applicable to PER because we do a lot of custom parts and manufacturing. It's really satisfying when you spend several hours making a part and then get to see it in use on the car."
"The work we do in PER helps build mechanical intuition — the foresight of knowing how something will work before you actually make it," Jin adds. The cars PER builds are no small thing. They are expensive, meticulous projects and team members have to know what they are building — and know that it works — before they start assembling parts. It's a daunting task, but Jin says that PER is the perfect environment to develop mechanical intuition through hands-on learning.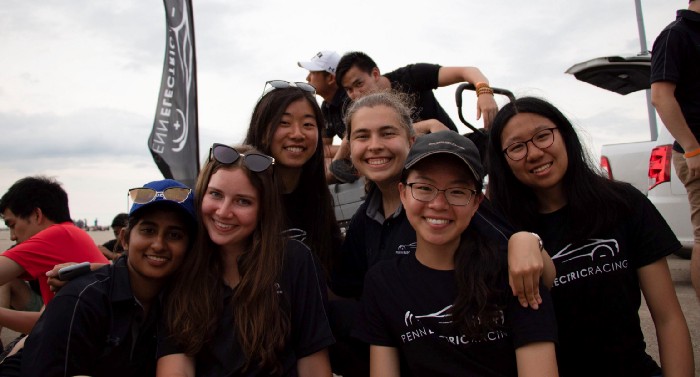 OFF TO THE RACES
Jin's formal title, mechanical co-lead of Penn Electric Racing, means she spearheads a team of MEAM undergraduates and guides their work to design and build race cars. The Mechanical Team, which works alongside Electrical Hardware, Software and Operations, is broken into six subsystems: Accumulator, Aerodynamics, Driver Interface, Powertrain, Structures and Auxiliary Systems and Vehicle Dynamics. The job is complicated, Jin says, but worth the extra effort.
"As mechanical co-lead, I have to have a high-level understanding of the car and manage the timelines of each subsystem who are all doing very different things," Jin explains. "It's a lot to juggle, but I love the feeling of getting the workflow just right and seeing everything come together. The job has certainly grown since I joined my freshman year. When the club started six years ago, the mechanical team was only five or so people, and now it's closer to thirty."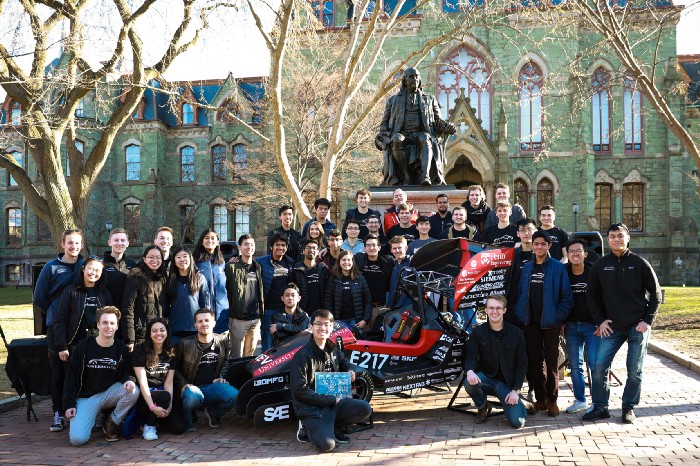 THE DREAM TEAM
Leading the team means that Jin has to make tough decisions for the benefit of PER — even if it means working through the weekend. During her sophomore year, the team was in danger of falling behind on their car completion deadline. They were behind on tabs — parts made from sheet metal that are welded to the chassis, or the structural frame of the car. Being behind on tabs meant the team needed to make jigs — cut pieces that hold the tab in place on the chassis and allow the welder to secure the whole affair.
Jin recalls that the PER leadership team decided they needed to jig and prepare almost 100 tabs in 48 hours.
"We called it a 'jigging sprint,'" Jin says. "From Friday afternoon to Saturday night, people were coming in and out of our workshop, asking for design help, reviews, cutting their jig, trying it on the car, fitting their tab in. It was really intense but it was also so much fun. We were afraid no one would come to help on such short notice, but in the end we all had a great time. We had food and music, and best of all, the whole club came together to meet our goal."
BUILDING THE FUTURE
Jin says she thrives in PER because of its supportive community. Now in her junior year, Jin is dedicated to further improving new member experience through a mentorship system.
"I want to help the incoming people and build them up so that later on they can take on more responsibilities and do more for the club," says Jin. "Often I've found that new members are scared of the learning curve in PER and believe that they 'can't do' certain things. They think the current team members know so much and that they — the new person — don't know anything at all. But everyone was once a new member, and I don't want that mindset to ever be the reason why someone doesn't try for a leadership position or holds themselves back from doing something cool with the car."
To help new members feel confident in the club, Jin is building a PER learning curriculum and developing a mentorship circle.
"I'm excited about the rookie class," Jin says. "I really want them to do well."
As for Jin's future, she intends to dedicate as much time as possible to the team and getting them to their next competition. PER is preparing for Formula SAE California, the premier electric vehicle competition in the United States, in June 2020. After that, Jin will be interning at Tesla for the summer.
For such a focused student and engineer, Jin is still open-minded when it comes to discovering what she wants to invest herself in on campus.
"If I were able to tell my freshman self one thing, I would say, "Go out and explore literally everything and anything, and do it with the focus of finding your passion.' I really believe that when it comes to extracurriculars, time is limited, so it's best to put your efforts into just a few things you really care about."