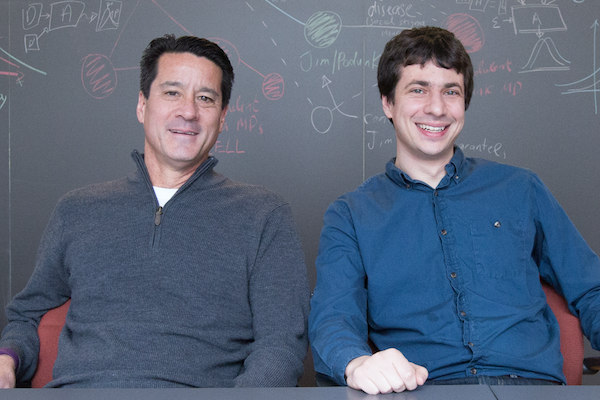 Everything from job applications to loan applications is becoming automated via artificial intelligence, an advent that excites some and worries others. Professors Michael Kearns and Aaron Roth are investigating the potential of "socially aware algorithms" that expedite data-driven insights while reducing bias from algorithmic decision-making.
Michael Kearns, Professor of Computer and Information Science and Founding Director of the Warren Center for Network and Data Sciences, and Aaron Roth, 1940 Bicentennial Term Associate Professor of Computer and Information Science, are co-authors of a new book, The Ethical Algorithm: The Science of Socially Aware Algorithm Design. The book is now the basis of a report in the Brookings series on "AI and Bias." Part of the Brookings Institution's Artificial Intelligence and Emerging Technology Initiative, the series explores the potential biases of artificial intelligence and opens up a scholar-led conversation about them in hopes of creating a "pathway toward greater fairness."
With machine learning allowing for increasingly complex and personalized decisions to be made automatically, Kearns and Roth share recent examples of serious bias generated by poorly monitored algorithms. These include resume-screening tools with biases against the word "women" and an algorithm for medical interventions that led to inferior outcomes for black patients.
In their Brookings report, Kearns and Roth write about the safeguards that must be instituted to protect against this phenomenon:
Society must continue to demand that important decisions be fair, private, and transparent even as they become increasingly automated…the necessary solution is twofold: a way to systematically discover 'bad behavior' by algorithms before it can cause harm at scale, and a rigorous methodology to correct it.
Ultimately, Kearns and Roth are pushing for fiercer regulation of decision-making driven by machine learning. They believe that ethical algorithmic design can guide a new future of AI development and that, while these interventions will require major organizational changes from auditing agencies, the science behind socially-aware algorithms is ready for action.
Read the full report at Brookings.