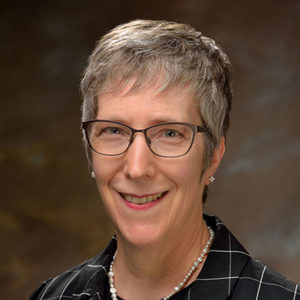 Karen Winey, TowerBrook Foundation Faculty Fellow and chair of the Department of Materials Science and Engineering (MSE), is an expert in designing advanced polymers. Made up of chemical subunits that assemble into long chains, the right design can make polymers that transport protons or ions and polymer nanoccomposites with unique mechanical and electrical properties.
On June 30, 2021, Winey will step down as chair, ending a term marked by an even more powerful assembly: bringing together new faculty, staff, resources and traditions that will have a lasting effect on the department.
Faculty hired under her leadership are returning major dividends. Liang Feng, in addition to earning an NSF CAREER Award and Sloan Fellowship, published a string of high-profile papers in Science, detailing his lab's ability to encode information in a previously-untapped property of light. Vanessa Chan, Jonathan and Linda Brassington Practice Professor, Innovation and Entrepreneurship, excelled in leading the department's undergraduate program, is now on leave as the Chief Commercialization Officer and Director of the Office of Technology Transitions at the Department of Energy. Eric Stach was appointed director of the Laboratory for Research on the Structure of Matter (LRSM) and is enabling new collaborations with other Engineering departments, the Perelman School of Medicine and beyond.
Beyond the current major overhaul of the LRSM's mechanical and safety systems, Winey's efforts enabled major investments in scientific infrastructure with a major new X-ray scattering facility and some of the most powerful electron microscopes in the world. Also, the MSE department now owns the University's smallest electron microscope: a tabletop unit that allows undergraduates to gain hands-on experience with this critical and in-demand technology.
Despite the inherently tactile nature of the subject, Materials Science education for undergrads is usually more theory-based than practical. This tabletop electron microscope was therefore critical in aiding MSE's transition to a more lab-focused curriculum, but it arrived just in time for those labs to be shut down due to the pandemic. Thankfully, the diligent work of faculty and staff in the department and LRSM allowed the course to be quickly adapted to remote learning.
The department's graduate program likewise grew and adapted over the course of Winey's term as chair. In addition to the primary and secondary faculty, the graduate group now includes more than 50 faculty from across campus to more fully capture the breadth of materials research at Penn. It has also made progress toward gender parity among its doctoral students with 10 women among the 46 doctoral students increasing to 17 of 56 doctoral students being women.
Winey's tenure as chair also saw the establishment and return of department traditions. She founded the David P. Pope Distinguished Lectureship, the department's first direct fundraising effort and only named lectureship. She also reinstated the annual Grace Hopper Lectures in Materials Science and Engineering as part of a commitment to promoting gender equity within the discipline.
"We have seen first-hand Karen's leadership during the pandemic, her proactive steps to combat racism, and initiatives for diversity in faculty hiring," says Viajy Kumar, Nemirovsky Family Dean of Penn Engineering. "Indeed, we will miss her sage advice and counsel, and appreciate all she has accomplished for the School and MSE during her tenure as chair."
Professor Shu Yang will succeed Winey as MSE Chair on July 1, 2021.