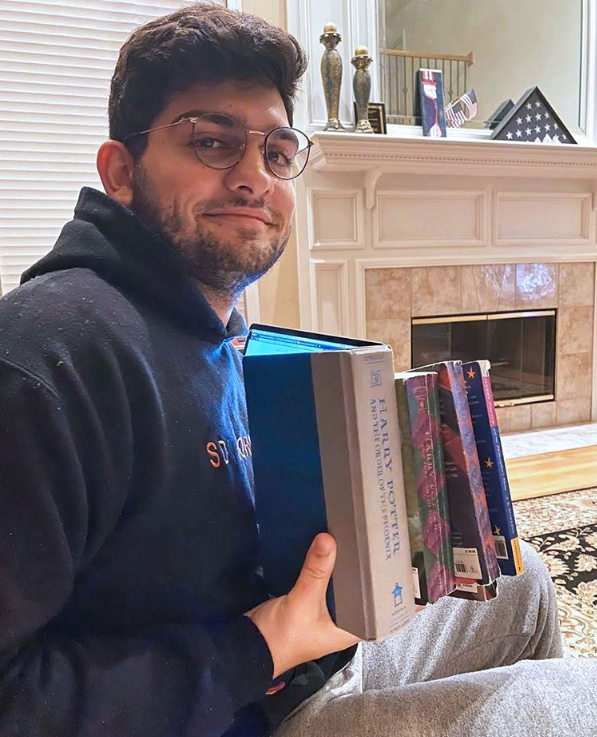 As students across Penn Engineering are adjusting to remote learning and challenges as a result of COVID-19, Archit Dhar, junior in Systems Engineering President of the Engineering Deans' Advisory Board (EDAB) shared how he is navigating this unexpected situation with us as part of our "Share Your Story" project. The goal of the initiative is to use the power of storytelling to bring the Penn Engineering community together:
"I've been coping with these unprecedented times while being at home by connecting back with my childhood. I set up a computer I built in middle school and re-played Batman Arkham City and Skyrim. But, given how often we're all looking at our devices to stay connected with each other, I wanted to take up something that let me read without getting eye strain! I was looking around my room and found the stack of Harry Potter books that I haven't touched in over 10 years. I picked up the first one and felt a wave of nostalgia. When I'm not baking, napping, trying to work out, face-timing friends, or going to classes, I have been running through JK Rowling's tale of the Wizarding World. I've been obsessed with them and I'm currently on Book 6. It definitely has been refreshing to take a step back and reflect, count my blessings, and spend time with family."
Read more about Archit's experience re-reading Harry Potter on Penn Engineering Instagram.
It's more important than ever that we amplify one another's voices and we want to hear from you. Learn more about the project and share your story here.