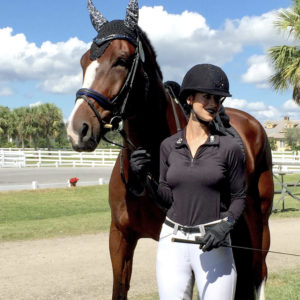 The flexibility of Penn Engineering's Master of Computer and Information Technology (MCIT) Online program has propelled student Jen Macklin to meld seemingly disparate pursuits: she is utilizing her coding knowledge to help the School of Veterinary Medicine improve the lives of horses.
The military veteran spent her teenage years in Chicago babysitting and tutoring in order to help pay for the horse riding lessons she was so passionate about. And now, Macklin is working with Penn Vet's New Bolton Center to help predict the onset of laminitis, a debilitating and often deadly disease that involves inflammation of the hoof. She has developed a mobile application that communicates with a sensor to enable automatic data collection. 
Macklin recently spoke with Penn Engineering Online about what fuels the work that she does, and what she plans to do with her MCIT degree. 
"What I've enjoyed about working with the lab is being able to drive strategy and looking at the market," she says. "It's merging my business skills with my creative skills with technology mixed in. So even though I'll have three disparate degrees, they do converge into something that's kind of cool." 
Read "Of Horses and Computer Science: An Interdisciplinary Story" at Penn Engineering Online.