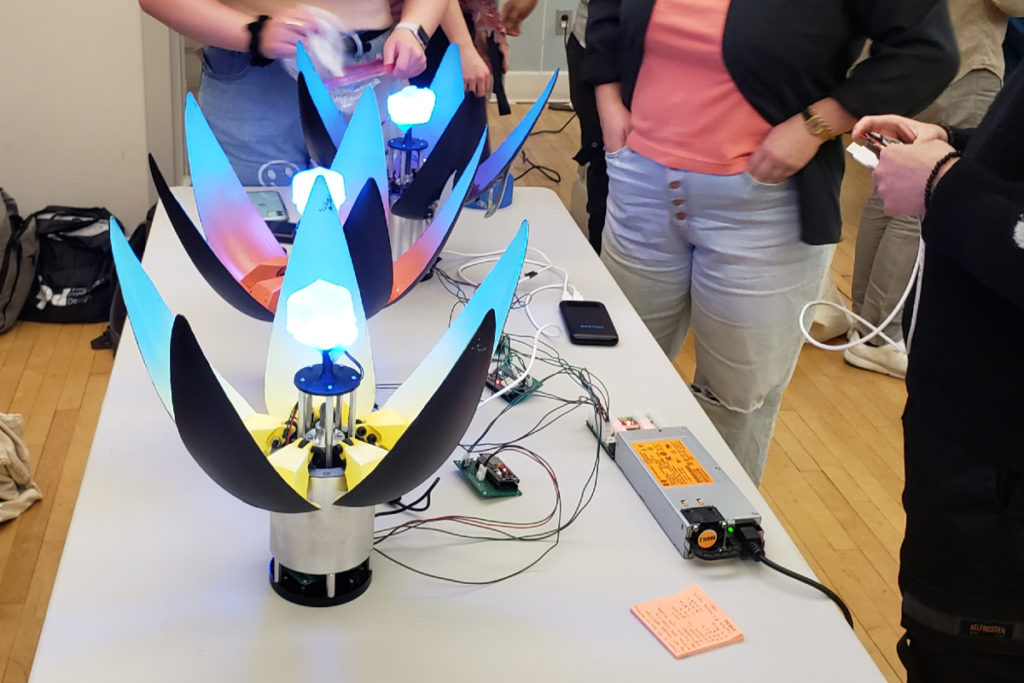 The rise of technology is both exciting and daunting as it has positive and negative implications on our society. One field that stirs up particularly uncomfortable questions is artificial intelligence and robotics. Assuming we can create lifelike machines that look, behave and process information in ways closely mimicking humans, should we?
As we start to engineer these machines, we have to ask and attempt to answer what it means to be alive and what it means to be human. These kinds of questions are best answered through an approach that includes both the arts and the sciences.
The General Robotics, Automation, Sensing and Perception (GRASP) Lab's latest venture into this intersection can be found in "Beyond the Binary: A Meditation on Humans and Machines," a choral cantata by composer Andrea Clearfield with libretto by Ellen Frankel, and percussion and electronics by David Kontak. Performed for the first time on Sunday, May 15, this musical experience joined the 120 voices of the Mendelssohn Chorus of Philadelphia, drag queen Cookie DiOrio, and multiple interactive robots to engage the audience in a conversation that explores gender, biology and technology in a way that goes beyond simple dichotomies.
The GRASP Lab has embraced the interdisciplinary approach since its conception, and this culture of collaboration is at the heart of the Integrated Product Design (IPD) course on Advanced Mechatronic Reactive Systems. The course, taught by Mark Yim, Asa Whitney Professor of Mechanical Engineering with appointments in Mechanical Engineering and Applied Mechanics, Computer and Information Science and Electrical and Systems Engineering, and Simon Kim, Associate Professor of Architecture, partners engineering students with students from the Weitzman School of Design to create reactive architectures or robots in the context of the performing arts.
"'Beyond the Binary' is a multimedia experience that joins singing, percussion, theater and now robots," says Yim. "Being invited to create interactive robots for a musical event may be an unusual request for most robotics labs, but the GRASP Lab has had a strong relationship with the arts for a while. We love getting these requests, and students in my IPD course now have a concrete goal for robot design to answer a non-technical question that also provides them creative freedom."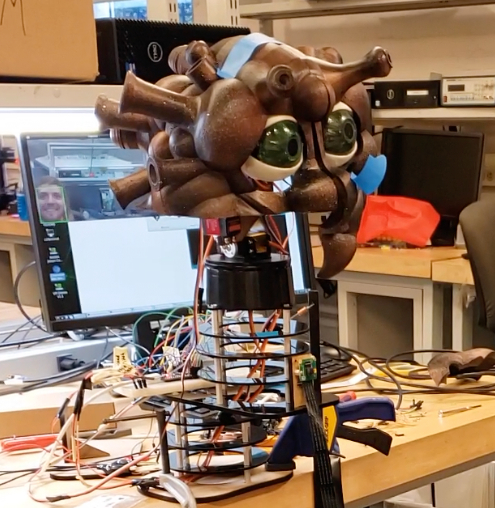 Yim and Kim's students created a series of interactive robots that the audience engaged with before, during and after the show. Some of the pieces included flower-like robots that open and close in a breathing rhythm, wearable technologies that enhance the performers' characters and a mechanical lion with eyes that followed guests as they moved through the lobby.
"What we are really doing here, with these pieces and in the lab in general, is blurring the lines between art, technology and biology," says Yim. "It's interesting to ask students to create a lifelike machine, because once details such as skin color, gender and physical characteristics come into play, we begin to reflect on our own biases. And these questions lend themselves well to the title of the event. 'Beyond the Binary' is a call to see the spectrum between extremes, and this is important for many things we think of as binary, including gender, race, words and data."