Large amounts of data are becoming more accessible every day in almost all industries. Electrical and system engineering skills such as developing nanoscale devices, designing high-power, high-frequency electronics and building intelligent and autonomous systems that can sense, interpret and train AI models are in high demand but are not easy to teach in a traditional classroom. Penn Engineering's Peter Detkin Lab combines the classroom, lab and maker space into one, providing students with an experience that not only teaches those skills, but encourages students to push limits even further.
As part of the Department of Electrical and Systems Engineering (ESE), the Detkin Lab, directed by Sid Deliwala, includes the Ketterer Lab and the ESE Maker Space. 
"The physical space of the Detkin Lab is designed to be highly collaborative," says Deliwala. "Faculty teach classes and transition right into the lab experience without leaving the room. This combination of blended delivery in a classroom within a lab, what we call 'CLABS,' supercharges engagement and learning, a privilege most students do not get elsewhere. We shape ESE courses to be early adopters of technology that push us out of our comfort zones.
Centered on innovation, ESE's lab program encourages students to take risks in cutting-edge research on circuits, AI-enabled medical devices, machine learning, autonomous racing cars and quantum technologies, just to name a few. 
"The Detkin Lab is the heartbeat of ESE. It is also the place where the spirit of innovation is infused in our students through numerous project-based courses, as well as senior design," says George Pappas, UPS Foundation Professor of Transportation and Chair of ESE. "Over the past ten years, the Detkin Lab has dramatically expanded not only in the number of students it serves but also in intellectual scope, ranging from hands-on quantum courses to hands-on AI courses."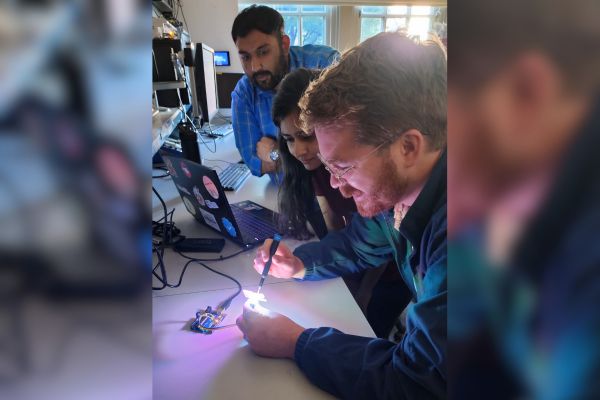 In addition to facilitating collaboration, the Detkin Lab builds close-knit communities that ESE students find integral to their success. 
"My favorite aspect of the Detkin Lab is the community," says Melanie Herbert, junior in Electrical Engineering. "This environment is what inspired me to launch my own company, Sync Labs LLC. We are creating an AI device that, when attached to any refrigerator, will take inventory of your food to help you plan your meals while promoting healthy eating. The Lab's Altium workshops and incredible staff taught me skills in object detection and printed circuit board design that I needed to create the device. The hands-on labs, collaborative atmosphere and support for entrepreneurial thinking allowed me to not just grasp complex concepts, but also take a step further and create something uniquely my own."
Other entrepreneurial feats of Detkin Lab students include Architechs, the Access Engineering Club and Penn Electric Racing. And, to keep the unique experience going, students have the opportunity to become staff members and TAs. 
"It truly is a lab designed to aid innovative minds 24/7," says Detkin Lab alum, Shveta Gupta, who graduated in 2018 with a master's degree in Electrical Engineering. "It was synonymous with home on campus for me. As a student and a member of the Detkin Lab staff, I was privileged to access an extensive learning environment fostered by numerous lab-based courses, workshops and seminars for students from high school to the master's level. The continuous mentoring support provided to students is unparalleled."
The Detkin Lab's cutting-edge technology, insight into industry, and community of peers and mentors allow students to become the next generation of electrical and systems engineers who are always a step ahead of today's demands and tomorrow's challenges.