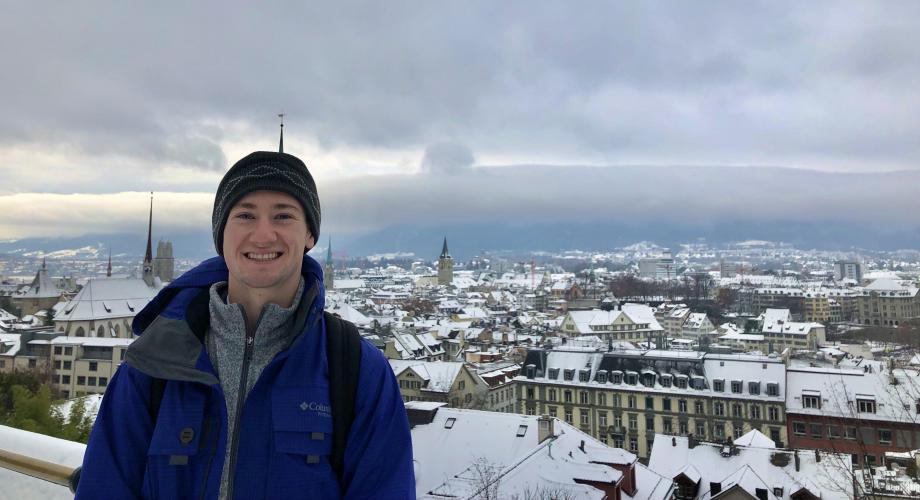 As an undergraduate studying bioengineering, Gabriel DeSantis spent a semester abroad at ETH Zurich in Zurich, Switzerland. Now in the Bioengineering master's program, DeSantis is also a Penn Abroad Leader, serving on the office's student advisory board and supporting fellow students interested in global experiences.
Penn Abroad's Selene Li recently interviewed DeSantis about what drew him to Switzerland and his time there:
How did you discover the Switzerland abroad program? 
I think it was probably in my sophomore year when I started seriously thinking about going abroad as something I could do during my time at Penn. I had cousins and other friends who had gone abroad, and just heard great things about it, so it seemed like something worth looking into. So as a bioengineer, I remember I first looked at what programs even offer bioengineering credit, and there's really only a handful of options. I think I really wanted to be in Europe, and the Zurich program was at a super strong school. There was also someone in one of my classes who was a year older than me that was planning on going and was going through the whole application process. They were telling me about their whole application process and that really showed me how feasible going abroad was as a bioengineer.

What kinds of classes did you take? 
I went in as a Health Sciences and Technology major. I had a decent amount of freedom in terms of the courses I could take because of that. While there, I took four credits that I ended up bringing back, and then two courses that were a little smaller that I didn't do for credit but were just sort of interesting.

What was a really good or favorite memory from going abroad? 
I really like hiking. During the first few weeks, we would do day trips to mountains nearby, but we did one weekend trip where we did two nights in Interlaken and had two full days to do some more intense hikes. Interlaken is just one of the most beautiful places in the world. We were staying at a nice little hostel, so I had an amazing day doing an 18-mile hike, and then coming back and hanging out with a bunch of people who I was also abroad with, as well as other people who were at the hostel. I think it was just being around constant beauty and around such great people and feeling accomplished because of the hike that made it such a great memory.
Continue reading at the Penn Abroad Blog.