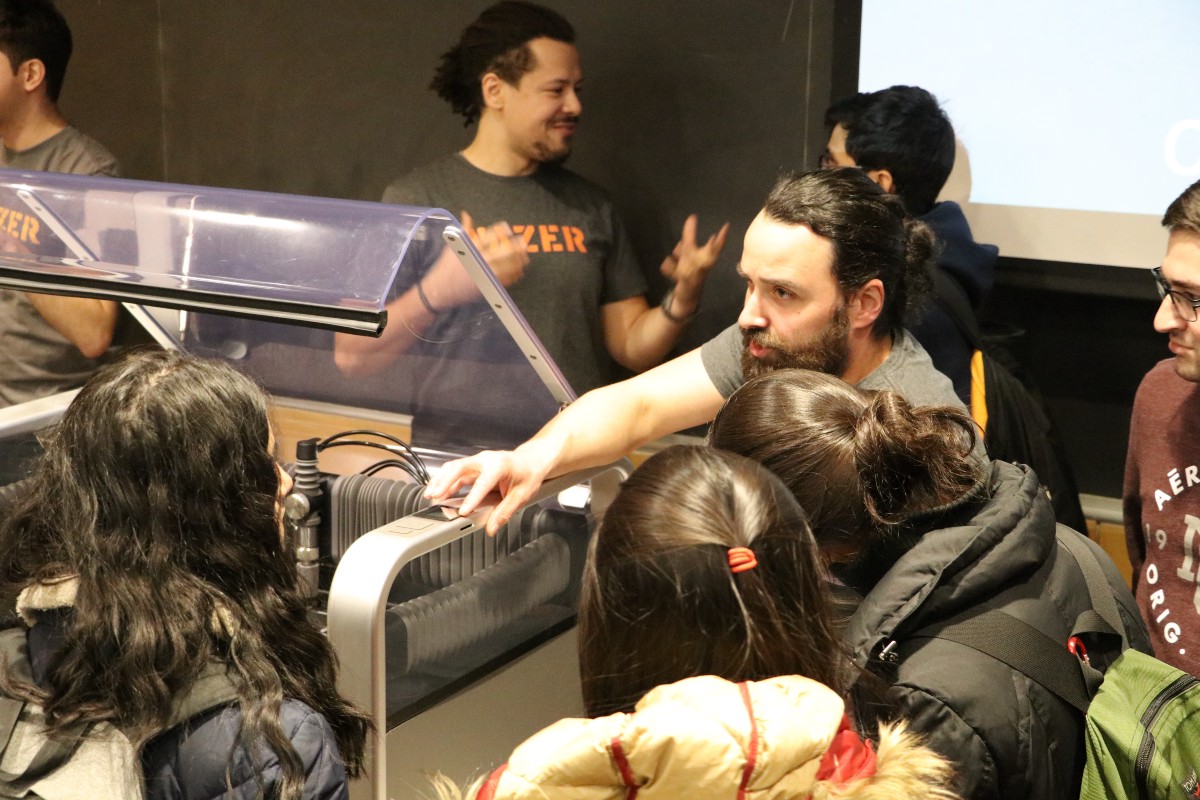 On February 19, Penn Engineering students, staff and faculty gathered in the Laboratory for Research on the Structure of Matter to see the unveiling of some of the latest manufacturing technology: WAZER, a powerful water "laser" designed by Penn Engineering alumni Nisan Lerea, Matt Nowicki, Dan Meana and Christian Moore.
All four of the alumni were undergraduates in the Department of Mechanical Engineering and Applied Mechanics (MEAM) as undergraduates, with Nowicki also participating in the Integrated Product Design (IPD) master's degree and Moore continuing in MEAM as a master's student.
WAZER, which got its start as a MEAM Senior Design Project of Lerea and a team of other MEAM seniors, is a waterjet that uses a pressurized stream of water and garnet particles to precisely cut materials like steel, glass and marble up to a half-inch thick. Existing waterjet systems usually require tens of square feet of space and tens or even hundreds of thousands of dollars to purchase. WAZER is the first desktop-sized waterjet and, for many, it is the first affordable version of this technology for cutting hard materials with its current price of $7,499. The team of Penn alumni were able to create such a user-friendly, accessible machine in part by using a lower-pressure pump than other manufacturers use.
Robert Carpick, John Henry Towne Professor and chair of MEAM, and Mark Yim, a MEAM professor and co-director of the IPD, have been keeping an eye on WAZER through its journey from student project to small business and are thrilled to finally have their hands on the technology.
The event celebrated the delivery of a WAZER unit to Penn, which will be housed in the Additive Manufacturing Laboratory (AddLab), a MEAM-run user facility for students and faculty.
At the unveiling, the four alumni unboxed the WAZER, a process that had it ready to be hooked up to a water source in less than 30 seconds. Then, Lerea pulled up their presentation and began to tell the story of how his student engineering frustrations transformed into an innovative invention.
"I want to talk to you about a simple metal bracket," said Lerea. "Although this part is simple, making it is pretty complex. The whole process could take several hours, and we had to make dozens of these things."
Lerea and his peers spent so much time making these brackets due to their involvement in the FSAE Series, the national car design contest that Penn Electric Racing now competes in, and was how the team of four originally got together. To make durable car parts from hard materials, the team quickly discovered the only options were machines that cost hundreds of thousands of dollars, well outside their budget, or hand tools. Their frustration at manually creating parts for racing cars was the inspiration for Lerea's MEAM Senior Design Project.
By the time Lerea graduated, he had a working prototype of a waterjet that promised to be much more affordable than waterjets on the market at the time thanks to its lower-pressure pump.
But Lerea put the project on the back burner for a couple of years until receiving renewed interest after the waterjet was featured on Hackaday.com, leading him and Nowicki to quit their jobs in 2015 and start developing WAZER.
"We were working in my parents' basement," said Lerea of their initial development stage.
By early 2016, Meana and Moore had joined the team, and the group of four headed to China to develop WAZER through HAX, a hardware accelerator, and later through a Kickstarter campaign that raised over $1.3 million.
Now, nearly four years after quitting their jobs, the alumni are seeing their vision come to life. Originally just an undergraduate's daydream, today, WAZER is an actual desktop-sized machine that solves an important problem in manufacturing technology.
The machine being delivered to Penn as part of the WAZER event was purchased when the company started its 2016 Kickstarter and the final product was still being developed. Of the approximately 300 initial orders, Lerea says they've shipped 250 so far.
Carpick commented on Penn's initial investment in the company:
"I still remember the email I got from Mark Yim asking for the resources to purchase this through Kickstarter, and I asked him, 'Do you think they'll really make it?'" said Carpick. "Mark replied, 'We know them — they can do it.' And he was right."
At the delivery event, with the machine in front of him, Carpick was clearly enthused with how far the alumni have taken their design.
"I can't tell you how proud we are to have you back and to see your success," said Carpick.
The feeling is certainly mutual, as the four alumni highlighted how their background at Penn led them to where they are today. The entire team agreed that their Penn education, especially opportunities like the FSAE racing team, played an important role in their later success.
"By being able to hop into the machine shop, to test out designs and actually design things, we learned what it feels like to make things as a multi-month process." said Lerea.
"FSAE racing taught us how to be a mini company," added Meana. "By the time we started WAZER, we'd been working as a mini company for 4 years building cars."
Beyond gaining important skills at Penn, the WAZER team emphasized how the University helped with the technical side of starting their business. Meana felt that the Penn degree carried a lot of weight when they were applying to HAX, which allowed them to develop their product in China.
Carpick also noted that the University has a great policy for undergraduate designs:
"As undergraduates, you own the intellectual property of your inventions here. You can take advantage of resources here to create something, and you'll own it."
Thanks to this policy, Lerea didn't have to worry about issues of ownership when he revived his MEAM Senior Design Project to create the WAZER company.
"I just really want to thank everyone at Penn and the MEAM community," said Lerea. "For me, and for the whole team I think, this is a big moment because we're coming full circle. We started at Penn, and this wouldn't have happened without the support we got initially from a variety of teachers and students."
In addition to delivering the WAZER technology to the University, a central purpose of the alumni's visit was to give students insight into the process of developing and marketing an engineering product. Lerea's presentation helped make students aware of: the patent process, product ownership rights, grant opportunities like the Small Business Innovation Research (SBIR) and Small Business Technology Transfer (STTR) program, individual part development with multiple vendors, and the importance of centering product design around customer needs.
Lerea's last piece of advice to Penn Engineering students? "We're hiring."
As the company progresses, WAZER hopes to expand its team and sell the system to companies and individuals who can really benefit from the technology.
The team was originally surprised to find that the appeal of their product reached beyond industrial applications like automotive or aerospace, catching the attention of artists and other creative minds. Now, WAZER recognizes the wide range of their potential customers and of the product's capabilities.
Meanwhile, the WAZER team is proud to know that their invention has found its way back to Penn, where students involved in a variety of engineering endeavors will be able to access WAZER to create and design in new ways.