Engineering/Wharton Start-Up Avisi Technologies on their way to FDA Approval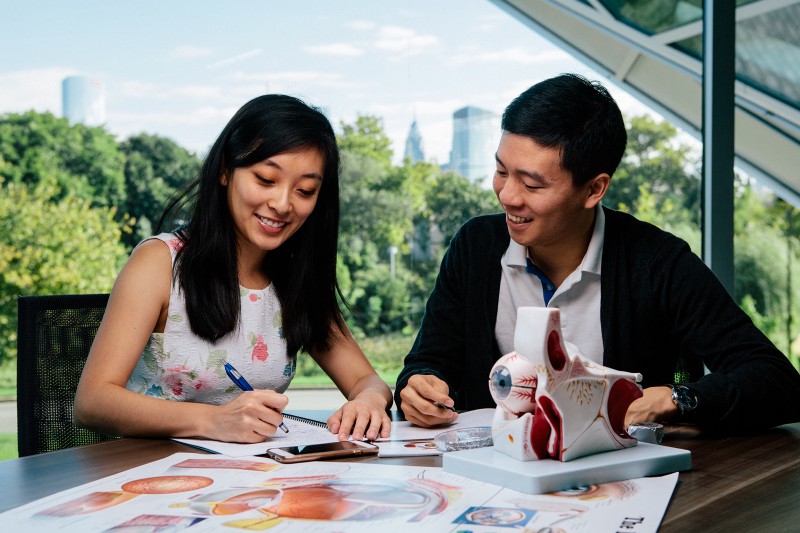 In their home base at the Pennovation Center, the duo behind biotechnology start-up Avisi Technologies, Penn grads Rui Jing Jiang and Brandon Kao, make working to bring to market a vision-sparing device look like play.
"I think sometimes people look at us running around here and say, 'Who are these young people just having fun?'" says Jiang, a May graduate of the Wharton School at Penn.
That impression, however, belies the cutting-edge science, business savvy, and dedicated work that the pair have put in over the last two years — and their meaningful progress. Since dedicating themselves full-time to Avisi this past July, Jiang and Kao, winners of the 2018 Penn President's Innovation Prize, have sailed past key milestones and are on the cusp of beginning a proof-of-concept study to test their device, VisiPlate.
An ocular implant with unique nanoscale properties, VisiPlate is designed to remove excess fluid from inside the eye, thereby relieving the high pressures that damage the optic nerve and cause open angle glaucoma, a major cause of blindness worldwide.
"Our findings from our bench experiments are promising so far," says Kao, who graduated in May from the School of Engineering and Applied Science. "A big question we had was whether or not the material would be robust enough to be inserted in the eye, and we've seen that it can be implanted in a cadaver eye and is still mechanically sound."
The President's Innovation Prize (PIP), founded by President Amy Gutmann in 2016, encourages Penn students to design and undertake innovative, commercial ventures that make a positive difference in the world. Winners receive as much as $100,000 to further develop their innovation as well as a $50,000 living stipend each.
As PIP awardees, Jiang and Kao, now CEO and CTO, respectively, of Avisi, have been allotted a dedicated working space at the Pennovation Center, as well as mentorship from the Penn Center for Innovation(PCI). Taking their involvement at the Pennovation Center one step further, the team is renting shared space in a second-floor laboratory where Kao works to further build, refine, and test prototype devices.
As budding health care entrepreneurs, the VisiPlate team has been garnering attention from both inside and outside Penn. Recently, they were accepted into the inaugural cohort of resident companies at Johnson & Johnson's JPOD @ Philadelphia, a networking hub unveiled earlier this month at the Pennovation Center. The arrangement affords Avisi and fellow startups access to mentorship and networking on top of the significant support they already receive from PCI and other project advisors.
Continue reading Katherine Unger Baillie's "Marching toward the market" at Penn Today.
Read more about new developments in the nanotechnology behind VisiPlate in "Penn Engineers Develop Ultrathin, Ultralight 'Nanocardboard," and more about JPOD@Philadelphia in "Johnson & Johnson Start-Up Incubator JPOD Hosts Five Engineering Companies."