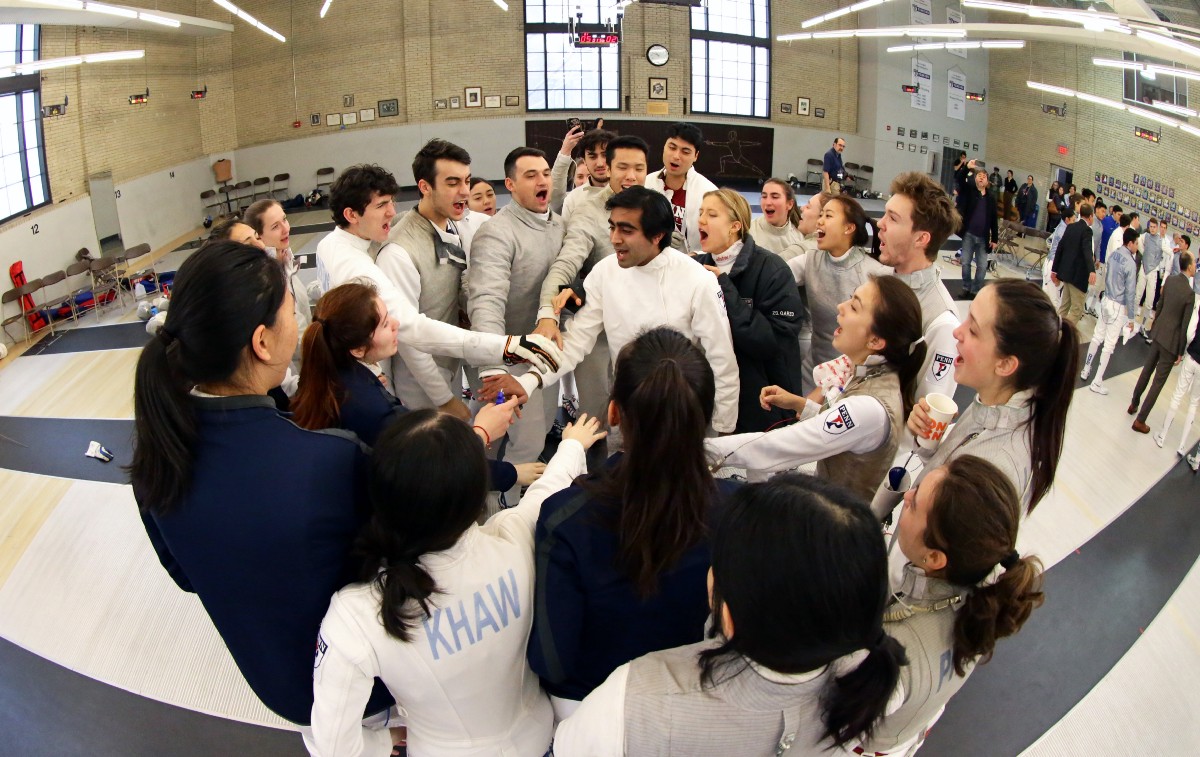 What were the chances? Captivated by a fencing demonstration at his elementary school in St. Louis, MO, an American-born son of French parentage went straight home and announced his desire to learn the sport. Meanwhile, an internationally recognized fencer, who had once coached the Egyptian National team, had settled in St. Louis and was busy making plans to establish a fencing club there. Two dreams collided: The Fencers Academy of St. Louis took shape and the boy learned to fence, and to fence well. Meet Alexandre Amice (BSE'20, MSE'20).
Amice's passion for the sport remained strong throughout high school, and the year he walked on to the Penn Fencing Team as a freshman engineering student, he was voted by the captains and coaches as Most Dedicated Fencer.
CHOOSE YOUR WEAPON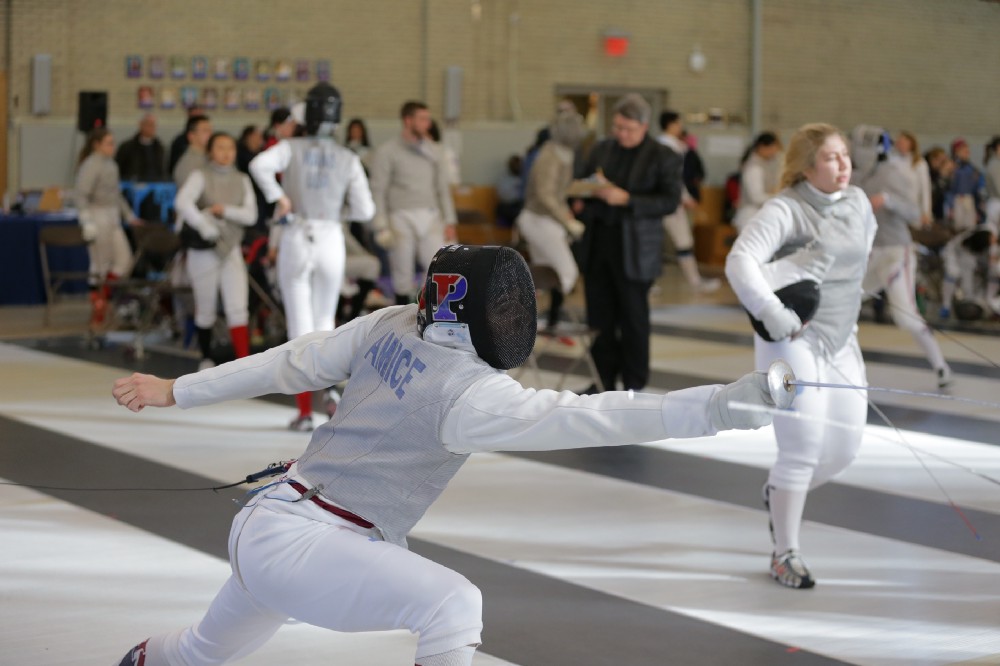 Of the three types of fencing swords: the épée, the foil and the sabre, Amice's weapon of choice is the light and flexible foil. In foil bouts, the target area for scoring touches is limited to the torso, requiring the fencers to remain closely engaged and in constant motion. Amice characterizes his fencing style as "athletic," with his build and skillset well-matched with his weapon.
Amice cites his measured and deliberate competition strategy as useful in his intellectual life. As he concurrently works toward his undergraduate degree in electrical engineering and mathematics and a master's in robotics, Amice clearly is not one to waste energy.
THE COOL ONE
The sabre is the weapon of choice for Penn World Scholar and freshman electrical engineering major, Enzo Bergamo. At an early age, he determined the discipline of sabre fencing to be "the cool one," with its reputation for quickness, aggression, slashing touches and split-second decision making. Compared in speed and spirit to Formula 1 racing by Olympic sabre fencer Daryl Homer, the target area for the discipline is the entire torso, the head, and the arms up to the wrist.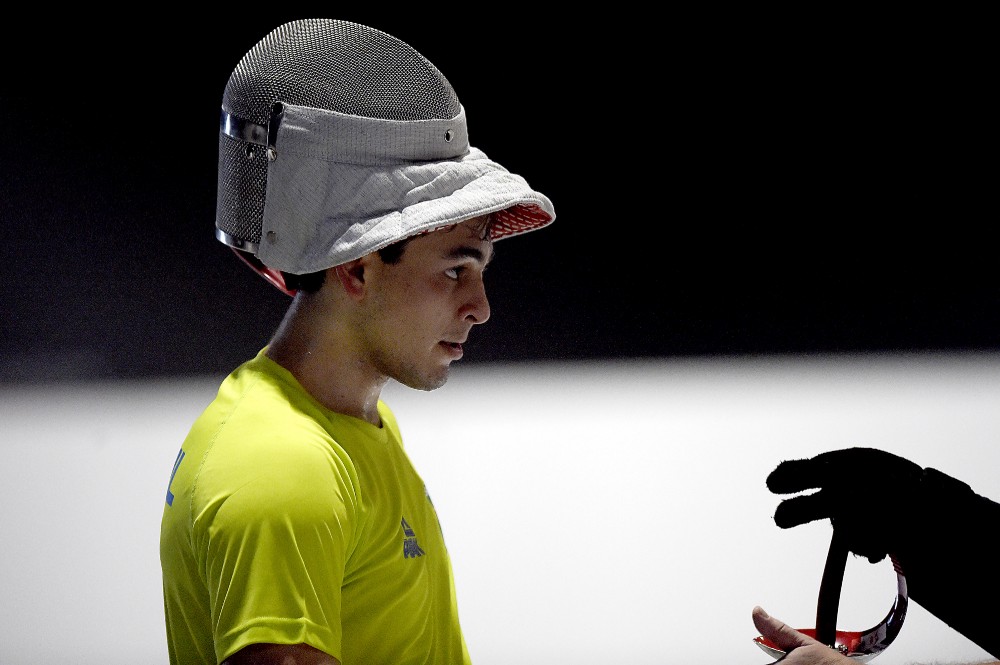 Andy Ma, Penn's head fencing coach, also serves as sabre coach, and Bergamo feels fortunate to be able to work with him one-on-one in lessons once or twice a week. After twelve years of high-level fencing in Sao Paulo, Brazil, Bergamo attributes his renewed love for the sport to Ma's influence and attentive demeanor. For Bergamo, being able to face down frustration and maintain physical and emotional balance are valuable attributes, with or without a sword in his hand.
Bergamo notes that he and his teammates are known as "student athletes," not "athlete students," and, with an electrical engineering concentration in data science and a minor in computer and information science, he envisions a master's degree in his future. Bergamo's overarching goal, he states, is "making a positive impact in my home country."
SMALL BUT MIGHTY
At 5'3," Kristina Khaw, a sophomore bioengineering major, fences with the épée, the largest and heaviest of fencing swords. Bouts in épée have been described as "aggressive defensive," and points can be scored with touches anywhere on the body. Fencers train especially hard to perfect their skills in counter moves.
Obeying her mother's directive to put her books aside in favor of exercise now and again, Khaw followed her sister, Kathryn (ENG'19), onto the fencing strip. She admits that, as a seventh grader, her greatest incentive to take up the sport was watching Kathryn delightedly stab their cousin with impunity in club practice.
As Khaw describes it, the muscle memory to succeed in épée came easily to her. Her stats provide proof: From the USA Fencing Nationals in the summer of her high school sophomore year, Khaw brought back to her Plainsboro, NJ, home the title of Division ll Women's Épée Champion. Other notable wins and honors followed.
Khaw is a problem solver by nature and believes that her strategizing as a fencer creates new brain connections, enhancing her ability to think about things in new ways. Accordingly, she finds myriad applications of her athletic training to her life as a Penn Engineer.
"One touch at a time" is Khaw's fencing mantra and, as she continues her studies on the pre-med track, her calm and logic will undoubtedly inform her journey.
DESTROY!
Khaw has a story about one of her teammates. She recounts that a sports psychologist, during an exercise with the fencing team, requested that members think of one word they might use to get back in the game should they fall behind in a bout. Taking turns in a circle, the fencers contributed words like "focus," "steady" and "calm." The flow of somewhat serene self-encouragement was suddenly disrupted with "destroy!" and the group of fencers broke out laughing. The word had been enthusiastically offered up by foil fencer Akshay Malhotra.
Malhotra, a senior in the dual-degree Jerome Fisher Program in Management and Technology (M&T) and a submatriculant studying for his master's degree in data science, remembers that day with a laugh. "Destroy," he explains, refers more to trivializing one's own fears than to literally "destroying" one's opponent. The mental tactic is one of many borrowed from his playbook as a U.S. national chess master.
So, if anyone on the fencing team can speak to the analogy of "fencing as physical chess," it is Malhotra. Still remembered as a standout at the Dallas (TX) Chess Club, he holds four national and 13 state titles. At age 11, he began fencing. Under the "tough" and results-oriented tutelage of foil coach Volodymyr Yefimov at the Fencing Institute of Texas, Malhotra quickly and steadily improved his physical technique.
During high school, scheduling considerations forced Malhotra to choose between chess and fencing. Malhotra calls it a "painful decision," and it was chess that won the day. But by the first semester of his junior year at Penn, the formidable mental qualities of speed, skill and strategy he was honing enabled him to free up enough time for fencing. While looking around for a club, he was more than a little excited to learn that the Penn Fencing Team accepts walk-ons in their junior year.
ANY SPORT, ANY TIME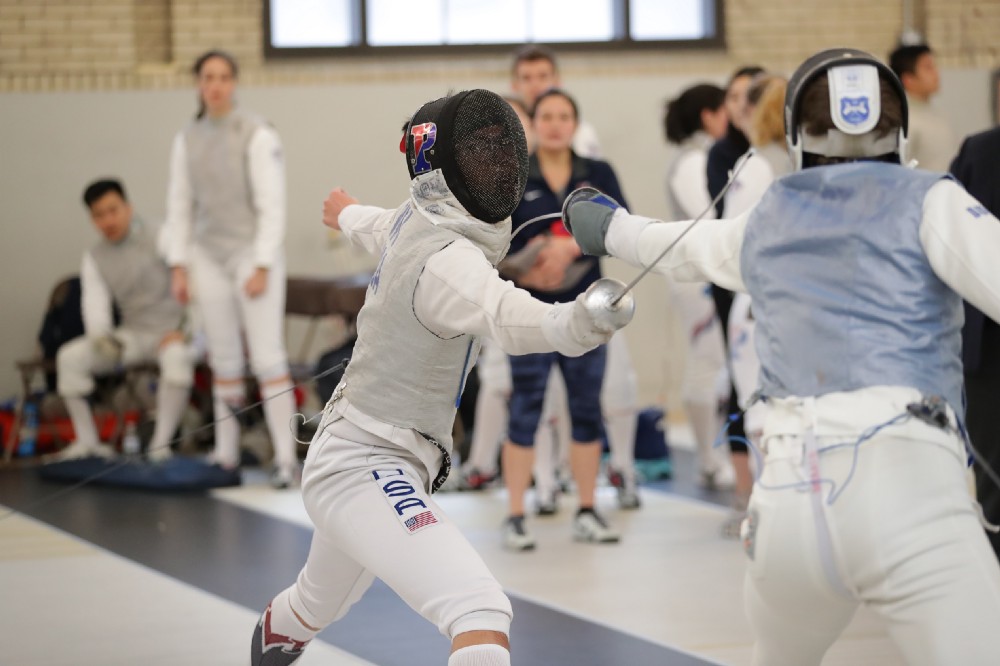 Got a game of pick-up basketball going? Up for swimming laps in the pool? Talk to Engineering sophomore Jerry Wu, computer and information science (CIS) major and foil fencer for the Penn team. A self-described "sports guy," Wu has never found a sport he doesn't like.
Fencing became Wu's passion at age nine, when he picked up a sword at the local rec center near his home in Palo Alto, CA. He soon progressed to a more fencing focused club in Mountain View and began travelling extensively with the team to international competitions. The friendships he formed with his fellow fencers throughout middle and high school remain meaningful to him to this day.
A "mental shift," as Wu describes it, was required as he transitioned from competitive club to collegiate fencing. Among the differences, he found, are scoring, bout timing and a team-based, rather than individual approach. Life lessons learned in both settings are similar; Wu cites self-reliance, personal responsibility, and the ability to push oneself as qualities instilled in him by the sport.
Wu's fencing practices and matches are at the top of his must-do list. His love of reading obliterates any white space remaining on his schedule, as does his work with Consult for America, a small business consulting club at Penn. Son, nephew and brother to software engineers in his family, Wu handily takes on any academic challenge that comes his way.