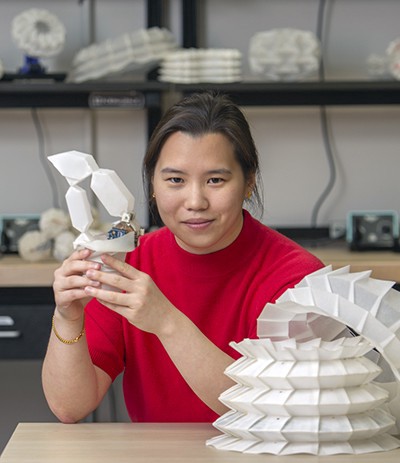 Cynthia Sung, Gabel Family Term Assistant Professor of Mechanical Engineering and Applied Mechanics, has been named one of six winners of the 2020 Johnson & Johnson Women in STEM2D (WiSTEM2D) Scholars Award.
Launched in 2017, this annual award seeks to fuel development of future female leaders and feed the talent pipeline by awarding and sponsoring women at critical points in their careers. The goal of this award is to support the research passion of the awarded women and inspire career paths in their respective fields. As a recipient, Sung will receive $150,000 in funding and three years of mentorship from Johnson & Johnson to support her research.
The WiSTEM2D Scholars Award awarded candidates in each of the six disciplines that make up its acronym: Science, Technology, Engineering, Math, Manufacturing and Design.
Sung received the Manufacturing Award "for her work studying origami-inspired manufacturing and robotics, with the goal of designing, developing and controlling soft, foldable robots that can be used in multiple environments, including healthcare procedures and medical applications."
"Now more than ever, as we are faced with new, uncharted global challenges, we need to remain committed to driving innovation and ground-breaking research," said Cat Oyler, Vice President, Strategic Initiatives, Janssen Global Services, LLC and WiSTEM2D University Sponsor. "These incredible women — and the many other up-and-coming female leaders — are making key STEM2D discoveries and shaping the future of tomorrow."
Read about the other awardees at Johnson & Johnson.