Computer and Information Science Names 2019 J.P. Eckert Master's Fellows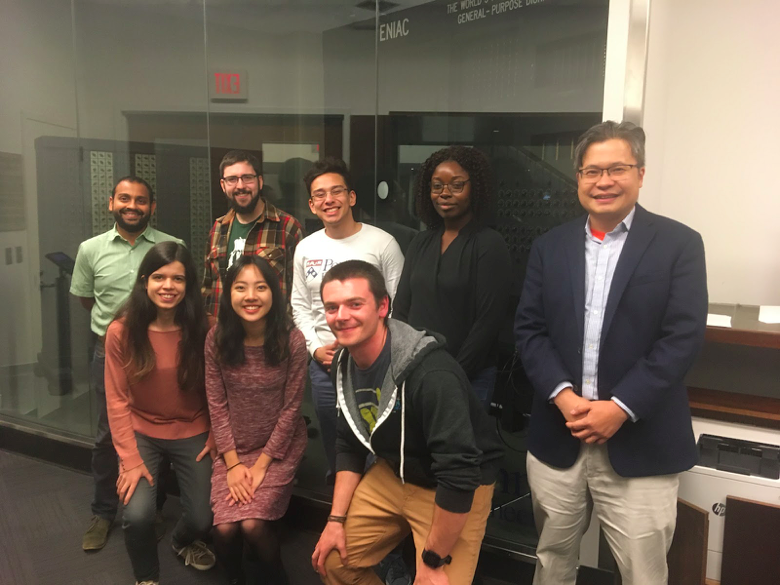 The Computer and Information Science (CIS) department is pleased to announce the 2019 recipients of the J.P. Eckert Master's Fellowship. This fellowship honors J. Presper Eckert, co-inventor of the first general-purpose electronic digital computer, ENIAC, developed at the University of Pennsylvania.
This fellowship provides outstanding master's students who are U.S. citizens or U.S. permanent residents $10,000 towards tuition. The purpose of the fellowship is to provide financial support to master's students and to support the University's interest in obtaining educational benefits by promoting student body diversity.
All incoming and existing master's students in each of the six CIS-affiliated master's programs with at least two semesters remaining in the program are eligible to apply for the J.P. Eckert Fellowship. Eckert fellows are selected through a highly competitive process, where fellows are evaluated based on their academic achievements, community service, and statement of purpose on diversity and outreach in STEM fields.
The 2019 Eckert Fellows are:
● Iciar Andreu Angulo, Computer Graphics and Game Technology (CGGT)
● Perpetual Baffour, Computer and Information Technology (CIT)
● Ari Benkov, Computer and Information Science (CIS)
● Brandon Joel Gonzalez, Robotics (ROBO)
● Karen Shen, Data Science (DATS)
● Eric Micallef, Embedded Systems (EMBS)
"I don't think there is another country in the world with as much diversity as the United States, and I believe that diversity should also be represented in STEM, especially now that a lot of our everyday lives revolve around the technological advances done in those fields," says Iciar Andreu Angulo, a second-year master's student from Spain.
Brandon Joel Gonzalez has served as a TA for CIS 240: Introduction to Computer Systems and CIS 371: Computer Architecture, and is currently a TA for CIS 380: Operating Systems.
"I want to help every student in the class realize that they have everything that it takes to succeed in Engineering," Gonzalez says. "I want them to know that they have a support network that is ready to help. Furthermore, I hope to use my role as an underrepresented minority student to motivate and inspire others like me who may have felt a lack of belonging in the past."
Eckert Fellows have been actively involved in community-building and outreach activities at Penn and beyond. Karen Shen serves as a TA for ESE 301: Engineering Probability, but in addition to her TA work she has actively championed diversity and outreach efforts in engineering through her club leadership and by building support systems, creating professional opportunities, and providing mentorship. She served as the president of the Eta Kappa Nu Lambda Chapter of the Electrical and Computer Engineering honor society, and serves as vice president-internal affairs for Penn's Society of Women Engineers.
"I am excited about the opportunity to serve as a J.P. Eckert Fellow and represent to others how one can thrive in the STEM field as a minority. I believe in paying it forward and leveraging the opportunities I have received to better the circumstances of those who look like me," says Perpetual Baffour, a Penn College of Arts and Sciences alumna who is returning to Penn as a master's student after working in education reform and policy research. Baffour has authored studies and contributed to book chapters focused on improving outcomes for low-income students and students of color, including a report on improving socioeconomic diversity in public schools.
The Eckert fellows are also passionate about societal issues on the whole. Eric Micallef volunteered at Upward Bounds to help mentor low-income high school students. On a weekly basis, he and several others would come up with activities to engage the students and think of questions that made them think about current issues or life in general.
"I am acutely aware of socioeconomic inequalities and the importance of listening across class divides to address issues from a true awareness of actual diverse experiences and needs," says Ari Benkov, an incoming master's student from Haverford College who is matriculating under the Haverford/Penn integrated accelerated master's program. Benkov himself is no stranger to overcoming adversity, having overcome childhood learning disabilities and growing up in a single-parent household.
As part of their outreach efforts, last year's class of Eckert Fellows participated in a panel discussion on graduate student issues at CAPWIC 2019, the Association for Computing Machinery Capitol Region Celebration of Women in Computing. Discussion topics included the Fellows' reasons for attending graduate school, their experience so far, and why they would recommend it to others.
"The audience for that discussion was mainly women currently engaged in undergraduate studies," says the CIS department master's program director Swapneel Sheth. "We hope that this year's fellows also help with recruitment and other efforts to help make our student body more diverse and inclusive."