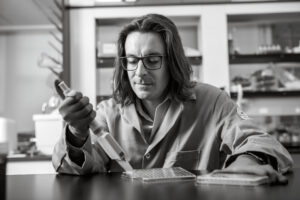 Michael J. Mitchell, Associate Professor in Bioengineering at the University of Pennsylvania School of Engineering and Applied Science, has been named a "Young Innovator of Cellular and Molecular Bioengineering" by Cellular and Molecular Bioengineering, the journal of the Biomedical Engineering Society (BMES).
The award recognizes faculty who are conducting some of the most innovative and impactful studies in the field of biomedical engineering. Recipients will present their research and be officially recognized at the BMES Annual Meeting in October.
Mitchell is being honored for creating an RNA nanoparticle therapy that stops the spread of the deadly bone marrow cancer multiple myeloma and helps to eliminate it altogether. Known for being difficult to treat, the disease kills over 100,000 people every year.
"We urgently need innovative, effective therapies against this cancer," Mitchell says. "The nanotechnology we developed can potentially serve as a platform to treat multiple myeloma and other bone marrow-based malignancies."
Mitchell, along with Christian Figuerora-Espada, a doctoral student in Bioengineering, previously published a study in PNAS describing how their RNA nanoparticle therapy stops multiple myeloma from moving through the blood vessels and mutating. In their current paper in Cellular and Molecular Bioengineering, which expands upon this RNA nanoparticle platform, they show that inhibition of both multiple myeloma migration and adhesion to bone marrow blood vessels, combined with an FDA-approved multiple myeloma therapeutic, extends survival in a mouse model of multiple myeloma.
The team's next steps include expanding their preclinical studies, together with Penn Medicine's Division of Hematology-Oncology, to further evaluate the pharmacology and toxicology of the drug. They hope this could lead to conducting Phase 1 clinical trials.
"Ultimately, this new therapeutic could prove beneficial for use in combination with other FDA-approved therapies to enhance anti-tumor responses and potentially increase overall survival rates, particularly in patients facing advanced disease," Mitchell says.
He adds, "I'm thrilled to be receiving this honor. It really points to the importance and potential of our research and the technologies we've developed for cancer therapy."
This story was written by Abbey Porter.