At Weiss Tech House, a Race From Idea to Prototype in One Semester
The student-run incubator hosted its first hardware accelerator this spring, offering cash, mentoring, and access to specialized equipment to four teams.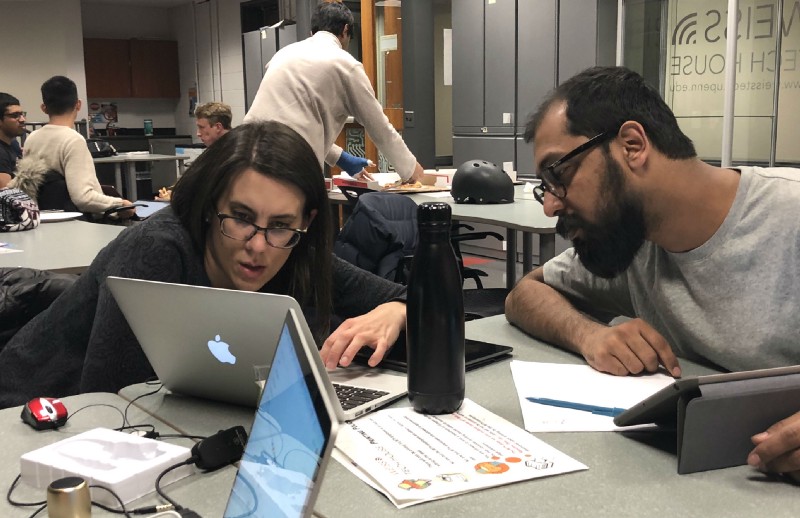 By Gwyneth K. Shaw
Laura Ceccacci, Jacquelyn Trujillo, and Ahmed Aly had a great idea, born in Penn's Medical Devices Club and honed during months of strategizing: A simple, field-ready sensing device to help military medics find the right place on a soldier's neck to perform an emergency cricothyrotomy.
The procedure is simple, involving making an incision through the skin and the cricothyroid membrane to open a blocked airway. But in the moments after a traumatic event, finding the right place to cut can be difficult, and mistakes are common.
"It's very scary, and even for people who have more experience in the health care field, it's difficult to perform," says Ceccacci, a Penn Engineering Integrated Product Design graduate student.
Their idea, AutoTrach, would help solve a major problem; airway obstruction is the third-largest preventable cause of death in the military. But after more than a year of tinkering and leveraging their biomedical expertise, they realized they needed some engineering help.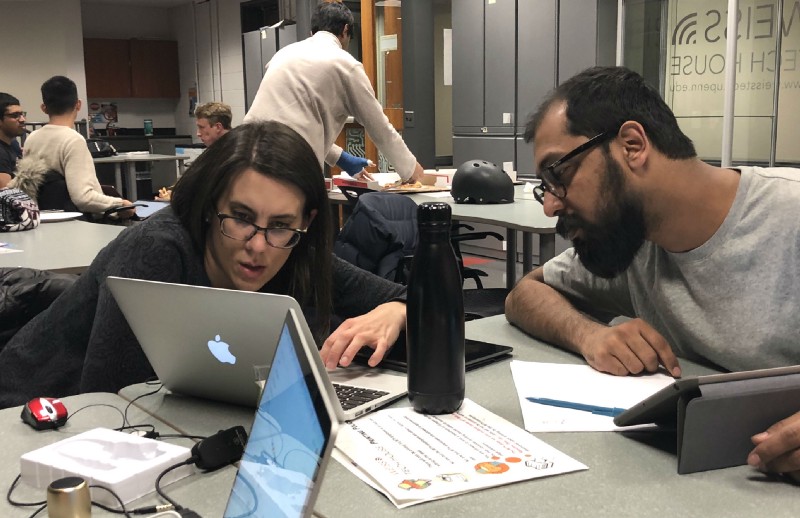 Enter the Weiss Tech House Hardware Accelerator, which hosted its first class this spring. Dozens of teams applied for the chance to go from idea to prototype in less than a semester's time, with help from student mentors, access to specialized equipment, and as much as $1,000 for supplies.
"We thought the accelerator would really be helpful just because the people running it are from those backgrounds," says Trujillo, who's currently in a College of Liberal and Professional Studies program to prepare for an M.D./Ph.D. program in bioengineering.
The accelerator was run out of Weiss Tech House (WTH), a student-run technology incubator supported by the Office of the Vice Provost for Research and open to any Penn student. More than 30 teams applied, says WTH Director Anne Stamer.
The sessions began in mid-February, with engineering students Varun Sanghvi, Matthew Fohner, and Adnan Jafferjee leading the group. Each week featured a 15-minute discussion on a particular engineering topic, from how to use computer-aided design software to the basics of 3D printing, plus time for the teams to make a presentation about their projects, including what was working and what wasn't.
Teams also met for every week for individual consulting sessions with the student leaders.
WTH created the accelerator program to offer students, especially undergraduates, another opportunity to have a hands-on experience building a new device. Several other accelerators exist on campus, including at the Wharton School, Perelman School of Medicine, and Pennovation Center.
The hardware accelerator complements WTH's other programs, including the WeissLabs startup accelerator; WeissPitch, which hosts the annual Pennvention competition; and the WeissFund, which offers seed money to fledgling companies.
Among the other projects in the accelerator's first group were eyeComm, a help button for hospitalized patients who aren't able to speak or move, and a computer-controlled soft-serve ice cream machine.
For Ceccacci, Trujillo, and Aly, who's a fifth year M.D./Ph.D. student, the accelerator was the perfect way to push their project forward.
"There were a lot of variables we could play with and we now have full control of that through the accelerator, which has been really helpful," Trujillo says.
The AutoTrach team started with a standard cervical collar as the base of their device, since that neck-stabilizing step is the first a medic would take when presented with an airway obstruction. They considered a number of options for the sensing device.
With help from the mentors, the AutoTrach team moved toward a method that relies on differences in the anatomical structures of the neck to help guide a military medic toward the ideal spot.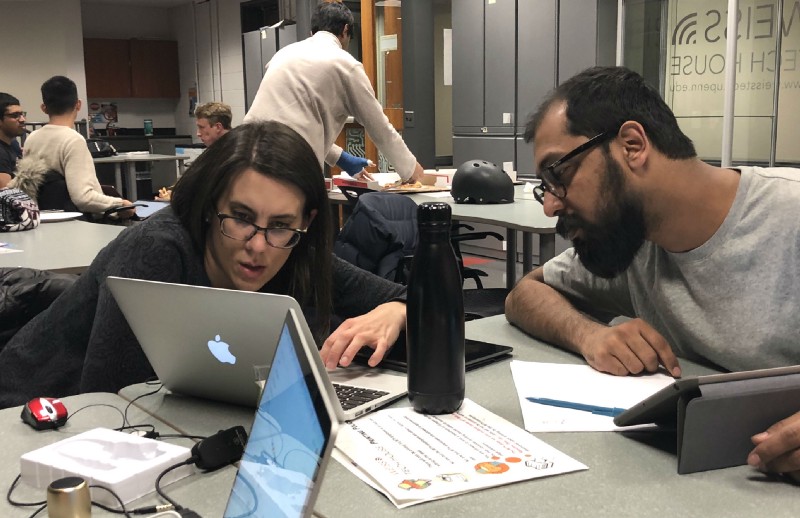 Trujillo says the team especially benefited from the theoretical approach from the mentors, as well as their practical experience in mechanical and electrical engineering, which she and her teammates didn't have.
"They definitely challenged us in that aspect, which was good," she says. "And also just getting their feedbackif you're an electrical engineer and you know how to build these types of systems and we say, 'Hey, we want to add this kind of sensor,' but they say, 'No', you pay attention to that.
"It was really helpful just to have that initial feedback and that actually encouraged us to switch over to our current detection method."
Now, they have the chance to actually test the device and gather data to help them further improve it. For now, their focus is on sensing the right spot for the incision, since other products already on the market or in development are targeted at the incision.
They plan to work with a WTH summer program and keep competing with the idea. Aly says they plan to apply for a Small Business Technology Transfer Research from the National Institutes of Health and Department of Defense, too. He estimates that AutoTrach is roughly six years away from commercial use, since as a medical device it will also require approval from the U.S. Food and Drug Administration.
The accelerator experience streamlined the development process significantly, Ceccacci says.
"At the end of the accelerator, we had a number of meaningful steps that we could take. We were pointed in the right direction," she says. "It really put us at a good point to answer the technical questions that would be asked later down the road when we want to scale the technology."