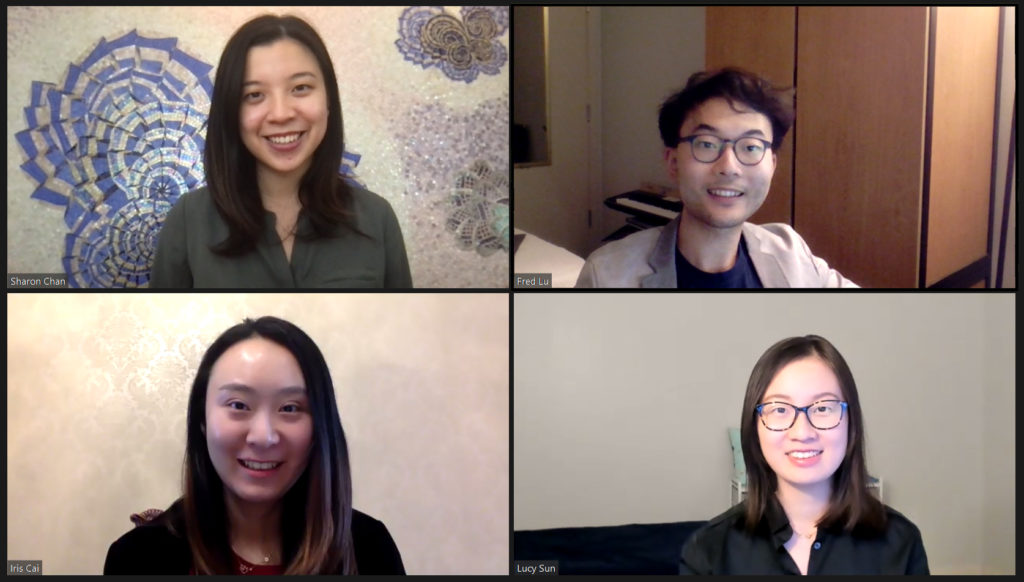 The Y-Prize, a student startup competition based on technologies developed at Penn Engineering, is hosted by the Wharton School's Mack Institute for Innovation Management, Penn Wharton Entrepreneurship and the Penn Center for Innovation each year. The team with the best pitch takes home $10,000 in investment funding.
This year's winning team was LiberTech, composed of students Shangting (Lucy) Sun of Wharton, Sharon Ying Man Chan of the College of Arts and Sciences, and Zhouzheyuan (Fred) Lu (CAS) and Hechun (Iris) Cai of Wharton. Their company uses nanostructured membranes that have unprecedented filtering abilities, technology developed by Chinedum Osuji, Eduardo D. Glandt Presidential Professor in Chemical and Biomolecular Engineering.
LiberTech will use this membrane technology to remove alcohol from beer and wine. Traditional methods of dealcoholizing beer and wine are expensive, limiting the number of breweries that can sustainably produce low- and non-alcoholic spirits. This innovation from LiberTech will open the doors of low and non-alcoholic spirits to micro and craft breweries at an affordable price without sacrificing quality.
"Some people would love to have a drink but cannot do so because of religion, safety, health and age, which has given rise to the market of 'no-low alcohol' beer and wine," says Cai.
"There are several reasons why the momentum in this market is building," says Sun. "First, as the health and wellness trend is strengthening, people want low-calorie drinks. Second, there is strong consumer interest from people who traditionally cannot consume alcohol, such as those with religious constraints."
While there are other economic incentives for beverage companies to offer alcohol-free products, the traditional process of dealcoholization is expensive and inefficient.
"There are four mainstream dealcoholization techniques and none of them could balance cost, efficiency and taste," says Sun. "Heat from thermal methods damages the aromal compound and therefore affects taste. Biological processes stop fermentation at a certain level, so the formation of aromal compounds is restricted and the taste is undesirable. While reverse osmosis ensures quality, it requires a high-pressure environment and thus leads to high operation costs."
LiberTech's membrane has already been tested for dealcoholization, and has proven to provide tasty and affordable products.
"The whiskey experiment done by Professor Osuji's lab shows the membrane pores are small enough that only water and ethanol molecules pass through while essential flavors and colors are retained. It also applies to beer and wine," says Lu.
The team highlights that both commercial and microbreweries will save money by adopting this new technology, but that eventually their product can be applied to other markets.
"We will also potentially expand the revenue stream to dairy, juice and other beverages to cater to other customer needs," says Chan.
LiberTech's feasible target consumers in the microbrewery market and the clear demand for no-low alcohol beverages made them the best option for the Y-Prize funds.
However, the judges were impressed with each of the final four teams and announced that $1,500 would be given to the runners up to support their startups.
One of those teams is RareFlow, composed of students Cooper Yerby of the School of Arts and Sciences and Ben Yao, Patrick Prommel, Caroline Dickey and Peter Hucal of Wharton. RareFlow is a company aiming to collect rare earth elements in mining waste by using the nanostructured membrane technology to better sift out these precious materials.
The other team who pitched a company based on the nanostructured membrane technology was Kerato Technologies, composed of students Navya Janga of Penn Engineering and Shiva Teerdhala, Henry Le, Sireesh Ramesh and Amy Chen of the Vagelos Program in Life Science and Management (Vagelos LSM). Kerato Technologies aims to decrease the number of corneal transplant rejections by coating a nanopore membrane with antigens that suppress the patient's immune response to a donor cornea. Their KeraCoat membrane technology will protect corneal transplants from the patient's immune system attacks and provide clear and long-lasting vision to more people around the world.
Another technology provided for this year's Y-Prize challenge was Semantic SLAM, a technology that uses machine learning to identify and characterize objects while mapping a 2D or 3D space. The Invision Med team, composed of Aditya Hota of Penn Engineering, David (Zhangyi) Fan of Wharton and Penn Engineering, Catherine Ruan and Emma Lu of Wharton and Vagelos LSM and Chloe Niu of Wharton, aims to use both semantic SLAM and 3D deep learning techniques to identify cancerous polyps in real-time during an endoscopy. As colon cancer is one of the most preventable cancers, this technology has the potential to save many lives and reduce the discomfort of routine colonoscopies.
As each team received funding and support for their 5-year plan, the Y-Prize challenge continues to showcase leaders in innovation at Penn and provide mentorship in the applications of emerging technologies in industry.