Akshay Ramani: Voices of Penn Engineering Master's Alumni
This is a part of our series of articles, written by Penn Engineering alums about their experiences at Penn and how it shaped their lives. Our next article is by Akshay Ramani, who graduated with a bachelor's degree in Mechanical Engineering from the National Institute of Technology, Karnataka and a master's degree in Mechanical Engineering and Applied Mechanics (MEAM) with a specialization in Heat Transfer, Fluid Mechanics and Energy from Penn Engineering in 2018. Akshay currently works as an HVAC Engineer at Plus Group Consulting Engineering, a New York-based Design Engineering Consulting Firm.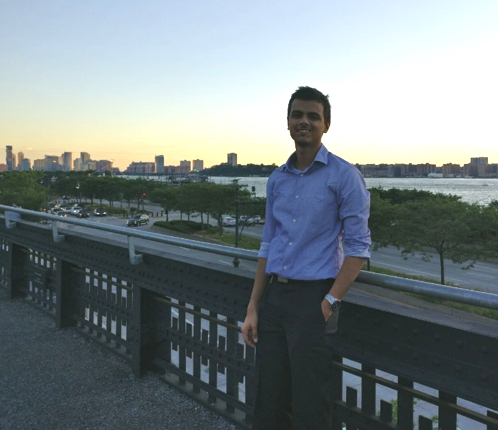 Originally from Goa, India, I moved to Dubai when I was eight years old and was instantly exposed to an amalgam of cultures and heritage. Goa is India's "party town," quite contrary to Dubai, which was then a quiet place far from being the iconic city it is today. In a way I grew up with the city.
Even before the Burj Khalifa, Dubai's buildings were a marvel to behold. Having a father who is a mechanical engineer himself gave me the lucky break to explore all that went into making them. With every rising building I was more and more fascinated with what went behind all the glitz and glamour. Buildings account for 50 percent of the world's energy use and 72 percent of its electricity consumption, and site visits gave me an insight into the efforts being made by the industry to save non-renewable resources by reducing power and water consumption.
Before I knew it, I was interested in building design and the built environment. With global warming and the impending energy crisis, I began channelizing my thoughts towards pursuing a career that relates to designing buildings and communities in an environmentally and socially responsible manner.
I knew that to get in on this sophisticated field, I needed to have an interdisciplinary approach to engineering, one where I needed to have a broad understanding of very diverse subjects. I studied mechanical engineering for my undergraduate curriculum at the National Institute of Technology, Karnataka, in India. Complex subjects of computational fluid dynamics, thermodynamics, and air conditioning were right at my fingertips. However, I felt like there was still a lot more to absorb in the field. I knew I wanted to pursue a master's program which would expose me to the intricacies of existing technology while being at the forefront of cutting-edge research, and what better place to apply to than a program catered to do just that.
I started school at Penn, excited but with a fair share of uncertainty, something that is always present when you jump into something new. I didn't know how I would adapt to a new country and settle in. Penn helped a lot with this by holding numerous orientations as well as social events where I met many new people, all unique in their own way yet sharing the same anxiety and excitement. I think everyone would agree, the free food helped!
I chose the specialization in Heat Transfer, Fluid Mechanics and Energy, which dealt with subjects pertaining to energy conversion, power generation and thermal control. This combined with an interdisciplinary approach to engineering and close collaboration with the Departments of Chemical and Biomolecular Engineering, Materials Science and Engineering and Electrical and Systems Engineering prepared me for my everyday work, where I coordinate projects of different scales with electrical engineers, plumbing engineers, architects, acoustic engineers and environment engineers.
Soon academic courses were underway and with this went away all anxiety and in came the familiar pressures of deadlines and everything started feeling like home. I spent more hours in the Van Pelt Library and the Shark Tank — a computer Lab in Towne — than I did at home. I took a variety of courses throughout my masters' program which helped strengthen my subject knowledge base. In Viscous Fluids, we learned to model turbulence as well as unstable flows using different models. This was particularly challenging as each run of the model took almost six hours to complete. In Computational Mechanics and Transport Processes, I learned to apply boundary conditions and relevant equations to different practical problems. A lot of the design work I do now relates to fluid flow through duct work and piping and the concepts I learned in these subjects are being used in almost everything I do today.
Not all of the subjects I studied were limited to the built environment. One of the courses that was most interesting was Energy Engineering, where I worked on an interesting project of "utilizing waste cold" energy of liquified natural gas systems to reduce the heat rejection temperature and increase plant efficiencies. Through this course I also began collaborating with Professor Jennifer Lukes on "Magnetic Hyperthermia," which is a novel method to treat cancer by using magnetite nanoparticles. Magnetic Hyperthermia refers to the use of an alternating magnetic field and applying it to tiny magnetic particles which would have to be embedded into the cancer tissues through a form of implantation. The heat generated through the different mechanisms such as Neel relaxation would then kill the cancer cells by heating the specific cells to higher temperatures. This work also gave me the opportunity to contribute in my own way to a very important medical cause, something that was not on my radar but I am glad I pursued. I was awarded the MEAM M.S.E Scholarship for the research.
I also had the flexibility to take the Engineering Entrepreneurship I and II courses, which helped me learn more about what it takes to start a new venture and the different challenges that come with it. Entrepreneurship II in particular was very intensive and shed light on the steps that went into preparing a solid business plan from scratch. The course ended with a presentation to venture capitalists, where they evaluated our business plan and gave us feedback which I found to be specifically useful. I intend to start my own venture at some point and these courses will play a major role in my career development as they helped develop my presentation skills and gave me a much better sense of what it takes to launch an idea to market.
I also had the opportunity to serve as teaching assistant and mentor for multiple courses at both the graduate and undergraduate levels, such as Analytical Methods of Engineering, Heat and Mass Transfer and Transport Processes which helped me refresh my understanding on undergraduate courses while also giving me a chance to interact with students. I even learned new topics and ways of solving the problems because students often ask questions that you would never think of! I got an honorable mention for being an Outstanding Teaching Assistant which was satisfying in its own right.
All of this pertains to just my academic life at Penn, but the past two years at the University were so much more than that. There were friendships and bonds formed which will last a lifetime. All those late nights spent on projects and assignments (why does nobody get it, I love sleep), all those inconvenient meetings with groups (Friday evenings, seriously guys?), each forged friendships that I will cherish for the rest of my life. Philadelphia was also a lively city to be in, especially this year (think Broad Street on Super Bowl night). The Schuylkill river gave bliss when none of the computational mechanics code worked (there goes 15 hours of my life that aren't coming back). Penn's gym was the place to be to vent out your frustration on some weights. Oh, and the food trucks need no introduction!
I have now started my first full-time position in the "Big Apple" as a Heating, Ventilation and Air Conditioning (HVAC) Engineer, still aspiring to stop the energy crisis, albeit this time strengthened and backed by powerful experiences at Penn Engineering.