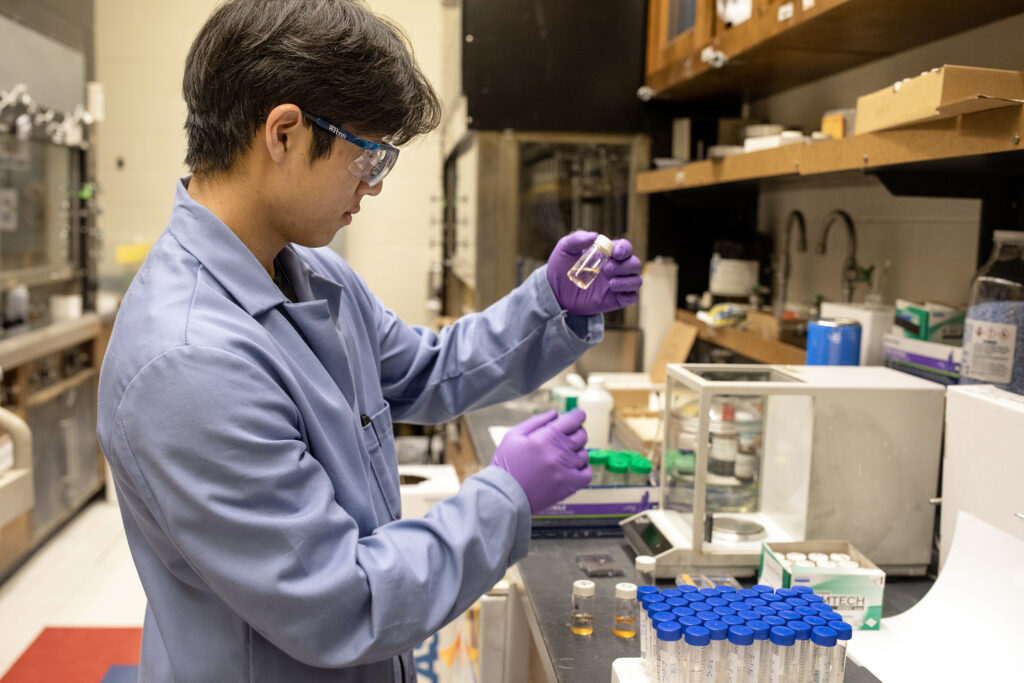 Scattered throughout the lab of chemistry professor Eric Schelter—under a box, on top of a shelf, in a drawer—are vials containing solutions of an orange cobalt compound powder that Andrew Ahn, C'26, ENG'26, left behind at the end of his summer research program.
But Ahn didn't abandon his equipment. The powder is an essential part of a process to extract pure cobalt and nickel from the jumble of materials created when a car battery gets recycled or metals are mined from the Earth. He is crossing his fingers that the cobalt compounds in at least one of those scattered vials will crystallize, allowing him and his labmates to better understand the compound's chemical structure.
Ahn, who is double majoring in chemistry and mechanical engineering, spent the summer in the Schelter Lab as part of his participation in the Vagelos Integrated Program in Energy Research (VIPER). By testing different concentrations of metals and solutions, Ahn helped improve a chemical process that could reduce the environmental harm associated with the lithium-ion batteries expected to power a more electric future.
A Cleaner Way to Mine
Ahn's drive for sustainability research derived from his lifelong love of cars; he has worked on them with his dad, a fellow auto aficionado, since childhood. In high school, as he learned about the ways that cars contribute to climate change, he realized that despite his love of engines, hybrid and electric cars were undoubtedly an important part of the automobile's future.
"That realization got me to really look into sustainability," Ahn says. "If we want to keep driving cars around, it's crucial that we limit their climate impact."
In 2021, the summer before his senior year of high school, Ahn participated in a research program at Stony Brook University. When he heard VIPER managing director Michelle Hutchings speak to the students in the program, Ahn decided he'd found his next step and applied early decision.
In a seminar for VIPER students this past spring, he heard Schelter speak about his lab's work finding more sustainable ways to obtain metals used in electronics, like the lithium-ion batteries in hybrid or electric cars. The processes to extract those metals are not well developed, Schelter says, particularly because so many of the technologies that utilize them, including solar panels and wind turbines, are relatively new. The mining process is often environmentally destructive and can create economic structures that exploit local communities.
"If you could enable local people with better chemistry that would allow them to produce a product that the rest of the world needs without doing widespread environmental harm and provide a good standard of living," Schelter says, "that would be the ideal across the board."
This article was written by Laura Dattaro. To read the full story, please visit OMNIA.