Y-Prize Startup VisiPlate is Opening Eyes and Attracting Funding
VisiPlate, a nanotechnology-based medical device for glaucoma patients, got its start as the winner of the 2017 Y-Prize. The competition tasks students with transforming early-stage Penn Engineering technologies into viable businesses. Team VisiPlate selected the nanoscopically thin plates developed by Igor Bargatin, Class of 1965 Term Assistant Professor in Mechanical Engineering and Applied Mechanics, and applied them to a device that shunts away the excess ocular fluid that builds up in glaucoma, causing blindness if unchecked.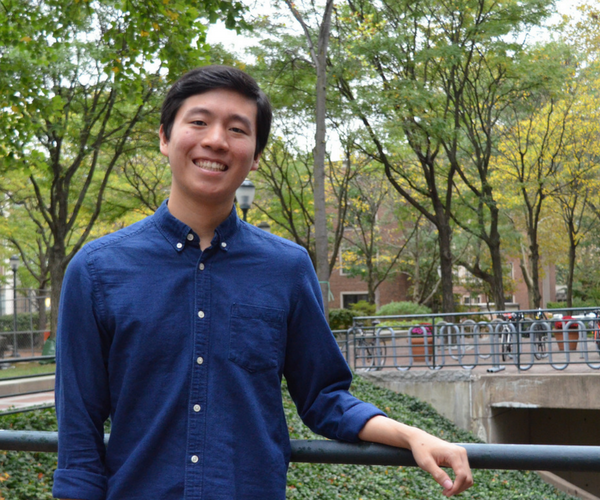 But for VisiPlate team members Brandon Kao, a senior the Department of Materials Science and Engineering (MSE), and Wharton seniors Rui Jing Jiang and Adarsh Battu, the story goes back even further. The team embodies the interdisciplinary spirit of innovation that exists throughout campus and draws motivated students to Penn in the first place.
VisiPlate has now received a second round of funding from the entrepreneurship education non-profit VentureWell. The $20,000 grant will support further prototyping and pre-clinical testing.
Below, Kao describes how Team VisiPlate came together, and where they're going next.
The origins of VisiPlate, and our introduction to Penn's entrepreneurial environment, can be traced back before our first day of school. Rui Jing and I met at the Management and Technology Summer Institute, a pre-college summer camp that focused on ideating a new product, prototyping, and presenting a business plan for commercialization. Adarsh joined the Wharton Small Business Development Center in the fall of his sophomore year, and quickly learned to identify problems that growing companies frequently encounter as they expand, whether through products, locations, or customers.
Overall, the three of us were invigorated by the budding environment of innovation that we found ourselves in at Penn, and the classes that we took helped us build toolkits that we could use to turn our visions to reality. Adarsh and Rui Jing actually met in a business strategy class, Management 223, in the fall of their junior year, and quickly discovered a mutual interest in technology.
One day, after a group project meeting, they were chatting about the Y-Prize and learned that both of them had wanted to participate ever since they were freshmen — they simply never had a team. On impulse, they decided to form a team together and take a stab at the 2017 challenge, which centered around commercializing novel materials created by Engineering professors. Serendipitously, I was studying Materials Science and Engineering and had the bandwidth to join the team as well.
Armed with understandings of materials science engineering, strategic management, finance, marketing, and biology, our team was well equipped to come up with a medical device application for the technology on the table. Our goal was to develop a product with health applications, but it was only once all three of us sat down together that we could use our different viewpoints to brainstorm a medical device targeting open-angle glaucoma. As the technology was a nano-thin plate, we searched for implants that require thin materials and settled on an ocular application, since healthy vision is personally compelling to us and a major component of quality of life. We conducted secondary research and talked to medical experts to determine the commercial viability of our idea, which was largely dependent on the large and growing glaucoma patient population, regulatory ease of entry, and poor performance of competitors.
Since receiving the Y-Prize, we've also obtained funding from Penn Engineering's Berkman Fund, the Singh Center for Nanotechnology Innovation Seed Grant, and the Penn Wharton Innovation Fund. We also won the Crowd Favorite Award at the Penn Wharton Startup Challenge and are participants of the Wharton Venture Initiation Program and Penn I-Corps Accelerator.
This funding has helped us progress to prototyping — working in the Singh Center for Nanotechnology with the help of Sam Nicaise, a postdoctoral researcher in the Bargatin laboratory — refining our business plan, and even conducting a pre-clinical animal study that showed the biocompatibility of our device.
Now, the biggest driver of VisiPlate's development is our participation in VentureWell's E-Team Program. VentureWell is a non-profit organization that supports the creation of student-founded startups and supports innovation and entrepreneurship ecosystems. VentureWell startups have raised subsequent funds totaling over $800 million and are reaching millions of people in over 50 countries.
The E-Team Program is a competitive national program that provides grant funding of up to $25,000 and cultivates opportunities for student STEM inventors and innovators to move ideas out of the lab and into the market. The three-stage program provides training, peer networking, expert coaching, national recognition, and hands-on workshops for student teams working to commercialize their high-impact science and technology inventions. Stage 1 teams receive $5,000 each to develop their prototypes and attend a workshop on how to better articulate the opportunity for their innovation in the marketplace. VisiPlate was one of sixteen new Stage 1 teams from schools around the nation that attended the July 2017 workshop in Cambridge, Massachusetts.
At the Stage 1 workshop, we learned about market validation, national grants and venture funding, and intellectual property protection. More importantly, we connected with veterans in the startup space that have given us specific insights and mentoring tailored to our needs, as well as contacts for the future. It was also eye-opening to learn about other startups from fellow students working on groundbreaking solutions to worldwide problems.
After attending the Stage 1 workshop, we applied for and received Stage 2 funding. This comes with an additional $20,000 grant, as well as the opportunity to attend another workshop to develop and test our business model hypotheses. With the grant, we will be able to further refine our prototype to improve the efficacy of the device, validating these with in vitro lab tests and eventually with further animal testing. The funds will also allow us to learn more about the industry landscape by consulting experts and attending premier glaucoma research conferences.
The program caps off with Stage 3. VentureWell's ASPIRE program is an intense experiential workshop that prepares startups for the investments and partnerships necessary to launch their ventures. We hope that the Stage 2 funding and mentorship will allow us to progress our business in the next few months to prepare us for this final stage.
VisiPlate's success thus far has been made possible by the wide range of support and resources we found at Penn. Our advisors, Drs. Richard Stone and Eydie Miller-Ellis of the Perelman School of Medicine, have been wonderful in sharing their expertise in ophthalmology with us. Dr. Jeffrey Babin of Penn Engineering has always encouraged us and connected us with invaluable opportunities, and Dr. Bargatin and Sam Nicaise have shown us incredible support in our engineering efforts. We are very grateful to the Mack Institute for Innovation, the School of Engineering and Applied Science, Penn Wharton Entrepreneurship and related groups, Penn Law's Entrepreneurship Legal Clinic, and our friends and families.