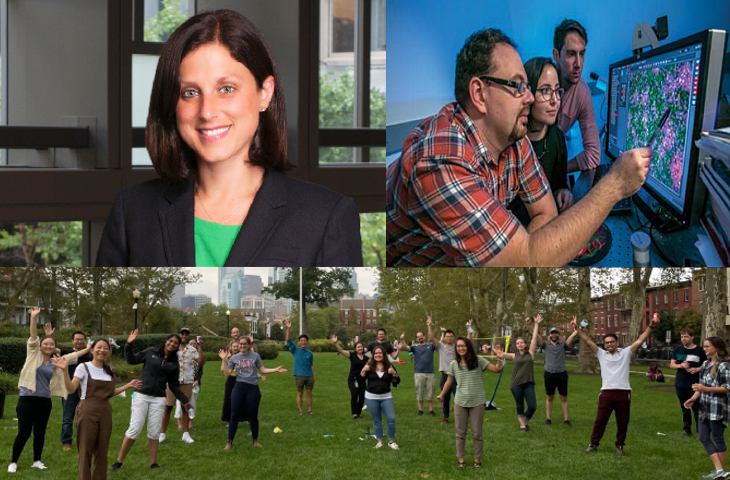 Each year, the National Institutes of Health (NIH) recognizes exceptionally creative scientists through its High-Risk, High-Reward Research Program. The four awards granted by this program are designed to support researchers whose "out of the box" and "trailblazing" ideas have the potential for broad impact.  
Jennifer E. Phillips-Cremins, Associate Professor and Dean's Faculty Fellow in Penn Engineering's Department of Bioengineering and the Perelman School of Medicine's Department of Genetics, is one such researcher. As a recipient of an NIH Director's Pioneer Award, she will receive $3.5 million over five years to support her work on the role that the physical folding of chromatin plays in the encoding of neural circuit and synapse properties contributing to long-term memory. 
Phillips-Cremins' award is one of 106 grants made through the High-Risk, High-Reward program this year, though she is only one of 10 to receive the Pioneer Award, which is the program's largest funding opportunity.  
"The science put forward by this cohort is exceptionally novel and creative and is sure to push at the boundaries of what is known," said NIH Director Francis S. Collins. 
Phillips-Cremins' research is in the general field of epigenetics, the molecular and structural modifications that allow the genome — an identical copy of which is found in each cell — to express genes differently at different times and in different parts of the body. Within this field, her lab focuses on higher-order folding patterns of the DNA sequence, which bring distant sets of genes and regulatory elements into close proximity with one another as they are compressed inside the cell's nucleus. 
Previous work from the Cremins lab has investigated severe genome misfolding patterns common across a class of genetic neurological disorders, including fragile X syndrome, Huntington's disease, ALS and Friedreich's ataxia.
With the support of the Pioneer Award, she and the members of her lab will extend that research to a more fundamental question of neuroscience: how memory is encoded over decades, despite the rapid turnover of the relevant proteins and RNA sequences within the brain's synapses.  
"Our long-term goals are to understand how, when and why pathologic genome misfolding leads to synaptic dysfunction by way of disrupted gene expression," said Phillips-Cremins, "as well as to engineer the genome's structure-function relationship to reverse pathologic synaptic defects in debilitating neurological diseases."