With New 4WD Car, Penn Electric Racing Adds to Its Trophy Collection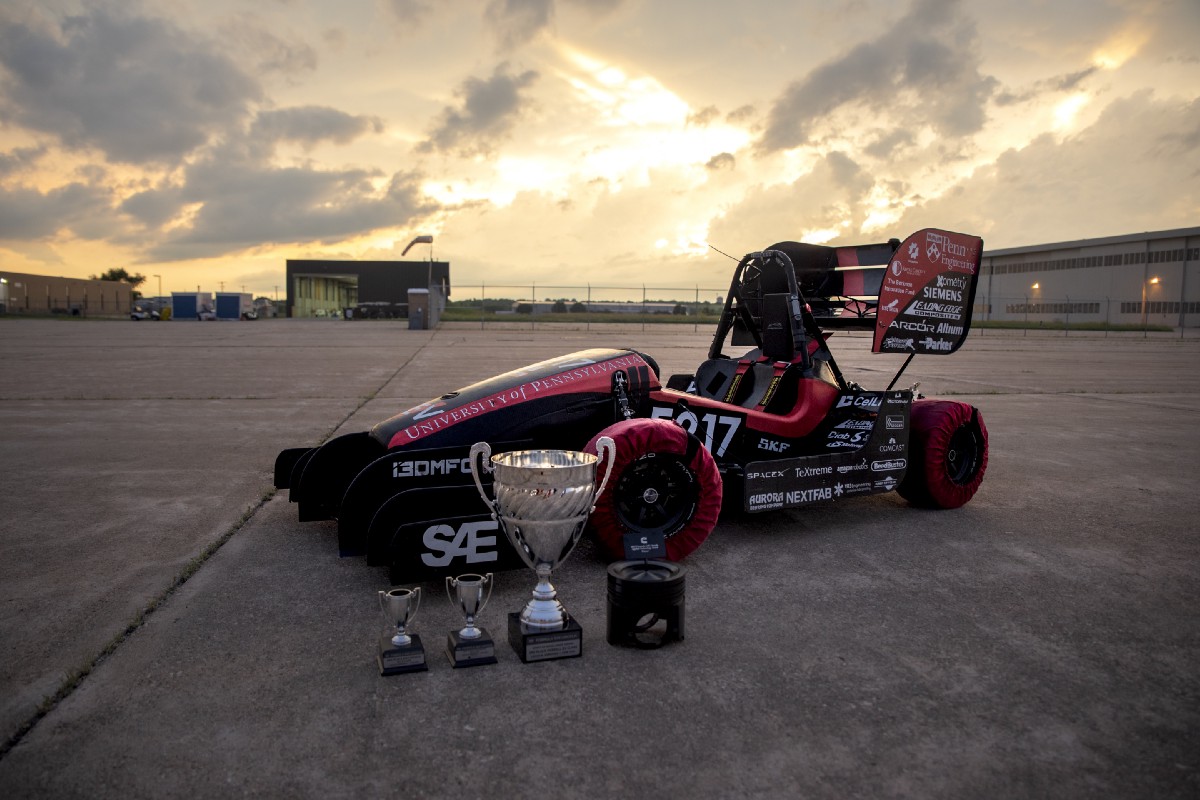 Penn Electric Racing is now the first American team to successfully run a four-wheel-drive vehicle at Formula SAE Lincoln Electric, the premier student racecar competition in North America. Their 2019 car, REV5, boasts custom in-wheel motors, an optimized aerodynamic package, and flexible circuitry that allowed the team to compete with the safest, highest-performing battery ever at Lincoln.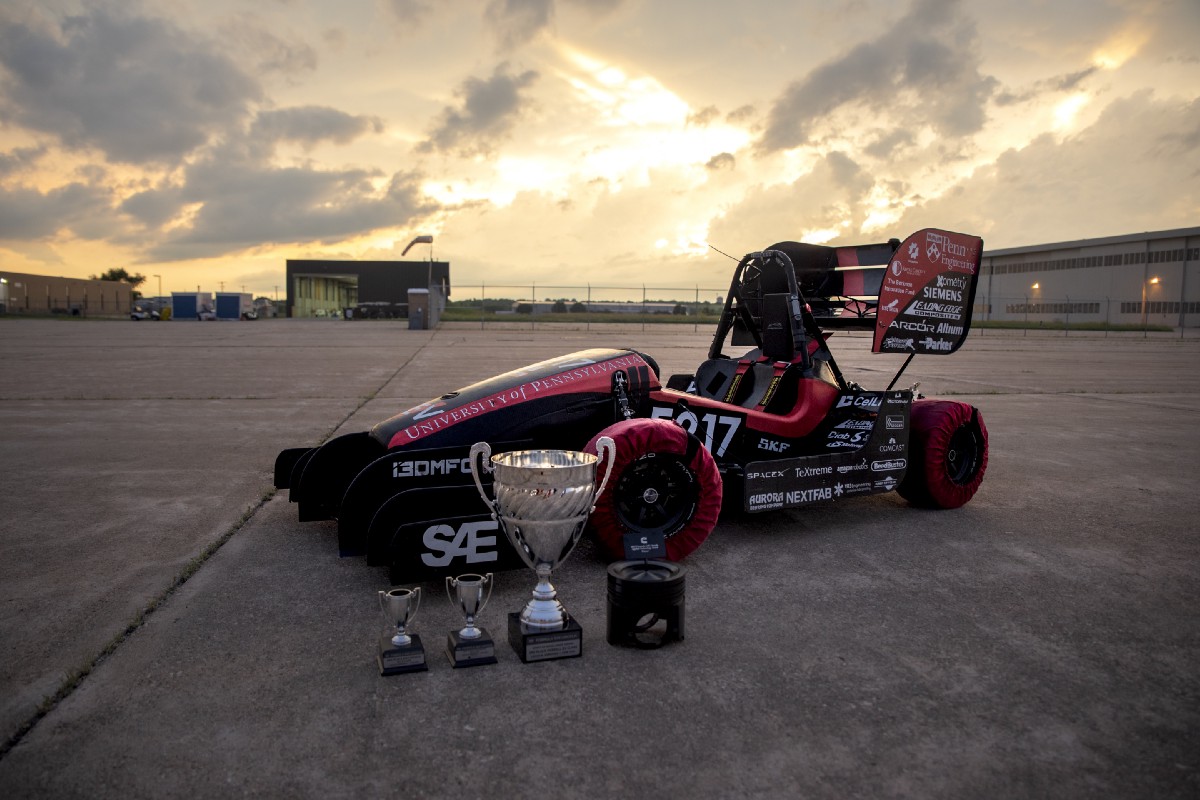 These innovations earned REV5 third place overall at Lincoln, as well as the first place Cummins Inc. Applied Technology Award for the car's innovative battery design, and several awards in racing events. The June competition brought more than 100 gas and electric teams from universities around the world to compete in the four-day event.
"We took a risk this year to validate our in-wheel motors," says Penn Electric Racing (PER) team leader Johnathan Chen. "This architecture has given us a lot of headaches and scar tissue. At one point, for reliability's sake, we thought about going back to one motor instead of four, but we stuck to our ambition and somehow pulled it off."
REV5's four-wheel drive makes it the first competitive vehicle of its kind in America.
Though pushing the envelope with their new car's design was the team's ultimate goal, it also helped make up for some weather-related technical problems that might have otherwise knocked the car off the podium entirely.
"The first day of competition, there was a big thunderstorm," Chen says. "Rainwater got into the high-voltage wiring, causing safety systems to shut the car down. We fixed it in time but at the cost of missing Acceleration and most of Skidpad, two of four racing events."
After repairs, REV5 took top spots for the other racing events, securing the team's final placement.
"You can imagine we were all pretty surprised when we landed in the top three," Chen says. "And we were only 30 points out of 1,000 away from second place."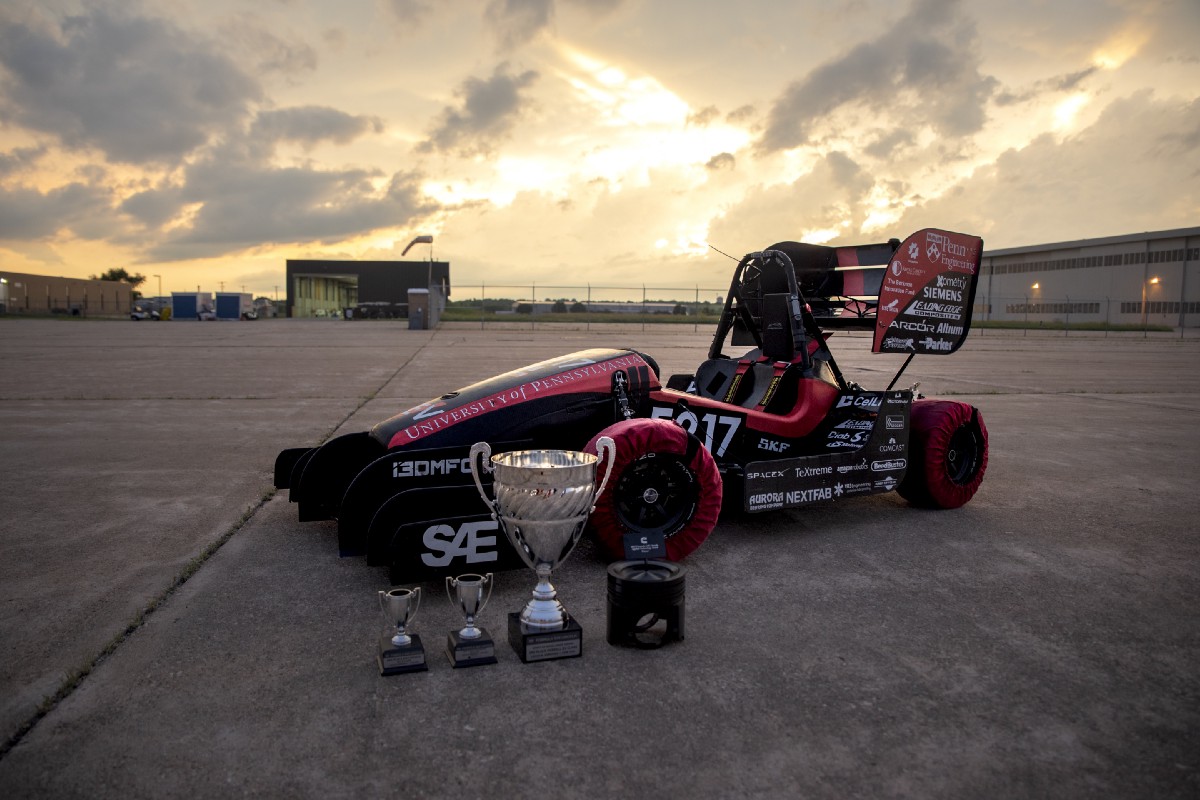 The team's success comes at the end of a challenging road. Last year's car, REV4, was the start of PER's transition from traditional rear wheel drive to its new powertrain. The immense complexity made the vehicle inoperable at the 2018 competition, adding to the pressure of this year's redesign.
"Four-wheel drive matters because the amount of tractional load you can sustain while cornering is unbeatable compared with a traditional rear-motor drive," says chief engineer Liam Cook. "We focused on experimenting with a new platform that few teams in America have attempted yet. My guess is that, in two or three years, everyone's going to be trying to figure it out. We got so many questions during competition from other teams."
As part of REV5's process, PER's leadership decided to set a more aggressive timeline. At peak, the 40-plus team members, spanning Engineering, the College and Wharton, worked 30–40 hour weeks on top of school commitments in order to unveil the car in mid-March, three months earlier than any previous vehicle. This allowed the team to commence testing nearly two months ahead of schedule, ironing out fixes along the way.
"I still can't believe we met our timeline," Cook says.
The vehicle marked PER's return to top honors at Lincoln and its fourth podium finish in six years, solidifying its legacy in the FSAE Electric circuit.
Jay Fleischer, dubbed "software wizard" by his teammates, graduated in May after five years with PER, and has seen this progress up close.
"We demonstrated that PER can successfully develop custom motor controllers on a four-wheel-drive racecar and have plans to do even better next year," Fleischer says. "All the seniors are incredibly proud of the work of all the younger members. We're leaving the team in good hands."
As team members settle back into their summer jobs, they are already spending dozens of hours every week drafting designs for REV6 . One of Penn Electric Racing's greatest challenges in the coming years will involve balancing technological advancement and team development, but with its four-wheel drive architecture validated at Lincoln, the team expects to continue pushing the frontier of electric vehicles.