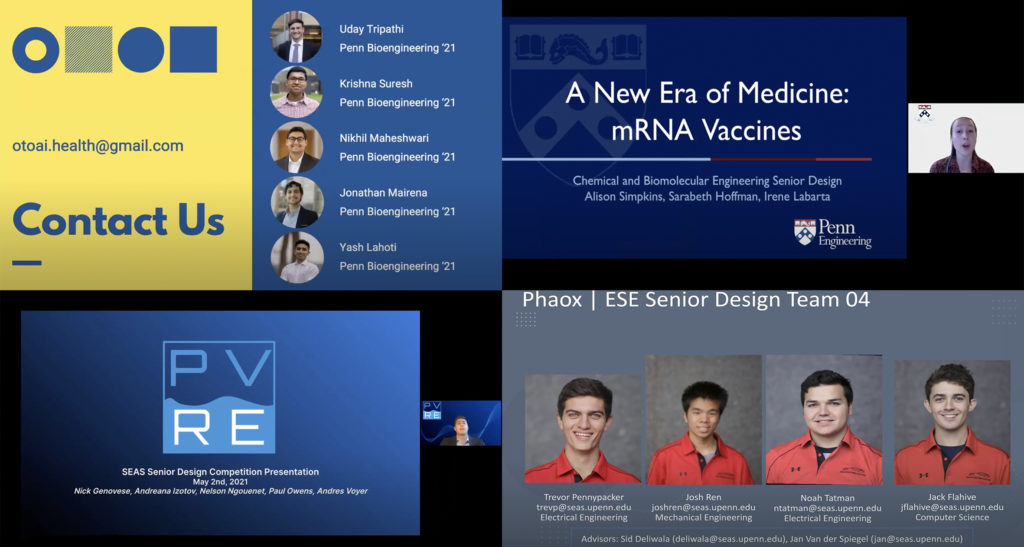 Each year, Penn Engineering's seniors present their Senior Design projects, a year-long effort that challenges them to test and develop solutions to real-world problems, to their individual departments. The top three projects from each department go on to compete in the annual Senior Design Competition, sponsored by the Engineering Alumni Society, which involves pitching projects to a panel of judges who evaluate their potential in the market. While the pandemic made this year's competition logistically challenging, students and organizers were able to come together virtually to continue the tradition.
This year's virtual format provided an opportunity for judges from around the country to participate in evaluating projects. Brad Richards, Director of Alumni Relations at Penn Engineering who helped plan the competition, was able to help recruit more than 60 volunteers to serve on the panel.
"The broad number of judges from varying industries made this competition incredibly meaningful, we will absolutely be integrating a virtual component to allow for more judges in the future."
Eighteen teams total, three from each department, virtually presented to the panel of judges, who awarded $2,000 prizes in four categories.
Technology & Innovation Prize
This award recognized the team whose project represents the highest and best use of technology and innovation to leverage engineering principles.
Winner: Team OtoAI
Department: Bioengineering
Team Members: Krishna Suresh, Nikhil Maheshwari, Yash Lahoti, Jonathan Mairena, Uday Tripathi
Advisor: Steven Eliades, Assistant Professor of Otorhinolaryngology in Penn's Perelman School of Medicine
Abstract: OtoAI is a novel digital otoscope that enables primary care physicians to take images of the inner ear and leverages machine learning to diagnose abnormal ear pathologies.
Social Impact Prize
This award recognizes the team whose project represents the greatest potential benefit for society by creatively solving an issue in a socially relevant field, such as health, sustainability or energy.
Winner: Team mRNA Vaccines
Department: Chemical and Biomolecular Engineering
Team Members: Alison Simpkins, Sarabeth Hoffman, Irene Labarta
Advisor: Scott Diamond, Arthur E. Humphrey Professor in Chemical and Biomolecular Engineering
Abstract: Team mRNA Vaccines proposes a manufacturing process to produce 200 million sterile doses of a COVID-19 mRNA vaccine in 13 weeks, yielding an annual production of 725 million doses. This process has never been outlined on such a large scale and is critical to end the current pandemic and treat future diseases.
Leadership Prize
This award recognizes the team which most professionally and persuasively presents their group project to incorporate a full analysis of their project's scope, advantages and challenges, as well as addresses the research's future potential and prospects for commercialization.
Winner: Team PVRE
Department: Mechanical Engineering and Applied Mechanics
Team Members: Nicholas Genovese, Andreana Izotov, Nelson Ngouenet, Paul Owens and Andres Voyer
Advisor: Graham Wabiszewski, Senior Lecturer in Mechanical Engineering and Applied Mechanics
Abstract: Team PVRE's goal is to create a cost-efficient, low-maintenance device that allows rural communities to access water purification methods implementable with local water storage locations.
Judges' Choice Award
This award recognizes the group whose all-around presentation captures the best of the senior design program's different facets:  ideation, scope of project, team problem-solving, execution and presentation.
Winner: Team Phaox
Department: Electrical and Systems Engineering
Team Members: Trevor Pennypacker, Josh Ren, Jack Flahive, Noah Tatman
Advisors:  Sid Deliwala, Director of Electrical and Systems Engineering Lab Programs, and Jan Van Der Spiegel, Professor in Electrical and Systems Engineering
Abstract: Phoax is the first ever high-performance wireless video endoscopy system. By using a tiny and affordable computer called Raspberry Pi which is powered by an onboard battery, a camera is rigidly attached to the endoscope, feeding live video back to the mini computer. An ultrabright LED, powered by the onboard battery and controlled by the computer through a transistor, illuminates the endoscope image. Buttons on the device can capture stills and manipulate settings to create real-time image processing on the Pi. Wireless video transmission can be played directly on a smartphone, tablet, or computer.