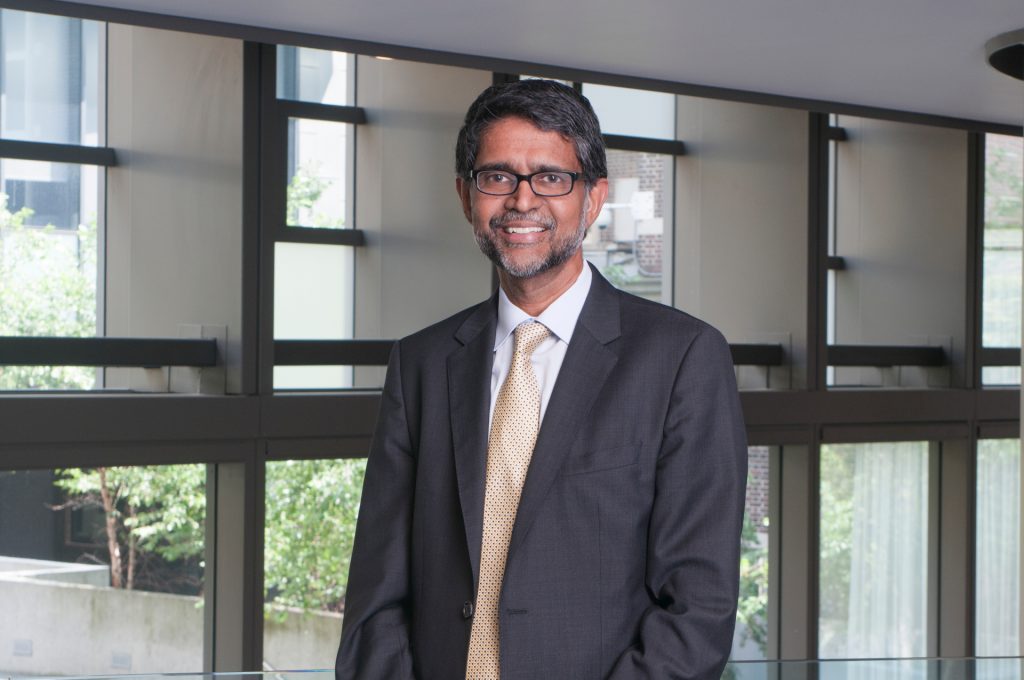 Vijay Kumar has been reappointed as the Nemirovsky Family Dean of the School of Engineering and Applied Science at the University of Pennsylvania. His term will run through June 30, 2027.
The announcement was made today by President Amy Gutmann and Provost Wendell Pritchett.
Under Kumar's leadership during the previous six years, the School's strategic plan, Penn Engineering 2020, has catalyzed growth across all of the School's dimensions, especially in engineering health, data science and computation, and energy science and technology. Kumar and the Penn Engineering community continue to focus their collective efforts on critical areas of schoolwide importance, including diversity, equity, and inclusion; collaborative and translational research; and pedagogic innovation in online learning and investment in educational technologies.
"Penn Engineering has achieved truly remarkable growth under Dean Kumar," said Gutmann. She cited growth in its preeminent faculty, adding 44 new tenure-track faculty from 2015 to 2020; modernization and growth in its physical plant, highlighted by the soon-to-come Data Science Building; growth in student quality, selectivity, and diversity; growth in cross-school, interdisciplinary partnerships, with prominent examples including the Penn Center for Health, Devices and Technology (Penn Health-Tech), energy science and technology initiatives; growth in innovative new degree programs, most notably the first-of-its-kind online Master of Computer and Information Technology (MCIT); and student entrepreneurship programming.
"Under Dean Kumar's exemplary leadership, the School's response to the pandemic was nothing short of heroic," Gutmann said. "Students banded together to manufacture and mass produce critical, lifesaving PPE; researchers developed diagnostics, treatments, and therapeutics in partnership with Penn Medicine and other health science schools; and faculty members reconfigured hundreds of longstanding courses for a virtual format."
Pritchett said, "We believe that Dean Kumar is exceptionally well-positioned to lead Penn Engineering through an exciting period of growth and as it continues its ascent to international preeminence."
Kumar's reappointment was recommended by a Review Committee chaired by Erika James, dean of the Wharton School. The Committee conducted informational interviews and conversations with various members of the faculty, staff, student body, and alumni community and held open meetings for faculty, staff, and students within the School. The Committee also examined a comprehensive selection of data and documents concerning the School, including detailed budget, enrollment, and employment data.
At its next meeting, the Board of Trustees will receive a resolution to reappoint Kumar.