Two Penn Engineering Professors Named 2018 ACM Fellows
By Jacob Williamson-Rea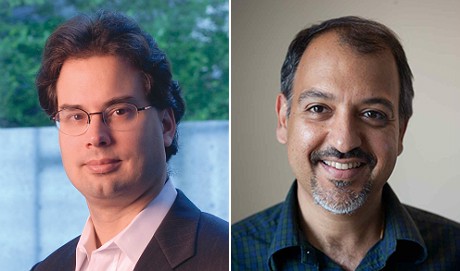 Two Penn Engineering professors have been named to the 2018 Association for Computing Machinery (ACM) Fellowship class: André DeHon, Professor of Electrical and Systems Engineering and Computer and Information Science, and Sanjeev Khanna, the Henry Salvatori Professor of Computer and Information Science.
The ACM, the world's largest computing society, seeks to address computing machinery's latest challenges. ACM Fellows are recognized for significant contributions in computing and information technology fields including computer architecture, robotics, and systems security. ACM awards this distinction to less than 1% of its overall membership each year.
Dehon has been recognized for "contributions to architecture exploration and design automation of spatially programmable computing fabrics, especially FPGAs [field programmable gate arrays]." Dehon broadly focuses on nano research, in which he ventures into the atomic scale to build computer systems. Effective nanoscale design poses many challenges and requires a complete rethinking of traditional computing systems. Dehon directs Penn's Implementation of Computation group to address these challenges, where researchers are currently focused on programmable system-on-a-chip designs.
Khanna has been recognized for "contributions to approximation algorithms, hardness of approximation, and sublinear algorithms." He works primarily in theoretical computer science, determining the amount of resources required to perform computational tasks. His recent work has focused on sublinear graph algorithms that solve optimization problems on large scale networks using computational resources that are much smaller than the network size.
"In society, when we identify our tech leaders, we often think of men and women in industry who have made technologies pervasive while building major corporations," says Cherri M. Pancake, ACM President "At the same time, the dedication, collaborative spirit and creativity of the computing professionals who initially conceived and developed these technologies goes unsung.
"The ACM Fellows program publicly recognizes the people who made key contributions to the technologies we enjoy. Even when their work did not directly result in a specific technology, they have made major theoretical contributions that have advanced the science of computing. We are honored to add a new class of Fellows to ACM's ranks and we look forward to the guidance and counsel they will provide to our organization."
The 2018 ACM Fellows will be formally recognized at the annual Awards Banquet, which will be held on June 15, 2019 in San Francisco. Additional information about this event and ACM Fellows can be found on the AMC Fellows website.