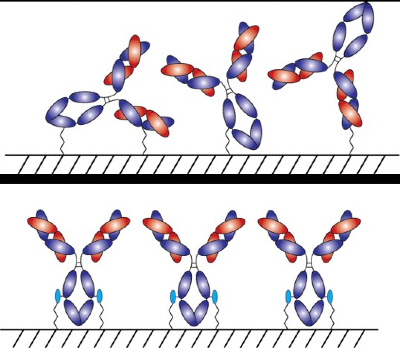 To combat the COVID-19 pandemic caused by the SARS-CoV2 virus, the Targeted Imaging Therapeutics and Nanomedicine (Titan) Lab, led by Bioengineering professor Andrew Tsourkas, in collaboration with the Penn-based startup, AlphaThera, was recently awarded a $667,000 SBIR Phase II Grant Extension to support its efforts in commercializing COVID-19 detection technology. The grant supports work to address the growing need for anti-viral antibody testing. Specifically, the Tsourkas Lab and AlphaThera hope to leverage their expertise with antibody conjugation technologies to reduce the steps and complexity of existing detection assays to enable greater production and higher sensitivity tests. AlphaThera was founded in 2016 by Andrew Tsourkas, PhD, Professor of Bioengineering and James Hui, MD, PhD, a graduate of the Perelman School of Medicine and Penn Bioengineering's doctoral program.
During this pandemic it is crucial to characterize disease prevalence among populations, understand immunity, test vaccine efficacy and monitor disease resurgence. Projections have indicated that millions of daily tests will be needed to effectively control the virus spread. One important testing method is the serological assay: These tests detect the presence of SARS-CoV2 antibodies in a person's blood produced by the body's immune system responding to infection. Serological tests not only diagnose active infections, but also establish prior infection in an individual, which can greatly aid in forecasting disease spread and contact tracing. To perform the serological assays for antibody detection, well-established immunoassay methods are used such as ELISA.
A variety of issues have slowed the distribution of these serological assays for antibody testing. The surge in demand for testing has caused shortages in materials and reagents that are crucial for the assays. Furthermore, complexity in some of the assay formats can slow both production and affect the sensitivity of test results. Recognizing these problems, AlphaThera is leveraging its novel conjugation technology to greatly improve upon traditional assay formats.
Continue reading at the Penn Bioengineering Blog.