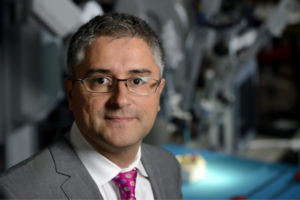 The Association for Computing Machinery (ACM) has recognized 57 members as fellows for their contributions to outstanding advancements in computer and information technology. Representing the top 1% of ACM members, the 2022 fellows continue to push boundaries in fields including cybersecurity, human-computer interaction, mobile computing and recommender systems.
René Vidal, Rachleff University Professor of Electrical and Systems Engineering and Radiology with joint appointments at the School of Engineering and Applied Science and the Perlman School of Medicine, has been named an ACM fellow for his contributions to subspace clustering and motion segmentation in computer vision.
Vidal's work focuses on advancing deep learning in computers to better identify objects, faces and even individual cells in complex biomedical datasets, images and videos. Innovative work in these areas explores how robotics and AI can be used in healthcare research and clinical settings, providing tools, for example, to assist in surgeries or diagnose disease.
Vidal is amongst a diverse group of ACM fellows who represent universities, corporations and research centers in Canada, Chile, China, France, Germany, Israel, the Netherlands, Spain, Switzerland and the United States.
The fellowship program brings awareness to the work and creativity of the inconspicuous drivers of global computing and information technology research. Read more about René Vidal and the other fellows in the ACM's announcement.