As the COVID-19 outbreak continues to develop, the CDC now recommends that anyone traveling outside their home should wear a cloth face covering to cut down on the spread of the virus, leaving professional-grade face masks for healthcare workers. Many people are now turning to DIY tutorials to learn how to make their own masks, but confusion remains on the best designs and materials.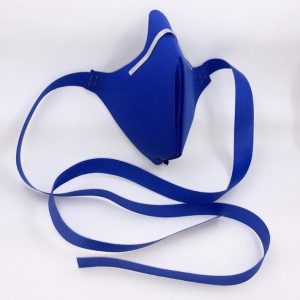 With this conundrum in mind, Shu Yang, Professor of Materials Science and Engineering and Chemical and Biomolecular Engineering, is part of an effort to design an effective face mask that can be made at home.
Yang says that the issue with many DIY face mask designs is that they may not properly conform to the face. Without a strong seal around the mouth and nose, even the best materials are undermined; the virus can enter or leave through the gaps in the sides, or hitch a ride on fingers as they adjust a loose-fitting mask. And while a strong seal is critical for maximizing the mask's effectiveness important for healthcare workers, it presents its own design challenge: too strong a seal will make the mask too uncomfortable for an 8-hour-plus shift.
Given Yang's expertise in how two-dimensional sheets can be assembled into three-dimensional structures, origami was a natural approach to this problem.
Yang and Eric Sugalski, President and CEO of Archimedic, a local medical device development firm, recently spoke to KYW Newsradio's Carol MacKenzie about the Origami Mask Project, an open-source, volunteer-backed effort to develop and refine the designs of these folded face masks. After the need for new ways of making personal protective equipment became clear, Yang, Sugalski and other local partners established Open Medical, a non-profit organization that seeks to address urgent unmet medical needs in this open-source fashion.
Those interested in making their own origami mask can join the project to find a template and instructions. At present, Yang says the group has developed one iteration of the origami mask, but they are working on another design that will hopefully be even easier to make.
As for materials, Yang says that there are a variety of options that people may already have at home that can be used, though their efficacy goes down as the size of their pores goes up. Vacuum cleaner bags are Yang and Sugalski's preferred material, as they have been manufactured to filter very small particles, but other options include dish towels, cotton t-shirts, scarves, and pillowcases.
Yang emphasizes that these masks should be comfortable to wear and breathable but still conform tightly to the face. Most important, they should be used consistently.
"Anything you're putting over your mouth and nose when you go outside is better than having no protection at all," Yang said.
How are you coping and adapting to the COVID-19 outbreak? What kind of work are you doing in spite — or maybe because — of this global crisis? We want to hear from you. Go to Penn Engineering's Share Your Story homepage to learn more.