Senior Zachary Whitlock Named Thouron Scholar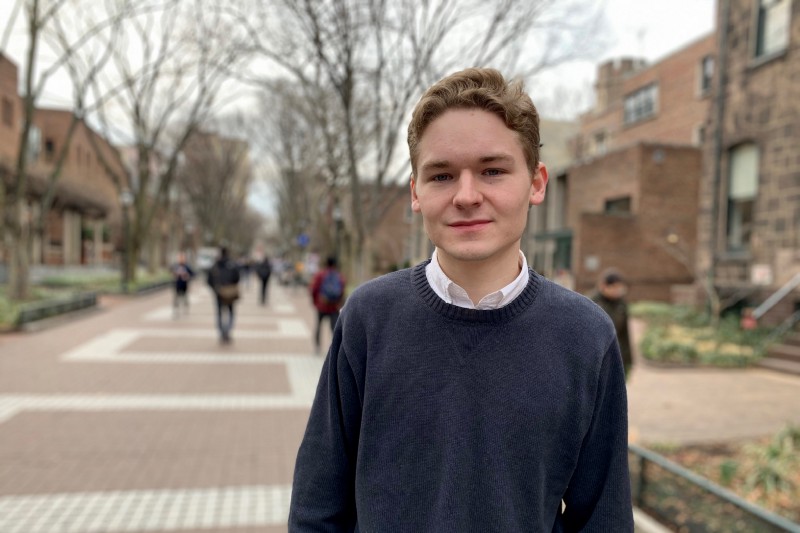 Zachary Whitlock, a senior majoring in materials science and engineering, is among the seven University of Pennsylvania seniors and recent alumni to have won a Thouron Award to pursue graduate studies in the United Kingdom. Each scholarship winner receives tuition for as long as two years, as well as travel and living stipends, to earn a graduate degree there.
Established in 1960 and supported with gifts by the late John Thouron and his wife, Esther du Pont Thouron, the Thouron Award is a graduate exchange program between Penn and U.K. universities that aims to improve understanding and relations between the two countries.
Whitlock, of Washington, D.C., is in the Vagelos Integrated Program in Energy Research joint-degree program, majoring in materials science and engineering in the School of Engineering and Applied Science and in earth science in the School of Arts and Sciences. Whitlock has worked on biomimetic functional materials with Penn Engineering's Shu Yang Laboratory and internationally at the French Alternative Energies and Atomic Energy Commission. More recently, he worked at the intersection of industrial materials and environmental impact on the Kleinman Center for Energy Policy-funded project Fossil Fuels, the Building Industry, and Human Health. He is a 2020 Kleinman Undergraduate Fellow and Supported Student at the Water Center at Penn. He is planning to pursue a master's degree in environmental systems engineering at University College London and ultimately hopes to contribute to the sustainability and impact mitigation of projects reliant on ecosystem services.
Read about all of Penn's Thouron Scholars at Penn Today.