Senior Design Project Aerate Wins $30,000 Startup Challenge Perlman Grand Prize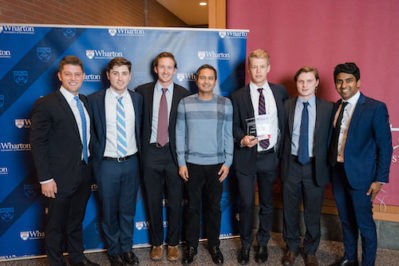 Aerate, a Senior Design project out of the Department of Mechanical Engineering and Applied Mechanics, won an Honorable Mention at the Senior Design Competition earlier this month, thanks to their plans for an extra-efficient air-conditioner that is tailored for high-humidity environments.
The team also competed at Penn Wharton Entrepreneurship's third annual Startup Challenge, where they won the Perlman Grand Prize: $30,000, plus $15,000 in legal, accounting and strategy services.
Aerate predicts that by 2050, the global population will purchase 3.3 billion new air conditioners. In India, the need is greater than ever, and many expect the country to become the world's top user of electricity for cooling. CFO and co-founder Ashwin Kishen ENG'19, W'19, GEN'20, was always jarred by the heat when visiting relatives in India. This experience resonated with Kishen and it fueled his entrepreneurial drive at Penn. Along with Kishen, Aerate's founders include Spencer Collins, ENG'19, GEN'19; Jake Fine, ENG'19, GEN'19; Yann Pfitzer, ENG'19, C'19, GEN'20; Connor Sendel, ENG'19, W'19; and Sam Weintraub, ENG'19, GEN'20. Together, they developed their concept while enrolled in Penn's Mechanical Engineering and Applied Mechanics program, focusing on technology that could tackle climate change. Aerate also recently won the 2019 Pennvention competition held by Weiss Tech House.
Read more at Wharton News.