Second Annual M&T Summit at Penn Focuses on Disruptive Technologies in Engineering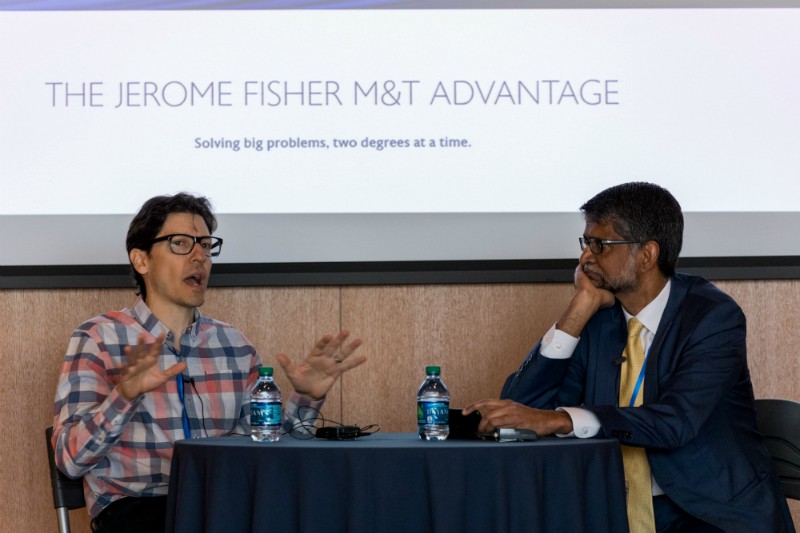 By Lauren Salig
On Saturday, March 30, Penn Engineering students gathered at the second annual M&T Summit in the Singh Center for Nanotechnology to dive deep into the topic of disruptive technologies , or groundbreaking developments that drastically change their markets. The M&T Summit is an event run by The Jerome Fisher Program in Management & Technology which offers undergraduate students a dual degree in economics and engineering.
In keeping with the program's mission, the M&T Summit focused on the intersection of engineering and business, giving students the chance to hear from entrepreneurs and M&T alumni in the field. Vijay Kumar, Nemirovsky Family Dean of Penn Engineering, led a fireside chat with Jeff Fluhr, M&T alumnus and co-founder of StubHub and Craft Ventures, which was followed by an alumni panel on the difficulties of marketing.
The students were eager to learn from the more experienced attendees of the summit, but the investors and entrepreneurs present were equally interested to hear about the disruptive technologies being designed by students. Student teams gave presentations on their senior design projects which were judged by M&T alumni.
Felix Li of The Daily Pennsylvanian describes the winning teams' projects:
"The first-place award was given to Aerate, an evaporative cooling air conditioner that is five times more efficient than existing air conditioners. The second-place award went to IV Sight, a set of thermal and kinetic sensors to detect IV infiltration in children.
'I think that every time that others can evaluate our [work], and we put it out there and receive questions, it makes our understanding of our own ideas stronger,' Aerate team member and Wharton and Engineering senior Ashwin Kishen said. 'It's important to have things picked apart and evaluated by people outside [your] own group.'"
Continue reading about the second annual M&T Summit at The Daily Pennsylvanian.