Sampath Kannan Wins India Research and Engagement Fund Grant for 'Safe Internet of Things'
During the next two years, Penn IREF will award as much as $2 million in matching research grants to Penn faculty to stimulate and support research activity in India.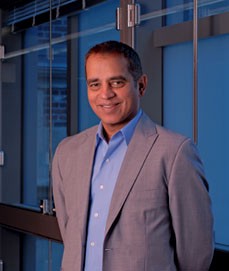 Sampath Kannan, Henry Salvatori Professor in the Department of 
Computer and Information Science, is one of the winners of the inaugural Penn India Research and Engagement Fund (Penn IREF) awards.
The Penn IREF grants, totaling $800,000 in matching funds from the Provost's Office, support 15 projects involving researchers across eight of Penn's 12 schools and six centers and institutes which are collaborating with nearly 50 Indian institutional partners, as well as more than 10 international universities and other partner organizations worldwide.
Kannan's project, titled "The Safe Internet of Things," will foster partnerships between Engineering and leading institutions in India to study how increasingly interconnected "smart" devices can be designed with built-in protections against malicious attacks and privacy breaches.
The Internet of Things (IoT) refers to the interconnection of computing devices embedded in both everyday objects (such as thermostats, fridges, and wearables) and in life-critical systems (such as medical device implants, connected transportation, industrial automation and the smart grid). IoT enriches our lives, but presents new challenges. Decisions made by these and other decision-making artificial intelligence systems should be seen to be fair, accountable, transparent, and ethical (fate). The fate of technology should be addressed in its design, by formally verifying these properties, and it should be monitored as the technology is deployed, using the data it generates. Block chains are one promising approach for ensuring accountability and transparency. Through this project, Penn Engineering in partnership with leading institutions in India, will begin unpacking this area of rapidly growing interest by clustering project activities around three thrusts: research, online education, and innovation. Key activities of the project will include an annual Penn Technology Innovation Summit.
Kannan is also the co-director of Penn Engineering's only-only master's program in computer science, MCIT Online, which launched earlier this year.
Continue reading about the IREF grants at Penn Today.