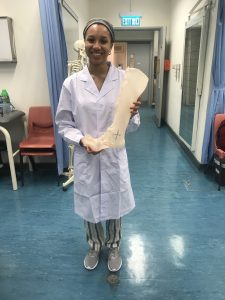 Data show that healthcare disparities plague the Black community in America, making it harder to receive adequate treatment and care. But rather than just accepting the status quo, Ruby Washington, senior in the Department of Bioengineering, is dedicated to leveraging her interest in biomedicine to change outcomes and systems.
"I feel that I have a duty to help my community and make the healthcare system better for people who look like me," she says.
That's a challenge well suited to a woman who is both fascinated by the intersection of materials science and biology and dedicated to representing and leading a community of Black engineers.
Focused on Making a Difference
Washington was inspired to pursue engineering by her older brother, who is a biomedical engineer. She has found Penn Engineering to be the perfect place to meld her love for math and science with her passion for making a difference. "I knew I would be challenged to think critically about my work as well as truly develop my skills at Penn Engineering," she says. "I also wanted to be a part of a diverse student body and be able to interact with students from across the globe."
As a hands-on learner, participating in research as an undergraduate was a plus for Washington. During the summer after her sophomore year, she was part of the National Science Foundation's Louis Stokes Alliances for Minority Participation (LSAMP) undergraduate research program, facilitated by the Penn Engineering Office of Diversity, Equity and Inclusion. "I worked alongside a post doc student in a lab headed by Dr. Shu Yang, Professor in Materials Science and Engineering, to fabricate microporous elastomers for smart window technologies that have medical device applications," she explains.
In May 2019, Washington traveled to Hong Kong and Yangjiang, China, as part of Penn Engineering's Global Biomedical Service (GBS) program. She worked with a team of students to build custom orthotics for children with cerebral palsy. "Translating concepts from the classroom to real life helped me to realize the significance of my work. I had a direct impact on the patients I was treating. This experience solidified my decision to continue to study bioengineering and pursue a career in medical devices," she says.
Proud to be a Change Leader
Academic focus aside, Washington also is passionate about influencing change. She is a member of the Theta Tau Professional Engineering Fraternity and president of the University of Pennsylvania's chapter of the National Society of Black Engineers (NSBE). "Initially, I joined NSBE because I wanted to be part of a strong community of Black engineers who I could relate to and be comfortable sharing my experiences with. As the only Black woman in the Bioengineering Class of 2021, it has been challenging at times to feel accepted when I see no one who looks like me in many of my classes," she shares.
As NSBE president, Washington's goal is to balance social and academic outreach to support members and to enact positive change at Penn Engineering. She, NSBE leadership, and the ODI hosted a virtual event to voice concerns and suggest solutions with Dean Vijay Kumar and Associate Dean of Diversity, Equity and Inclusion C.J. Taylor. "I am proud of our efforts to make meaningful change and considerable progress since that first meeting," she says.
With graduation ahead, Washington is keenly focused on stepping out into industry and applying her knowledge to make meaningful contributions to the medical device industry. "My experiences at Penn have helped me to become a well-rounded engineer and combine my various skills to help me succeed," she says. "I have connected with a remarkable network of people who have given me valuable advice that will help propel my early career."