This is part of our series of articles, written by Penn Engineering alums in their own words, of their experiences at Penn and how it shaped their lives. Our next article is written by Priyanka Vergadia, who graduated with a master's in Computer and Information Technology (MCIT) degree in 2011. She currently works in the San Francisco Bay Area as a Solutions Engineer at Google.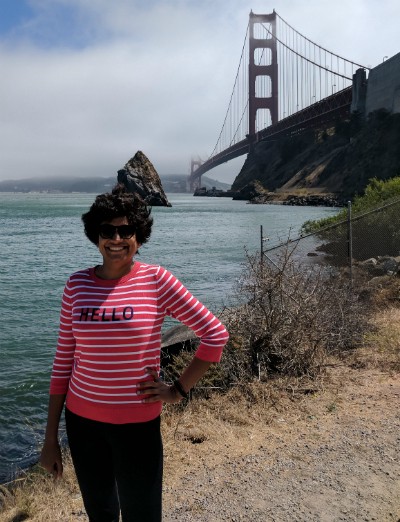 Instead, I went to the Shri Govindram Seksaria Institute of Technology and Science and majored in Electronics and Telecommunication. Even though it is one of the best in central India, it wasn't my dream school. So, from my first year in college, I was busy thinking about the next thing I wanted to do. That's what pushed me to take the GRE and TOEFL in preparation for applying to master's programs in the U.S..
I had my heart set on the Ivy League, and I don't think I would have had that drive if I had gotten into my dream school right away.
I decided to apply for a master's program in computer science because I realized that writing code was one of the integral part of the electronics projects I was working on. Penn was my top choice; beyond being in the Ivy League, it offered a uniquely well-rounded education.
I found that the master's program in Computer and Information Technology (MCIT) was the perfect fit; it had a fun combination of computer science courses and flexibility to take other engineering classes that meshed with my background in electronics. Beyond engineering, being at Penn meant access to Wharton courses as electives. I always had an interest in business along with technology, and MCIT was structured to allow the flexibility to explore those interests and prepare me for the real world.
Along with all of the core and elective courses that I took as a part of the curriculum, I worked as a teaching assistant for a Java Programming class taught by David Matuszek, who was then the director of the MCIT program. I also served as a TA in the School of Arts & Sciences Mathematics department for the first year of my master's.
This opportunity allowed me to stay connected to math as a discipline, but was more important in that it introduced me to the world of teaching. Meeting with undergraduates during office hours and helping them with homework also developed my communication skills. I didn't realize it at the time, but I really enjoyed that aspect of teaching, and it ended up playing a key role in shaping my career.
When it was time to start looking for a job, I made good use of Penn's career fair and alumni database — something I still use for networking — and met with many great companies that conduct their first-round interviews on campus. I also worked with the Career Services team that was always happy to review my resume, conduct mock interviews and provide feedback.
I ended up finding an engineering internship at a startup called Angel.com, which was later acquired by Genesys. Angel.com provided Interactive Voice Response (IVR) technology that allows computers to interact with humans by talking. During the internship I worked on creating automation framework for IVR platform testing, leveraging the skills I learned in the fundamentals courses in the MCIT curriculum. After the internship, I joined them full time to continue working on that automation framework.
After about a year of being in the role, I realized I wanted a bit more from my job: the thrill and excitement of working on problems directly with customers. After proving myself and with support of some awesome team members, I was able to work out an internal transfer into a customer-facing role. There, I would hear the challenges they faced in their business and then apply the technology to solve those challenges. It was then that I started realizing the power of MCIT courses that I had taken and the communication skills that I developed in my TA role. It was all coming together in a cohesive manner and I was enjoying my job much more than I thought I would.
After few years of my first real-world job, I realized I wanted to broaden my knowledge into other technologies, especially in Silicon Valley. With that, I started looking at opportunities in the San Francisco Bay Area; the one I liked was a small startup within Intel called Mashery. Mashery is an application programming interface (API) management company. Many cloud applications communicate with other applications through APIs, so API management is the process of overseeing these programming interfaces in a secure, scalable environment. At Mashery, I was excited to learn new technologies and expand my skills.
Since then, I have also worked at Akamai Technologies, which runs one of the world's largest web content delivery infrastructures, where I sharpened my customer-facing skills, along with technical skills ranging from content delivery networks to cybersecurity. What I like most about what I do is that I get to work with variety of different customers and businesses that help me learn about various technologies at an accelerated pace. This allows me to stay on top of new trends in technology.
Currently, I work at Google in Sunnyvale on the Google Cloud Platform team. I'm working with customers, helping them to adopt Cloud Computing. I walk customers through the process of moving their infrastructure to the cloud where it is easy and cost effective to run business applications. I get to work on real-world problems that can be solved with Google's Machine Learning and Big Data technologies in the cloud. I decided to join Google because my goal in life is to make a meaningful impact on people's lives and working at Google helps me do that with every project.
I've found there is a lot to explore and learn in life at every single step; as long as you are hungry to learn and passionate enough to apply yourself, you will make the best of all the experiences. The courses I took in the MCIT program and my experience as a teaching assistant helped me to connect the dots to what I am doing today and will surely be a part of what I will continue to do in the future.