Play Hard, Work Harder: Taking it to the Edge on the Court and in the Classroom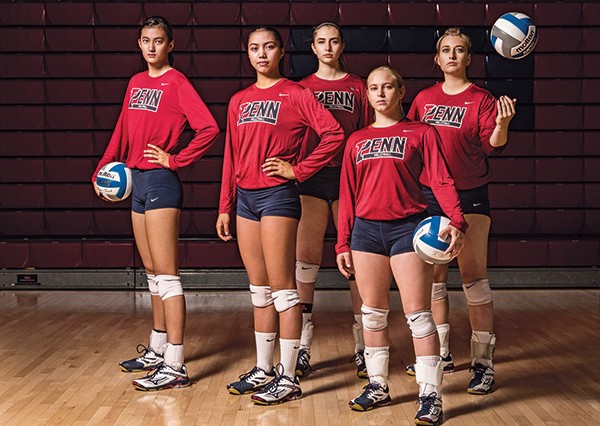 From mid-August to late November, even as they face down the inevitable intellectual challenges of a new academic year, the women of Penn Volleyball practice their sport three hours a day, four days a week. Add to this their all-important Division I competitions, with many players spending additional hours on the road traveling to games out of state.
The arrival last spring of Katie Schumacher-Cawley, the University's new Kenneth L. Gross Head Coach of Volleyball, only served to turn the intensity up a notch. During their off season, players soon discovered what it takes to make it through the lightening-paced cardio-based drills, skill-honing workouts and weightlifting sessions that define the strategy of their new coach. When team members were asked for their impressions of this novel training and conditioning regimen, the word "sweat" came up a lot. The significant demands can be met by only the most committed of student athletes.
Cue players Brooke Behrbaum, Carlie Bolling, Caroline Leng, Sydney Morton and Caroline Raquel, all devoted volleyball players and all Penn Engineers.
Behrbaum, a 6'2" middle blocker from Mercer Island, Washington, is a junior majoring in Systems Science and Engineering with a minor in Computer Science. Active in club team volleyball since she was 13, her love of the game is apparent. She is quick to make the point, however, that she does not "major in volleyball."
The Academic Path
When visiting campus as a high school junior, Behrbaum, a National Merit Scholar, found it unique to Penn that, as a recruited athlete, she would be free to follow "the academic path" without expectations or encumbrances. This was key to her decision to enroll. Similarly, she finds her professors supportive of her time-intensive sports schedule. Last summer was the first in years that Behrbaum, an avid horsewoman, was not volunteering as a riding instructor. Instead, she spent her "vacation" as an Engineering Practicum Intern at Google, where she has been invited to return next year.
Freshman Caroline Leng, a 6'3" middle blocker from Poolesville, Maryland, began playing volleyball in seventh grade, but until her freshman year of high school, playing college sports was not on her radar. In high school, Leng lettered four times in volleyball, was a three-year captain, and her team was a state finalist her freshman year, going 18–1 and winning league, county and regional titles. When Leng started receiving interest from university coaches, she decided to pursue college athletics.
With majors in Computer Engineering and Entrepreneurship Management, Leng is enrolled in the Jerome Fisher Program for Management and Technology (M&T). This newly minted Quaker was drawn to both engineering and business, and feels that M&T is a perfect fit for her. "Penn's entrepreneurial ecosystem, as well as the creative and supportive environment, is perfect for an aspiring entrepreneur," she says. Leng also finds time to be a member of Penn Electric Racing, the M&T Board, and a writer for Unearthed, a magazine dedicated to inspiring and educating children and teens in the West Philadelphia area.
Another Systems major, sophomore Carlie Bolling is a defensive specialist for the team. A multitalented athlete from Sevierville, Tennessee, Bolling had been given the opportunity to take her talent as an elite middle school gymnast to the national competitive level. Bolling instead decided to direct her formidable 5'1" energies into her studies and the game of volleyball. She graduated from high school as a four-year letterman and team captain, having distinguished herself as an AP Scholar with honors and class valedictorian.
Everything Can Be Optimized
Bolling is a "natural problem solver" with an eye toward optimization ("Everything can be optimized!"). Wanting to push herself academically in high school, Bolling discovered the University of Tennessee's Society of Women Engineers (SWE), through which she became inspired and encouraged to further pursue STEM-related courses.
Caroline Raquel, a 5'10" sophomore from Los Angeles, California, is an outside hitter for the team and is enrolled in the M&T program as well, majoring in Bioengineering and Finance. When looking at colleges, the excitement and vibe of an urban environment appealed to Raquel, and it was love at first sight when she stepped onto the Penn campus. She was especially intrigued to learn that all volleyball team members live together in off-campus houses; it is a tradition (along with the real estate) passed down over the years. To Raquel, living with her teammates not only translates into "more friends!" but also into a deeper commonality: "We're all here for the education."
Raquel remains passionate about Feed2Succeed, a nonprofit she founded with her sister, Carmina, and a high school friend. The sisters are second generation Filipinos, and a trip to the birth country of their parents opened their eyes to the needs of malnourished children in the Philippines. Partnering with a civic organization in the city of Vigan, they continue to make a difference in the lives of impoverished families there.
Sydney Morton is a senior from Atlanta, Georgia, majoring in Computer Science. She has been the captain of the team for the past two years. The 5'10" setter has seen some serious playing time, competing in all 26 matches last season. Her impressive 2016 game statistics earned her an Honorable Mention All-Ivy along with Academic All-Ivy. (Last year's entire team of 26, in fact, was recognized by the American Volleyball Coaches Association (AVCA) with a Team Academic Award.)
Rigorous Requirements
As a varsity volleyball player, scheduling classes to meet the rigorous requirements of an engineering degree is challenging, and can make for some hectic moments. Morton recounts that in the fall semester of her junior year, her unofficial workout included a sprint from practice at the Palestra to a class in David Rittenhouse Laboratory. Having worked up a sweat during training drills before taking her classroom seat just under the buzzer, Morton was probably not a candidate for the bestdressed list.
A recruited athlete, Morton visited campus as a high school junior and was inspired by the team culture. She has since become immersed in it, living in the "senior house," sharing meals and studying with her teammates. She notes that just as these women feed off of one another's physical energy on the court, they also create and share a strong intellectual energy. After graduation, Morton will be working as a developer at Microsoft.
As a head coach getting to know the Penn Engineering members of her new team, Schumacher-Cawley, an All-American and NCAA champion as a player at Penn State, is clearly impressed with their energy, drive and clarity of purpose. Discussing the ease with which all of them seem to navigate their lives as student athletes, Schumacher-Cawley puts it succinctly: "They make it work."