Penn's FemmeHacks Invites Young Women into Coding World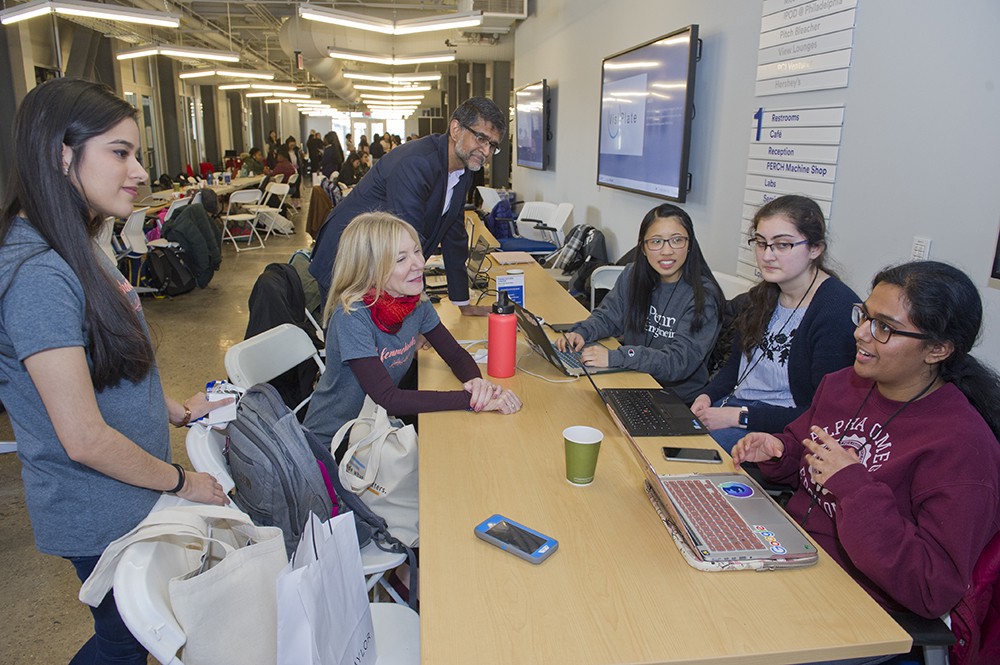 By Lauren Salig
"You may be nervous about attending a hackathon, or think that they are just simply not for you. This is NOT the case!" the FemmeHacks website assures its visitors. Many women in programming, especially those just starting out, find hackathons to be intimidating, but FemmeHacks is different.
FemmeHacks is an annual hackathon for trans and cis women and for those who identify as nonbinary or gender non-conforming. The event maintains the typical hackathon goal of collaborative coding but is designed to avoid the male-dominated, competitive environment that often comes with hackathons.
This year's meeting was organized by the Penn Women in Computer Science Club with the leadership committee consisting of four School of Engineering and Applied Science students: Sneha Advani, a Computer and Cognitive Science dual degree candidate; Computer Science majors Megan Paik and Jennifer Jun; and Swetha Subramaniam, an Electrical Engineering major.
Founded in 2015 by Andrea Baric, a Drexel student at the time and now Penn alumna, FemmeHacks has grown immensely since its first meeting of about 30 coders. Approximately 250 coders attended the 2019 meeting in February, some of whom had never coded before.
In addition to the student coders, special guests Penn President Amy Gutmann and Vijay Kumar, Nemirovsky Family Dean of Penn Engineering, attended FemmeHacks to talk with young programmers and see what the event is all about.
Advani, FemmeHacks' director, says that "the goal is just to introduce beginners to the field and have them learn as much as they can — to have them make a project they can be proud of." She describes attendees who arrive at FemmeHacks with absolutely no coding experience and leave with a sense of accomplishment and maybe even a prize.
And those beginners with little to no experience? Advani believes they're helping build up the computer science community in the area, especially among young minorities in the field. This year, FemmeHacks saw higher numbers of high school attendees, including more freshmen and sophomores in high school, which the event director attributes to past participants spreading the word about FemmeHacks. She says that past participants have been encouraging others to attend FemmeHacks, resulting in younger students attending the hackathon and after-school coding clubs coming to the event together.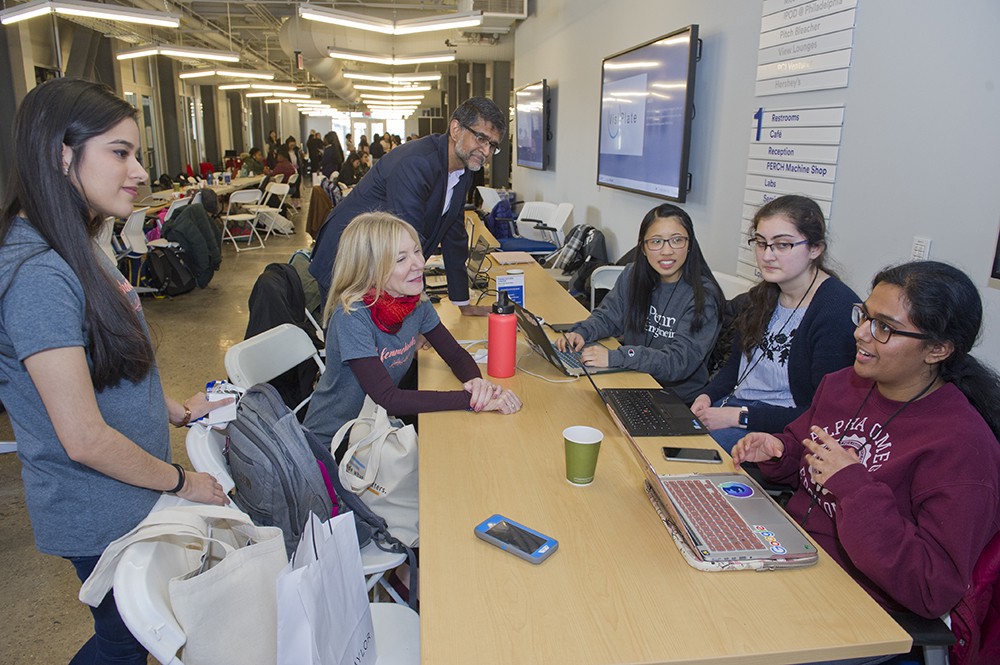 "It's such a great community of women," says Advani. Women from Philadelphia and the surrounding areas, including New York and New Jersey, attend FemmeHacks each year, and many stay in touch after the event.
The FemmeHacks team works hard to create an environment that fosters collaboration and growth. The 2019 event included beginner and intermediate workshops alongside activities like friendship bracelet making, a talent show, and, perhaps most importantly, a panel of women in the computer science industry.
According to Advani, when young women attend FemmeHacks "they're able to interact with women engineers all day and really see some older role models of women working in the industry, and I think that was really impactful for them."
This year, the Judge's Choice Prize went to a group of students who designed an app to transfer workout data from a gym machine's console to a personal Fitbit simply by snapping a quick photograph. Each member of the winning team received a Nulaxy Robot 3D Printing Pen to encourage them to continue experimenting in the field.
Additional prizes such as Bluetooth headphones and drones were provided by FemmeHacks sponsors, which include companies like Facebook and JP Morgan.
The FemmeHacks team feels that the hackathon's design, from the activities to the prizes, helps young women get more comfortable in the computer science industry. Advani says, "What's very special about FemmeHacks is that it's so welcoming and such a beginner-friendly environment."