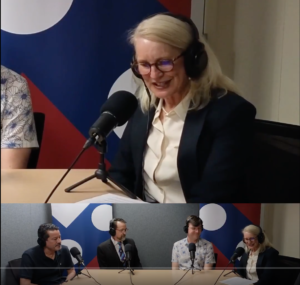 Penn Engineering is proud to debut a new podcast series titled Innovation & Impact, which centers on relevant, thought-provoking topics that highlight innovation, with the opportunity to focus on and discuss impact.
Each episode of the series will feature a Penn Engineering faculty member as the moderator, as well as additional faculty members that serve as thought leaders and panelists.
On the the premiere episode, Michael Kearns, National Center Professor of Management & Technology in Computer and Information Science (CIS), Chris Callison-Burch, Associate Professor in CIS, and Robert Ghrist, Andrea Mitchell University Professor in Electrical and Systems Engineering, discuss the growth and impact of generative AI. Susan Davidson, Weiss Professor in CIS, serves as panel moderator.
Listeners can also watch Callison-Burch give a quick walk-through on some open AI tech on Innovation & Impact Breakdown.