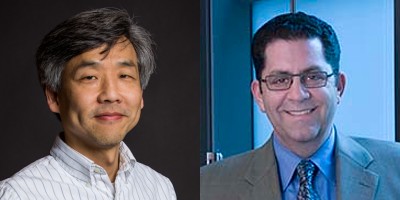 The University of Pennsylvania's Tangen Hall will be home to a variety of entrepreneurship-focused programs when it opens in January. These include Tangen the Venture Lab, a new Penn-wide hub for entrepreneurship and innovation; the Design Studio, a facility for design and prototyping that will be accessible to all Penn students; the Integrated Product Design master's program, jointly run by Penn Engineering, the Weitzman School of Design, and the Wharton School; and the Weiss Tech House,
To support Penn Engineering's role in these programs, it has created two new leadership positions. 
Mark Yim, the Asa Whitney Professor of Mechanical Engineering and Director of the GRASP Laboratory, will serve as the inaugural Faculty Director for the Design Studio. Mark will be responsible for the creation of the Design Studio, which will include programming for student and maker spaces that will be used by students across campus. 
Jeffrey Babin, Practice Professor and Associate Director of Engineering Entrepreneurship, will serve as the inaugural Penn Engineering Faculty Director for Venture Lab. Babin will lead the development of co-curricular and extra-curricular technological innovation programming, and work with Karl Ulrich, Wharton's Vice Dean of Entrepreneurship and Innovation, and Trang Pham, the Executive Director of Venture Lab, to support a wide range of programs in technology driven entrepreneurship, including the Berkman Opportunity Fund, Miller Innovation Fellowship, Venture Initiation Program, and the Weiss Tech House.  
Construction on Tangen Hall is slated to be completed in November.