Penn Electric Racing Unveils REV5 Racecar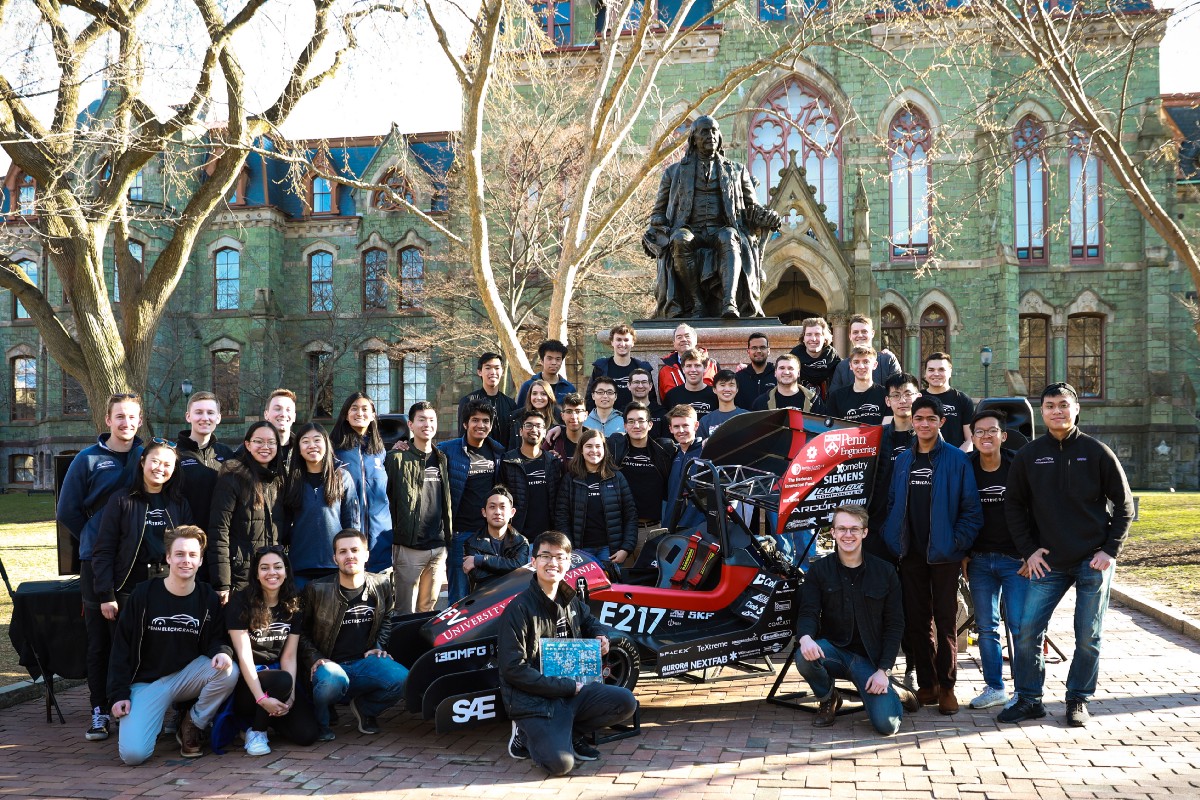 By Lauren Salig
Penn Electric Racing, a team of students who build racecars, has unveiled this year's car: REV5, which will compete at the Formula Society of Automotive Engineers (FSAE) competition in Lincoln, Nebraska this summer.
Although Penn Engineering students have been building racecars since the 1980s, Penn Electric Racing started only in 2013. Johnathan Chen, the lead of Penn Electric Racing, spoke to a crowd of students and SEAS faculty and staff on the college green about the progression of Penn Electric Racing's cars that led to today's REV5.
"What you see here is our sixth racecar we've attempted to build, and, over those six years, we've had a long history of successes and notable failures that we keep thinking about and that keep driving us forward," said Chen.
Chen described how REV0, the organization's first attempt at an electric car, failed to run at the 2014 FSAE competition, but however, after some technical tweaks, REV1 placed first overall in 2015 as the first functional, student-built electric racecar in the United States. REV2 and REV3 enjoyed similar success, breaking acceleration records at the 2016 FSAE and placing first at the 2017 FSAE, respectively.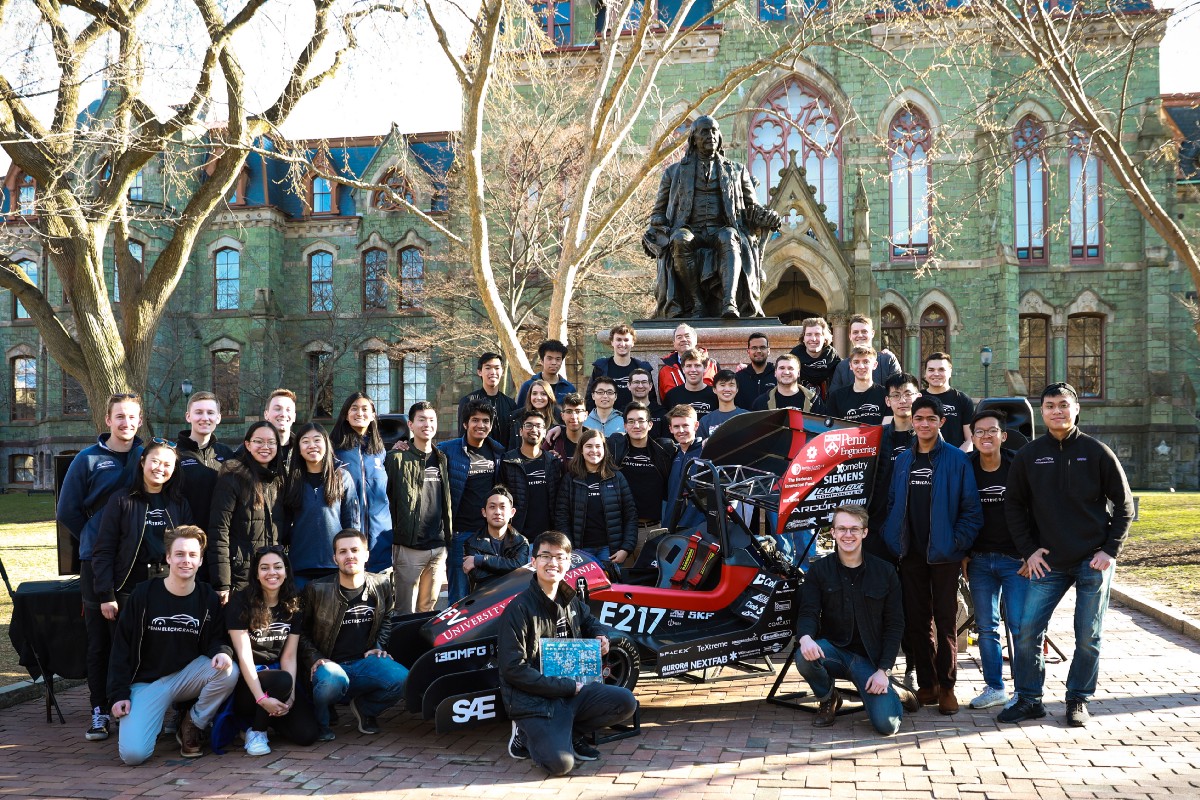 Based on these successes, Penn Electric Racing wanted to try a more innovative design with REV4 last year.
"REV4 was our first four-wheel drive racecar," said Chen. "That means that instead of having one motor in the back of the car, pushing the car forward, you would have one motor in each wheel. This was an extraordinarily complicated vehicle design, and it was really difficult to get working"
Ultimately, REV4 was unable to run at the FSAE competition last year due to technical complications. This year's REV5 is a redesign of last year's four-wheel concept and a challenge that the team took seriously after REV4's issues.
"This vehicle is not only the vehicle we tried to build last year, but it's the vehicle we're really, really proud of. We learned a lot in the process of this design," said Chen.
REV5, which will be tested in the next two weeks, should go from 0 to 60 mph in less than 2.6 seconds, is a four-wheel drive vehicle, and features a completely redesigned accumulator with minimal wires.
With REV5 fully assembled, the team is pleased, but last summer, the organization was debating whether or not they could take on the challenge of redesigning a racecar that had failed.
"We had a difficult discussion, which was: What is our team goal? What I mean by that is what are we trying to do? If we're just trying to win Lincoln every year, and I don't mean to make that sound like a small task, then we should be designing the simplest car possible with one motor in the back and reused architecture, going back to known platforms until that strategy stops working," said Chen. "But that's just boring, no one wants to make the same car over and over."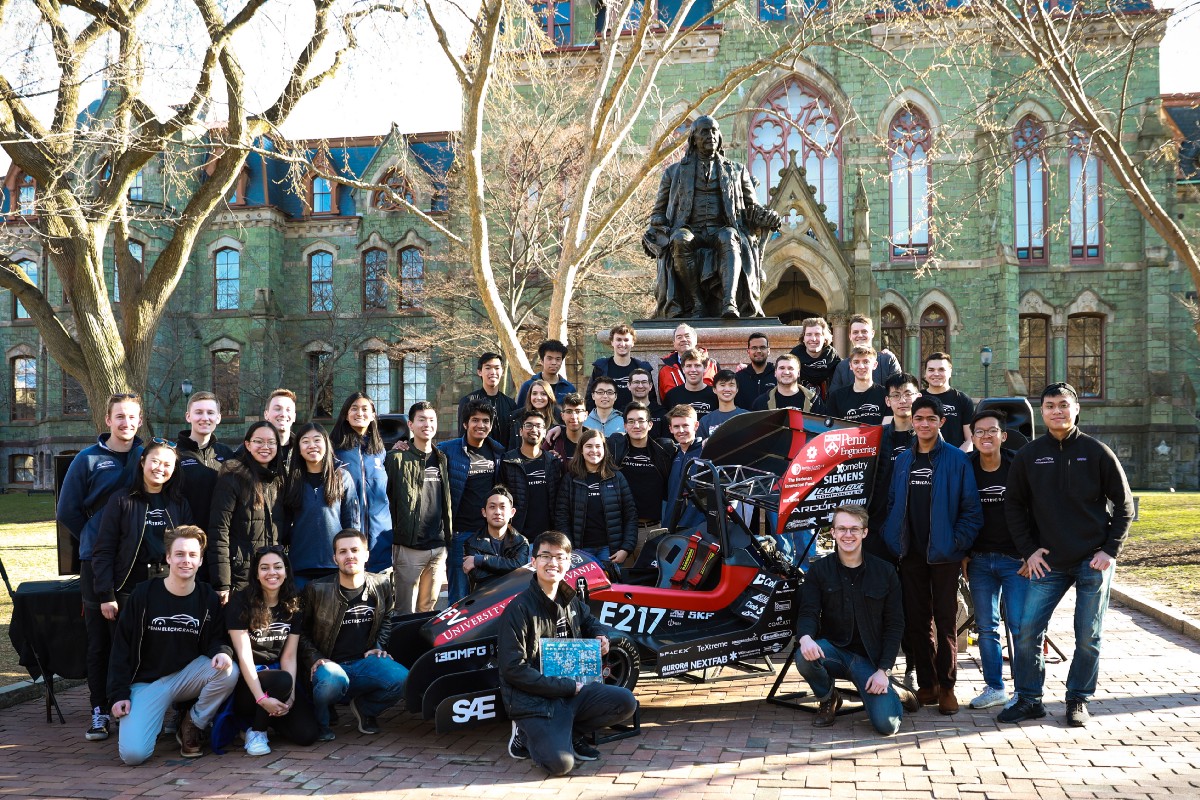 Throughout their decision-making process, the team consulted with their advisor Andrew Jackson, professor in Mechanical Engineering and Applied Mechanics, and many alumni working in industry. After these conversations, the team decided to continue pushing the envelope in racecar design instead of returning to their familiar one-motor design.
To create the functional, four-wheel drive racecar that the team unveiled this week required hundreds of hours of work and impressive applications of knowledge from the students' engineering education.
"As we're mechanical engineers, we learn about things like stress analysis, material selection and heat treatment. Then we get to apply these principles in order to design a gearbox that is able to fit inside each wheel of the car which enables us to do four-wheel drive, one of the many exciting technologies we used this year," said Liam Cook, Penn Electric Racing's Chief Engineer.
"What they learned, it's not just building a car. They have technical inspections, electrical inspections, safety inspections, mechanical inspections and the students have to prepare for these, and the students benefit," added Jackson.
Having put the work in to build REV5, the Penn Electric Racing team is now looking towards the FSAE competition in Lincoln this summer, ready to return to the racetrack to put their newly designed racecar to the test.