Kevin T. Turner Named Chair of the Department of Mechanical Engineering and Applied Mechanics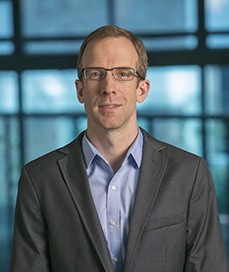 Kevin T. Turner has been named Chair of the Department of Mechanical Engineering and Applied Mechanics (MEAM).
Turner, who also has an appointment in the Department of Materials Science and Engineering, joined Penn Engineering in 2011, and has served as Director of the Quattrone Nanofabrication Facility at the Singh Center and as the Graduate Group Chair of MEAM.
He has earned numerous honors and awards, including ASME Sia Nemat-Nasser Early Career Award, the Adhesion Society's Young Adhesion Scientist Award, SME's Outstanding Young Manufacturing Engineer Award, an NSF CAREER Award, a 3M Non-tenured Faculty Award, and was named an ASEE Ferdinand P. Beer and E. Russell Johnston Jr. Outstanding New Mechanics Educator.
Turner's research is at the nexus of mechanics, manufacturing, and materials, with a particular emphasis on problems involving small-scale systems and interfaces. He has extensive experience in the mechanics of adhesion and fracture, micro and nano systems, and advanced manufacturing. His group employs a combination of experimental and computational approaches in nearly all projects. Ongoing research efforts include structured materials with controllable adhesion and fracture behavior, additive manufacturing of cellulose nanomaterials, soft robotic grasping, nanocomposites, and manufacturing of flexible hybrid electronics and sensors.
He has recently received a "Manufacturing PA Innovation" grant from the State of Pennsylvania, a program designed to foster collaborations between researchers and local industry. His project will investigate the use of cellulose materials in inks for additive manufacturing, broadening the materials choices for 3D printing.