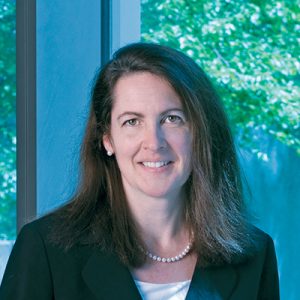 The National Academy of Engineering (NAE) has elected 106 new members and 23 international members in this year's class. Among them is Kathleen Stebe, Richer & Elizabeth Goodwin Professor in the Department of Chemical and Biomolecular Engineering.
Election to the National Academy of Engineering is among the highest professional distinctions accorded to an engineer, and puts Stebe in rare company; this class brings the total U.S. membership to 2,355 and the number of international members to 298.
Academy membership honors those who have made outstanding contributions to "engineering research, practice, or education, including, where appropriate, significant contributions to the engineering literature" and to "the pioneering of new and developing fields of technology, making major advancements in traditional fields of engineering, or developing/implementing innovative approaches to engineering education."
Stebe's specific citation was "for contributions to understanding of nonequilibrium processes at soft matter interfaces and its impact on new technologies."
Among the many technologies Stebe's research is poised to impact are those in the field of dental medicine; she is the co-director of the newly established Center for Innovation and Precision Dentistry.
Individuals in the newly elected class will be formally inducted during the NAE's annual meeting on Oct. 3, 2021.