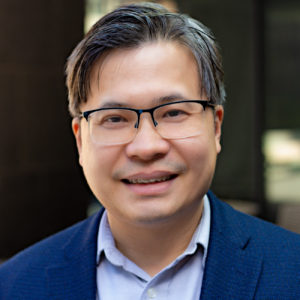 Boon Thau Loo is associate dean for graduate programs and the RCA Professor of Computer and Information Science. This guest post originally appeared at Penn Engineering Online.
I'm a product of public schools, so I wasn't sure if Penn was the right place for me. But when I was interviewing for a faculty position here in 2006, the former dean said something I'll never forget: Penn is an Ivy League institution for the working class, invoking the original vision of Ben Franklin. He meant it as an analogy but it resonated with me in a deep and personal way. Penn enables students to achieve their dreams — whatever their background.
And that's exactly what I've found here at Penn Engineering: a deep commitment to accessibility, diversity and inclusion. Our on-campus programs open the door to the American dream for large numbers of students from all over the world. And our flexible, part-time online programs make it possible for students all over the world to access an Ivy League education, make a career change, and achieve their dreams.
Today, as associate dean, I rely on those principles of access and inclusion to guide my work. We're constantly looking for ways to expand our reach and create a level playing field so that anyone who is qualified can join our program, regardless of where they come from. In the past few years, we have launched several programs aimed at increasing accessibility on campus, such as our Dean's Doctoral diversity fellowships, Dean's master's fellowships, and our recently launched bridge master's-to-Ph.D. program.
With that in mind, I'm excited to tell you about an upcoming change that will deepen Penn Engineering Online's commitment to diversity and accessibility.
Scholarships. We are expanding our on-campus diversity scholarship program to include MCIT Online students. Starting with the Fall 2022 cohort, incoming  MCIT Online students will be eligible to apply for our Dean's Master's Scholarship, which is designed to increase our impact and expand the diversity of voices and experiences our students bring to the classroom.
I am excited to offer this rare opportunity for online graduate students, and I'm looking forward to meeting our first scholarship recipients next fall.
Earlier access to the application for admission. We've decided to launch the application for the Fall 2022 cohort ahead of schedule. Our online application goes live on Wednesday, December 8, giving you additional time to make your application as strong as it can be.
---
Since the launch of MCIT Online two years ago, the program has succeeded beyond our wildest dreams.  Not only has enrollment exceeded expectations, but the career outcomes of our graduates have been outstanding with our alumni earning top industry salaries.  Now, with a well-established curriculum comprised of expanded electives in a range of in-demand areas such as Artificial Intelligence, Cyber-security, Big Data, Blockchain, Computer Networks, and Distributed Systems, we're looking for ways to take the program to the next level — to double down on accessibility and make sure this is a program that people can access regardless of their background.
As we look ahead to the next 10 years, we will continue to expand access to Penn Engineering. We've had tremendous success with the students who have come through our programs so far, and we're looking forward to extending  our reach to have an even greater impact on our future students.