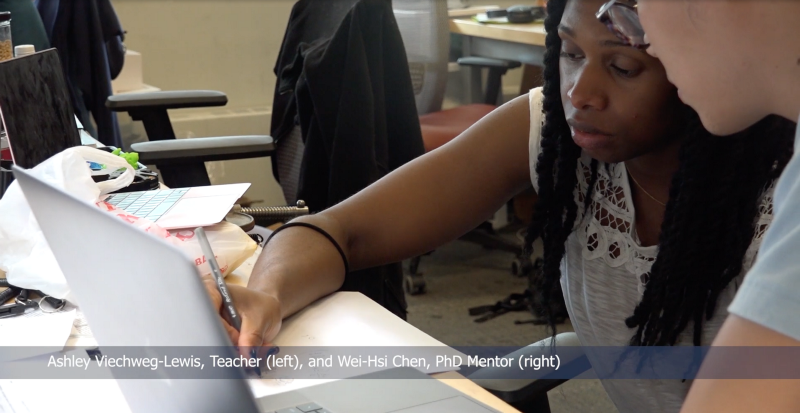 GRASP's Research Experience for Teachers Featured in NSF Video Showcase
Penn Engineering's GRASP lab is committed to sharing its expertise in cutting-edge robotics with the wider world. In 2015, it received a National Science Foundation grant to conduct a Research Experience for Teachers program, in which Philadelphia middle school teachers spend a summer in the lab, learning aspects of robotics that they can then impart to their own students.
Now, a short documentary on that program, created by Diedra Krieger, the Kod*Lab's lab coordinator, is being featured in the NSF's "STEM for All Video Showcase."
The annual showcase features over 200 innovative projects aimed at improving STEM learning and teaching, which have been funded by the National Science Foundation and other federal agencies. During the weeklong, event researchers, practitioners, policy makers and members of the public are invited to view the short videos, discuss them with the presenters online, and vote for their favorites.
This year's theme is "Transforming the Educational Landscape." The online event runs from May 14th – 21st at http://stemforall2018.videohall.com.
The GRASP lab's entry, entitled "RET SITE: Robotics Research Experiences for Middle School Teachers," looks at the lab's six week professional development program for middle school teachers from the School District of Philadelphia. The program has teachers conduct research in the field of robotics at one of the most innovative laboratories in the country. Eighteen teachers have completed the program since the summer of 2016. The project was funded by the National Science Foundation.
The research experience aims to provide math and science teachers with an increased understanding of the disciplines they teach and how they are applicable to the field of robotics. Teachers in the program have reported an increase in their inquiry practices and their level of rigor after completion. Teachers have also demonstrated a high level of quality and eagerness to improve their practice, with many starting robotics teams, coding clubs, or becoming math leads in their schools.
"We have been honored to host exceptional educators from the School District of Philadelphia and give them a chance to grow their practice through rigorous and authentic research in a robotics laboratory," said Daniel Miller-Uueda, the GRASP Lab's associate director for education and outreach and its RET program director.
Yasmin Kafai and Caroline Ebby of the Graduate School of Education, as well as Orkan Telhan of Penn Design, also have presentations featured in the NSF's showcase.