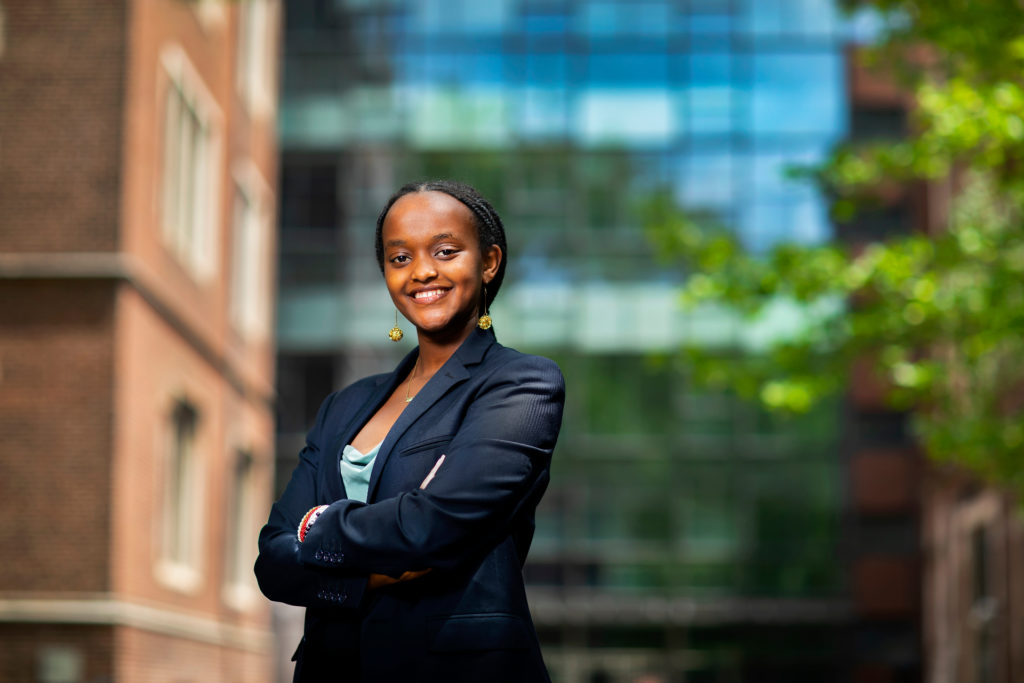 Reflecting on her time at Penn, senior Hyacinthe Uwizera admits that she does have one regret: not heading downtown after the Eagles won the Super Bowl. "I think it's the spirit of the people of Philadelphia," she says about the city she's called home for the past four years. "I love that energy and that spirit."
Now, as the senior from Kigali, Rwanda, graduates from the School of Engineering and Applied Science, she is ready to take the skills she's gained from her major in computer science and minor in Africana studies to the next stage of her career. She'll also carry forward a number of memorable experiences gained from "unending opportunities" available at Penn.
Fostering an interest in engineering
Uwizera, who studied math, physics, and geography in high school, first became interested in engineering after working with Penn students on a solar-powered irrigation system in 2015. This project was part of the Rwanda Gashora program, a service learning initiative and collaborative program between her high school, the Gashora Girls Academy of Science and Technology, and Penn Engineering.
After initially enrolling into Penn's Electrical and Systems Engineering program, Uwizera later discovered a passion for computer science and decided to switch majors during her sophomore year. "When I got here and got the taste of different majors, I took CIS 110, intro to computer science, and I realized that was what I was more interested in," she says. "Math and critical thinking are few of the aspects of computer science that had me interested, and before you do a project you don't really have an idea of how to it. But as you start working on it, things start revealing themselves and you learn more as you work. Seeing the end product working is very rewarding."
While reflecting on her favorite computer science courses, Uwizera says that CIS 160 and CIS 121, taught by Rajiv Gandhi, were both memorable for her. "CIS 160 is one of the hardest intro CIS classes, but I think it's because of how he cared for every student that made me love the subject, stay focused, and do well," she says. "Having someone that I looked up to believe in me and push me towards seeing that I can do it, that I'm in the right place, helped me to know that I belonged in that field."
Continue reading at Penn Today.