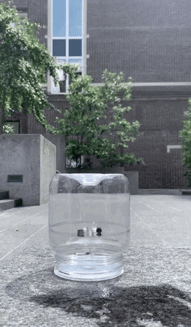 While this Crookes radiometer might look like one you'd find at a science museum gift shop at the first glance, it's outfitted with pieces of nanocardboard, a material that's as thin as a few strands of DNA that can levitate when exposed to light, developed by Igor Bargatin, Associate Professor in Mechanical Engineering and Applied Mechanics, and his team.
Bargatin's team used the glass instrument, which has been around for more than a century, to see whether using nanocardboard instead of paper vanes could create a functioning radiometer at atmospheric pressure. The researchers have already observed nanocardboard working in low pressure environments, simulated to be like the Martian atmosphere, but ensuring that it works here on Earth opens the door for new, insect-sized robots powered by sunlight.
"Our nanocardboard radiometer works at atmospheric pressure! It even works much better than we had originally expected," Bargatin added. "It's a bit of a mystery but once we can understand why, we will make not only better radiometers but also use this force to create new  microflyers."
Bargatin's work in the field of nanomaterials  — and its applications — is extensive and he is particularly excited about bringing nanocardboard to space one day: "I am excited about the possibility that one day when this research will result in new types of microflyers operating both on Mars and Earth."
See this story and more on Penn Engineering's Instagram.