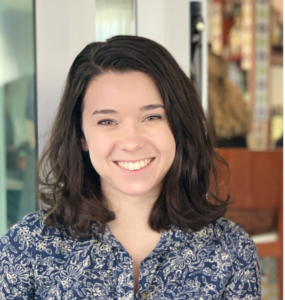 The Office of the Provost awards the Penn Prize for Excellence in Teaching by Graduate Students in recognition of their profound impact on education across the University. Nominations come directly from undergraduate and graduate students in their courses and are narrowed down to ten awardees each year.
Erin Anderson, a graduate student in the Department of Bioengineering, is one of the ten 2022 recipients.
Anderson is a Ph.D. student who studies the computational modeling of injury in full-brain networks in the Molecular Neuroengineering Lab of David Meaney, Solomon R. Pollack Professor in Bioengineering and Senior Associate Dean of Penn Engineering. Anderson has served as a teaching assistant for Bioengineering Senior Design since Fall 2019.  Senior Design (BE 495 & 496) is the Bioengineering Department's two-semester capstone course in which students work in teams to conceive, design and pitch their final projects, and is taught by Meaney and Sevile Mannickarottu, Director of Educational Laboratories in Bioengineering.  Anderson earned her B.S. in Bioengineering from Rice University in 2016. Her doctoral thesis focuses on how subconcussive head trauma affects subsequent concussion outcomes.