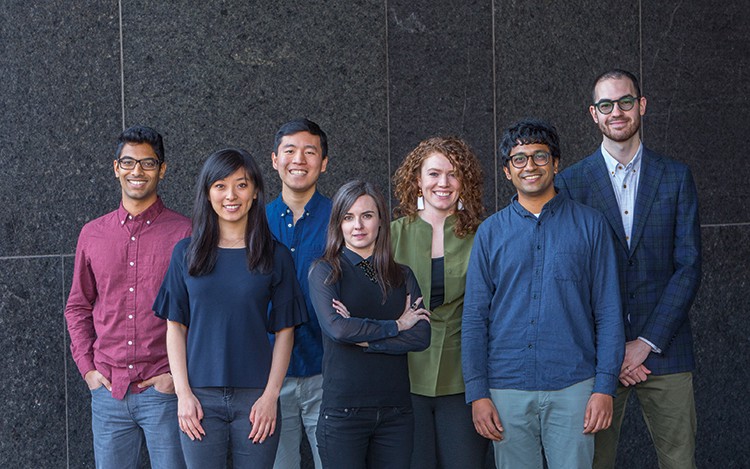 Penn Engineers get an early advantage in the startup game. Coursework, competitions, funding and other resources offered by the University infuse students with the interdisciplinary education, experience and support needed to envision and implement impactful solutions to a wide range of global problems. Meanwhile, encouragement and insights from talented faculty and driven peers inspire budding entrepreneurs to further hone their technologies and successfully commercialize their products, turning their dreams into reality.
Three nascent businesses launched by current students and recent graduates embody the spirit of innovation that abounds on campus and draws motivated students to Penn in the first place.
Revolutionizing Robots

Developing new ways for ground-based robots to interact with the environment and perform useful tasks is the main goal in Kod*lab, the laboratory of Daniel E. Koditschek, Alfred Fitler Moore Professor in Electrical and Systems Engineering and a world authority on bio-inspired robotics. As Kod*lab members, postdoctoral researcher Avik De (ESE'17) and doctoral student Gavin Kenneally (MEAM'17) wanted to push the envelope by designing robots that could feel the world and move like animals. "While bipedal and quadrupedal robots may be theoretically superior to wheels and tracks, the complexity and costs associated with deploying commercial solutions has been a major roadblock," says De.
In overcoming these challenges, De and Kenneally have developed ultrafast and highly responsive autonomous legged robots that offer superior operability in unstructured environments compared with wheeled and tracked devices. The duo founded Ghost Robotics in late 2015, with Koditschek's encouragement and support from PCI Ventures, a division of the Penn Center for Innovation. "Many years of work on direct-drive quadrupedal robot designs and locomotion led to the launch of Ghost Robotics," Kenneally says.
In late 2016, the company unveiled the Ghost Minitaur, a low-cost, gearless robot that displays impressive speed, precision and animal-like agility and responsiveness. The small four-legged robot can climb up stairs and fences, crouch to fit under crawl spaces, balance on two legs, jump over obstacles, and navigate rocky, sandy or debrisfilled environments. A core design principle for the robot is reduced mechanical complexity, resulting in better durability and lower cost compared to other unmanned ground vehicles.
The Minitaur can be used for a range of applications, such as security, search and rescue, asset and infrastructure inspection, exploration, field survey, medical support, warfare and hazardous environment operation. Key customers include Google, DeepMind, U.S. Army Research Labs, Princeton, Penn, Carnegie Mellon University and the University of Washington. Currently, the company is preparing to deploy pilot versions of the GR Vision 60, a midsized foldable tele-op and autonomous all-terrain ground drone with six hours of projected mixed-use endurance. In February, Ghost Robotics showcased its latest vehicles, including the GR Vision 60, to an expert panel assembled by the Association for Unmanned Vehicle Systems International (AUVSI). Amidst stiff competition, the company won AUVSI's Innovation Challenge. "This has been a long journey, and we see many applications for the platform and underlying technology ahead," De says.
Protecting Privacy

One of the most emotional moments of a woman's life is finding out whether she is pregnant. But all too often, the stress associated with taking a pregnancy test is compounded by the fact that it can end up in the trash where it could be seen by others. Moreover, currently available pregnancy tests add two million pounds of plastic and digital waste to U.S. landfills every year. Finding a solution to this two-pronged problem became a passion for Anna Couturier (IPD'14) and Bethany Edwards (IPD'14) when they were students in Penn's master's program in Integrated Product Design.
"We became interested in designing temporary products to be completely biodegradable, in order to match their life cycles," Couturier says. "We also noticed that there had not been any innovation to the form factor in pregnancy tests since they were first introduced. Another goal was to deliver a pregnancy test that would impact the way individuals view pregnancy testing and offer a more private experience for women."
To address these challenges, the duo founded Lia Diagnostics in late 2014, along with Sarah Rottenberg, adjunct assistant professor in the School of Design and the executive director of the Integrated Product Design program. In just 1.5 years, the team developed the first and only flushable, biodegradable pregnancy test.
Painstaking research on innovative water-dispersible materials and tireless prototype testing led to the development of a revolutionary coating that allows Lia to repel water long enough for a woman to take the test, then break down easily when flushed. The easy-to-use, environmentally friendly test, which is made of the same natural plant fibers as most toilet paper, is proven to be more than 99 percent accurate.
Last December, Lia won the €42,000 prize at TechCrunch's Startup Battlefield at Disrupt Berlin 2017. On the same day, the company announced that its pregnancy test had been cleared by the U.S. Food and Drug Administration for over-the-counter use. Lia will launch its pregnancy test in mid-2018 and will continue to develop and commercialize water-dispersible, biodegradable diagnostic kits and products that are better for the user and the environment, with the goal of modernizing and humanizing reproductive health and wellness products.
"Lia is the only discreet pregnancy test alternative with zero synthetic materials, such as plastic, glass fibers, and nitrocellulose elements, which are found in nearly all single-use diagnostics that are available on the market today," Couturier says. "By creating a product that is more sustainable and that considers the emotions associated with pregnancy testing, we are supporting all women while working to support a healthier planet."
Nanoscale Solutions

Glaucoma is the second-leading cause of blindness globally and is becoming increasingly prevalent as the world's population ages. There is no cure for glaucoma, and currently available treatments such as eye drops and surgical interventions have either limited compliance or high rates of failure.
A long-term solution to this problem may come in the form of strong, flexible, ultrathin alumina nanoscale plates developed in the lab of Igor Bargatin, Class of 1965 Term Assistant Professor in Mechanical Engineering and Applied Mechanics. Despite being the thinnest plates that can be picked up and manipulated by hand, they can spring back to their original shape after being bent and twisted. These plates were selected for implementation in the 2016–2017 Y-Prize competition, a contest in which student teams propose innovative commercial applications for technology invented by Penn Engineering researchers.
The winner of the competition, VisiPlate, leveraged the technology to create an implant that reduces pressure within the eye by draining excess fluid through a tube and onto a curved drainage plate, which is thinner, stronger and more reliable than existing lines of defense. Diffusing the shunted fluid over a wide area allows that fluid to be reabsorbed at a manageable rate, preventing blindness caused by open-angle glaucoma. Moreover, the 100-nanometer-thick drainage plates can be easily implanted in the front of the eye, making surgery faster, less invasive and risky, and more cost-effective.
VisiPlate is the brainchild of Brandon Kao (MSE'18), Rui Jing Jiang (W'18) and Adarsh Battu (W'18). As Penn students, the trio became interested in competing for the Y-Prize and envisioned a new way of fighting blindness. The team worked with ophthalmologists Richard Stone and Eydie MillerEllis at the Perelman School of Medicine, as well as Bargatin's team and Jeffrey Babin, associate practice professor and associate director of the Engineering Entrepreneurship Program.
With the ample resources at Penn and funding from the nonprofit organization VentureWell, the students have developed prototypes, refined their business plan, completed a pilot preclinical study to verify VisiPlate's biocompatibility, and filed a provisional patent application. Last year, the team co-founded a medical devices startup called Avisi Technologies, whose mission is to leverage cutting-edge technology to create impactful solutions for global health problems. "We envision creating a world where glaucoma is no longer a formidable and debilitating disease," Kao says. "VisiPlate's success thus far has been made possible by the wide range of support from the community we found at Penn."