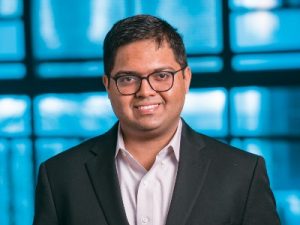 The Minerals, Metals & Materials Society (TMS) has named Deep Jariwala, assistant professor in the Department of Electrical and Systems Engineering, a winner of their Frontiers of Materials Award.
Jariwala is an expert in nano- and atomic-scale devices that could have applications in information technology and renewable energy, among other fields. His recent research includes a new way of manipulating color with one such nanoscale device.
The TMS Frontiers of Materials Award is given to a top-performing early career professional capable of organizing a Frontiers of Materials Event comprising a hot or emergent technical topic at the TMS Annual Meeting & Exhibition.
As a winner, Deep will organize an event on Low-Dimensional and Quantum Materials: Interface Design and Engineering, which is scheduled to take place at the TMS 2021 Annual Meeting & Exhibition, March 14-18, 2021 in Orlando, Florida