David Meaney Named Senior Associate Dean of Penn Engineering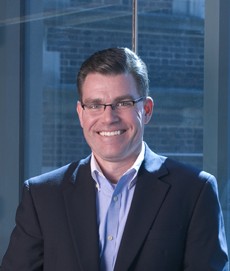 David F. Meaney, Solomon R. Pollack Professor of Bioengineering, has been named the Senior Associate Dean of Penn Engineering, effective January 1, 2020. This newly created leadership position will have oversight responsibilities in budget, space and infrastructure planning; facilities and research services; and will create and cultivate new interschool partnerships that will expand Penn Engineering's footprint on campus.
Meaney is well known not only for his scholarship and innovation in neuroengineering and concussion science, but also for his leadership during his highly successful tenure as Chair of the Department of Bioengineering.
"Dave's strong connections to the health schools will help strengthen Penn Engineering's initiatives throughout campus," says Vijay Kumar, Nemirovsky Family Dean of Penn Engineering. "He will have oversight of Penn Health-Tech, the Center for Engineering MechanoBiology and other efforts between engineering and the health schools, and Dave brings his unique creativity, energy and leadership experience to these collaborative efforts."
Meaney has earned numerous honors and awards, including a National Science Foundation CAREER Award, the American Society of Mechanical Engineering's Y.C. Fung Young Investigator Award, and the Trustees' Council of Penn Women Provost's Award. He also is member of several editorial boards, served as program co-chair for the Biomedical Engineering Society's annual meeting in 2004, and as its neuroengineering track co-chair for in 2012. In addition, Meaney serves as a departmental advisory board member for several biomedical engineering departments across the country, and is an elected fellow of the American Institute for Medical and Biological Engineering and the Biomedical Engineering Society.
Meaney's research interests are focused on understanding the mechanisms and treatment of mild traumatic brain injuries, otherwise known as concussions. Over the course of his career, his group contributed experimental data towards the revision of federal motor vehicle safety standards for head protection. Meaney's group was the first to identify mechanical "force sensors" in neurons that lead to the rewiring of brain circuits after concussive brain injury. In addition, his group completed some of the earliest studies to detect brain injury after concussion using clinical imaging tools.
Currently, Meaney's group is developing new blood-based biomarkers for diagnosing concussion and monitoring brain recovery after concussion, using these observations to develop treatments to enhance repair after traumatic brain injury.