Daeyeon Lee Named 2019 Penn Fellow
Daeyeon Lee, professor in the Department of Chemical and Biomolecular Engineering, has been named a 2019 Penn Fellow. The Penn Fellows program is aimed at giving faculty members the opportunity to build their leadership skills and meet with academic leaders throughout the University.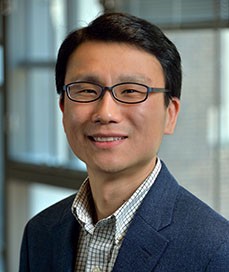 Lee and his team at the Soft Materials Research and Technology lab focus on how nano- and micro-scale materials can assemble into macroscopic structures with useful properties and functionality. His previous projects include testing two-sided "Janus" particles and their ability to function as surfactants for emulsion stabilization, developing methods for preventing cracks in nanoparticle films, and experimenting on bubble-derived light-weight materials for their potential use in transportation vehicles and equipment.
Lee has won numerous awards throughout his career, including the S. Reid Warren, Jr., Award at Penn Engineering and the 2014 Unilever Young Investigator Award in Colloid and Surfactant Science.